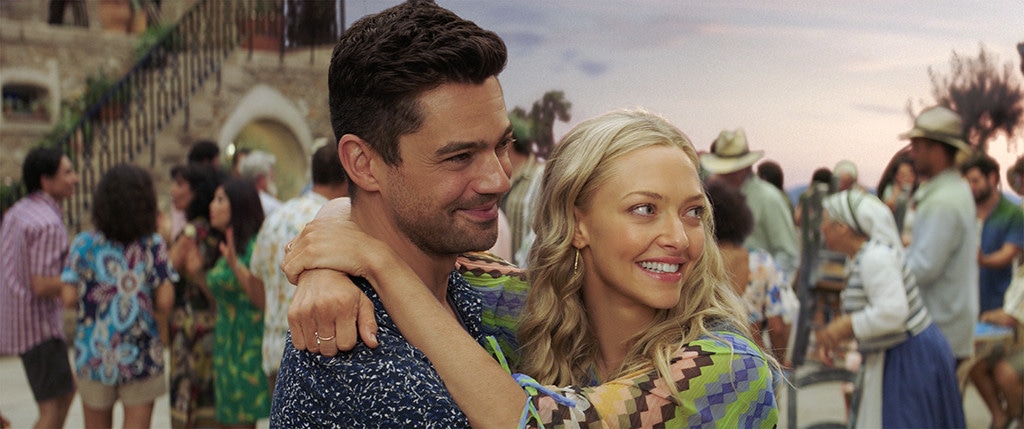 Universal Pictures
Fate brought Amanda Seyfried and Dominic Cooper back together...well, fate and ABBA.
Ten years after falling in love on the set of Universal Pictures' Mamma Mia!, the actors are reprising their roles in the sequel, Mamma Mia! Here We Go Again (in theaters Friday). The exes remained friendly after their breakup in 2011, which is why neither was nervous about returning for the sequel. "I think it will be fine working with Amanda again," Cooper told The Times last year, before production began. "I haven't spoken to her for a while, but we always remained friends. Though it'll be odd, gazing into each other's eyes and singing an ABBA song."
Seyfried, who married Thomas Sadoski last year, never stopped caring about Cooper. "He'll always be in my life, regardless of what his girlfriends or future wife think," she explained to ELLE in 2013. "I'm never going to be with a guy that can't deal with my friendship with him."
Luckily, Sadoski can handle it—although he did get a little jealous.
Watch:
Amanda Seyfried & Lily James Talk "Mamma Mia 2"
"I think he has the same kind of issues that I would have if we were hanging out with his ex-girlfriend from long ago," Seyfried told The Mirror earlier this week. "I think it's always like, 'I'm so in love, so that person must be so in love with her, too.' I assume everyone's in love with Tommy because I'm in love with him. I assume that everybody sees him the way I do. I'd guess he assumed Dominic is in love with me the way he's in love with me. And it's just not the case."
Seyfried said she finds it "sweet" that her actor husband was envious of her chemistry with Cooper. "I'd rather he be jealous than completely fine with it. He's been great. He's very supportive and he loves this movie. They got along absolutely fine when we were shooting."
Cooper, who broke up with Ruth Negga this year, previously said on ITV's Lorraine it was "lovely" to film Mamma Mia: Here We Go Again with Seyfried, as they had "stayed in contact." Ultimately, working together again was a breeze. "We split about three years after the movie came out and after we split we became really close friends," Seyfried said. "The last time I'd seen him was when I hung out with him on my 30th birthday. It wasn't weird seeing him again."
(E! and Universal Pictures are both members of the NBCUniversal family.)