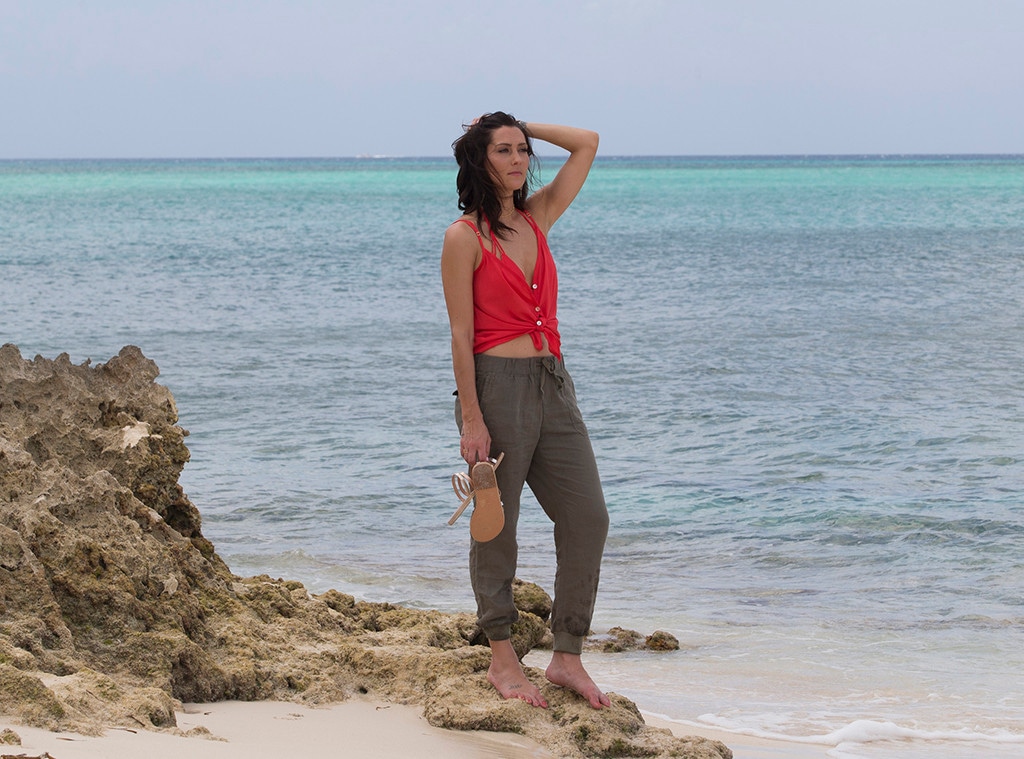 ABC
Who's ready to meet some familiiiiiiies?!?!?! 
Listen, we've made it to hometown dates on The Bachelorette and yes, our interest has begun to wain. But since we're here in this homestretch, we just gotta grab that last bit of energy we've got to make it through that sprint to the finish line. 
Now, unless we've got fathers who have adapted new religions and gotten rid of chairs or moms who just drink straight from the wine bottle, hometowns can easily get so boring. The parents ask the questions it makes sense for them to be asking, the men say all the things they're supposed to say, and by the time the episode is over, we often can't remember whose brother was who. 
Tonight, however, there were at least a few standout moments. 
Garrett Reminds Becca of Her Dad
We get that Becca's dad died and that was very hard for her, but the way she keeps saying that Garrett reminds her of her dad is just weird, man. And maybe we just can't look past Garrett's Instagram scandal, but there's something off about this guy. Is it an editing thing? Are we missing something because the show's not giving it to us? Is he just so dad that it's not only all Becca can see, but it's all anyone can see? 
And is replacing your late father with a guy who reminds you of him healthy? We don't know. We are not therapists. We're just concerned for all the people involved in this entire situation. 
Jason's Brother (and his Husband) 
We love Jason's brother. Is it because Jason talked him up so much? Is it because he and his husband are one of like three gay couples this show has ever featured? Or is it just because he's so sweet and wise and uses plane metaphors to give Jason good advice? We're pretty sure it's all three. 
Jason's entire family was actually delightful and we're fans of them all, especially his mother Dale, and Jason himself was equally a delight. We'd marry Jason. We are now team Jason. 
Blake's Mom Shelly Is Great
She wanted to say the F-word SO bad, but she settled with "ffffffreaking" crazy to describe the idea of Blake being engaged the next time she sees him. She seems like a real nice lady. 
Also, points to Blake for taking Becca to a Betty Who concert. In a shocking turn of Bachelor concert events, we have actually heard of Betty Who and her music, and it was clear Becca had not only heard of her, but knew her songs and was a fan. A shock, to be honest. That hardly ever happens!
Everything To Do With Colton
Listen, the actual fact of Colton's virginity is the least worrying thing about him. He uses phrases like "like a man" when referring to having conversations about dating Tia, and he went to Chris Harrison on camera to address concerns about the fantasy suites. He's got a slightly childlike relationship with his mother based on what we saw of their conversation, and then there's the Tia of it all. 
As we learned during an unexpected but fun day of hanging out with the girls, Tia's still got feelings for Colton. This pissed Becca off quite a bit, but it sort of sealed the decision at least for us. Colton needed to go. 
We're here to agree with Colton's dad when he told Becca that if she wasn't 100% on the same page as Colton at this point, do not pick him. And so she didn't, leaving only Jason, Blake, and Garrett behind, with Colton presumably free to meet up with Tia on Bachelor in Paradise. 
A happy ending for all? We will see. 
The Bachelorette airs Mondays at 8 p.m. on ABC.