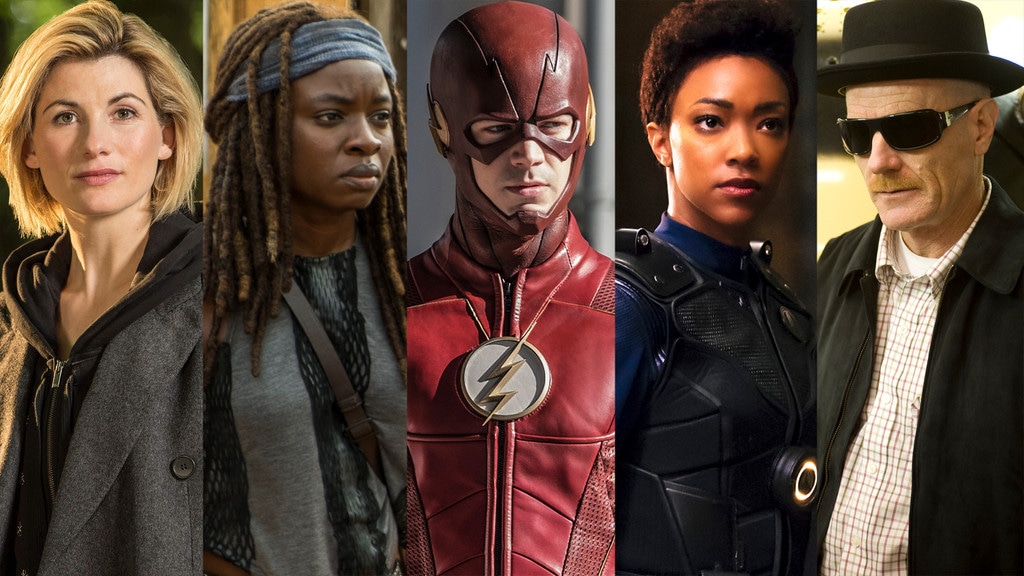 CW; AMC; BBC; CBS
The panels, the trailers, the cosplay—it's time for Comic-Con. The 2018 Comic-Con International kicks off with a preview night on Wednesday, July 18m running until Sunday July 22. It's a weekend packed with celebrities, first looks, breaking news and so much swag. Comic-Con can be overwhelming, even for veteran attendees. We're here to help. Below, check out your guide to all the TV-related panels and events taking place at the 2018 festivities.
Note: All times are pacific.
Up, up and away we go!
WEDNESDAY JULY 18
What: Manifest World Premiere and Special Sneak Peek Screenings
New series Manifest, starring Josh Dallas, will premiere, along with screenings of Freedom Fighters: The Ray and The 100.
When: 6 p.m.
Where: Ballroom 20
THURSDAY, JULY 19
What: Behind the Scenes of Freeform's Siren
Look for a recap of season one and some news on season two of the Freeform drama.
When: 11 a.m.
Where: Indigo Ballroom, Hilton San Diego Bayfront
What: When Earthlings Become Martians: National Geographic's Mars, Season 2
Authors and scientists join new and returning Mars cast members to discuss the Red Planet and whether there's a future for humans there.
When: 11 a.m.
Where: Room 7AB
What: Charmed Exclusive Screening and Panel
The CW's Charmed reboot makes its Comic-Con debut with a screening of the pilot and panel discussion with the cast and producers, including Melonie Diaz, Sarah Jeffery, Madeleine Mantock, Rupert Evans, Jennie Snyder Urman, Jessica O'Toole and Amy Rardin.
When: 11:15 a.m.
Where: Ballroom 20
What: Doctor Who: BBC America's Official Panel
There's a new Doctor in town! Meet the 13th Doctor, the first female, played by Jodie Whittaker. She'll be joined by costars Tosin Cole and Mandip Gill, showrunner Chris Chibnall and exec producer Matt Strevens.
When: 11:45 a.m.
Where: Hall H
What: Brand New Action-Thriller from YouTube Originals: Impulse
A panel and preview for the new YouTube series starring Maddie Hasson and Missy Pyle. The new series follows a 16-year-old girl who discovers she can teleport.
When: 12 p.m.
Where: Indigo Ballroom, Hilton San Diego Bayfront
What: Tell Me a Story
Get the scoop on the CBS All Access series from Kevin Williamson. The show reimagines fairytales with a dark twist. Paul Wesley and James Wolk are set to attend the sneak peek and panel.
When: 12:15 p.m.
Where: Ballroom 20
What: The Toys That Made Us
Join series creator and director Brian Volk-Weiss, executive producer Robin Henry, writer-editor Ben Frost and producer/toy collector Rich Mayerik for a discussion about toys and their Netflix series.
When: 1 p.m.
Where: Room 5AB
What: TMNT Reboot: Rise of the Teenage Mutant Ninja Turtles
The Turtles are back, with some new twists. Cast members Omar Miller, Ben Schwartz, Josh Brener, Brandon Smith and Kat Graham will present new clips and discuss the new animated series.
When: 1:45 p.m.
Where: Room 6A
What: Syfy's Nightflyers
Get the scoop on the new series from author George R.R. Martin. Cast, including Gertechn Mol and Eoin Macken, will be on hand to present a sneak peek of the series.
When: 3 p.m.
Where: Indigo Ballroom, Hilton San Diego Bayfront
What: AMC's Better Call Saul
Get a sneak preview of the new season of the Breaking Bad prequel series and learn scoop from cast members Bob Odenkirk, Rhea Seehorn, Patrick Fabian, Michael Mando and Giancarlo Esposito, and executive producers and showrunners Vince Gilligan and Peter Gould.
When: 3:30 p.m.
Where: Hall H
What: Van Helsing: The World is a Vampire
Get ready for Van Helsing season three with stars Kelly Overton, Jonathan Scarfe, Missy Peregrym, Aleks Paunovic, Rukiya Bernard, Vincent Gale, Trezzo Mahoro, along with showrunner Neil LaBute and executive producers Mike Frislev and Chad Oakes.
When: 4 p.m.
Where: Indigo Ballroom, Hilton San Diego Bayfront
What: We Wrote Your Childhood
These panelists wrote your favorite childhood cartoons and now they're dishing out all the scoop. Panelists include Paul Germain (Rugrats, Recess), Craig Bartlett (Hey Arnold!), Sue Rose (Pepper Ann, Angela Anaconda), Holly Huckins  (Recess, Angela Anaconda), Peter Gaffney (Rugrats, Ah! Real Monsters!), Rachel Lipman (Rugrats, Hey Arnold!), Matt Negrete (Pepper Ann) and Joe Ansolabehere (Hey Arnold!, Recess).
When: 4 p.m.
Where: Room 7AB
What: Magnum P.I. Exclusive Screening Panel
Series stars Jay Hernandez, Perdita Weeks, Stephen Hill and Zachary Knighton will be on hand with producers Peter Lenkov and Eric Guggenheim to present a sneak peek of the new CBS reboot. Panel discussion will follow.
When: 4:15 p.m.
Where: Room 6A
What: Breaking Bad 10th Anniversary Celebration
Cast members Bryan Cranston, Aaron Paul, Anna Gunn, Dean Norris, Betsy Brandt, R.J. Mitte, Bob Odenkirk and Giancarlo Esposito hit the stage with creator Vince Gilligan to look back at their favorite memories and discuss the show's enduring legacy.
When: 4:30 p.m.
Where: Hall H
What: Z Nation
Get the scoop on what's ahead in the fifth season of the Syfy series with D. J. Qualls, Kellita Smith, Russell Hodgkinson, Karl Schaefer, and surprise panelists.
When: 5 p.m.
Where: Indigo Ballroom, Hilton San Diego Bayfront
What: Crazy Ex-Girlfriend: The Final Curtain Call
Series co-creator and star Rachel Bloom and series co-creator Aline Brosh McKenna look back on the show's memorable moments ahead of the final season premiering this fall. Expect a special performance and never-before-seen footage.
When: 5:45 p.m.
Where: Room 6A
What: Black Summer: A Netflix Original Series
Get the scoop on the new series, a spinoff of Z Nation.
When: 6 p.m.
Where: Indigo Ballroom, Hilton San Diego Bayfront
What: Netflix: Marvel's Iron Fist
Find out what's ahead for Danny Rand in season two of Marvel's Iron Fist. Marvel's head of television will be joined by surprise panelists.
When: 6 p.m.
Where: Ballroom 20
What: NBC's Brooklyn Nine-Nine
Cancellation couldn't keep the cops of the Nine-Nine down! Get the scoop on what's ahead when the series makes its move to NBC.
When: 7 p.m.
Where: Indigo Ballroom, Hilton San Diego Bayfront
What: Stephen King's Mr. Mercedes: Season 2
Join exec producer Jack Bender, stars Harry Treadaway, Jharrell Jerome, Jack Huston, Holland Taylor, Justine Lupe and Breeda Wool for a preview of season two of the AT&T Audience series.
When: 8 p.m.
Where: Room 7AB
FRIDAY, JULY 20
What: Intro to TV Writing
Keto Shimizu (DC's Legends of Tomorrow), Raven Metzner (Iron Fist), Amy Berg (Counterpart), Erik Oleson (Daredevil), Monica Breen (Agents of S.H.I.E.L.D.), and Karen Horne, senior vice president of development and inclusion at NBC, discuss navigating the TV spec script terrain. There's a Q&A, so come with questions
When: 10 a.m.
Where: Room 4
What: Adventure Time
Celebrate 10 seasons of Cartoon Network's Adventure Time and come prepared for surprises.
When: 10 a.m.
Where: Indigo Ballroom. Hilton San Diego Bayfront
What: Dreamworks Voltron Legendary Defender: A Netflix Original Series
Get a sneak peek of the seventh season of the Netflix series and walk away with an exclusive poster.
When: 10:15 a.m.
Where: Room 6BCF
What: Inside The Big Bang Theory Writers' Room
Big Bang writers and producers give the scoop on what it's like writing for Sheldon, Leonard and Co. Expect a special video presentation.
When: 10: 15 a.m.
Where: Ballroom 20
What: Fear the Walking Dead
Alycia Debnam-Carey, Colman Domingo, Lennie James, Danay Garcia, Jenna Elfman, Maggie Grace, Garret Dillahunt, executive producers and showrunners Andrew Chambliss and Ian Goldberg, executive producers Scott M. Gimple, Robert Kirkman, Gale Anne Hurd, and Dave Alpert, and special effects makeup supervisor and executive producer Greg Nicotero hit the stage to talk about the second half of season four.
When: 11:15 a.m.
Where: Hall H
What: History's Vikings
Series stars Katheryn Winnick, Clive Standen, Alexander Ludwig, Alex Høgh Andersen, Georgia Hirst  and creator Michael Hirst take the stage to preview what's ahead in season five.
When: 11:30 a.m.
Where: Ballroom 20
What: The Walking Dead
Andrew Lincoln, Norman Reedus, Danai Gurira and Jeffrey Dean Morgan join new showrunner Angela King and executive producers Scott M. Gimple, Robert Kirkman, Gale Anne Hurd, Dave Alpert and Greg Nicotero to preview season nine of the AMC drama.
When: 12:15 p.m.
Where: Hall H
What: Hulu's World Premiere Screening of Castle Rock
See the first episode of the new series from J. J. Abrams and Stephen King and then join stars Sissy Spacek, Bill Skarsgard, Melanie Lynskey, Jane Levy, executive producers Sam Shaw and Dustin Thomason for a discussion about the horror series.
When: 12:45 p.m.
Where: Ballroom 20
What: Invader Zim: Enter the Florpus!
Series creator Jhonen Vasquez, art director Jenny Goldberg and voice talent Richard Horvitz, Rikki Simons, Wally Wingert and Kevin McDonald tease the upcoming Nickelodeon movie revival.
When: 1 p.m.
Where: Room 6A
What: [adult swim]: The Venture Bros.
Get the scoop on the upcoming seventh season with James Urbaniak, Michael Sinterniklaas, Jackson Publick and Doc Hammer.
When: 1:30 p.m.
Where: Indigo Ballroom, Hilton San Diego Bayfront
What: Star Trek: Discovery
Take a look back on season one and get some scoop on the upcoming second season of CBS All Access' Star Trek series. Scheduled to attend are Sonequa Martin-Green, Doug Jones, Shazad Latif, Mary Wiseman, Anthony Rapp, Wilson Cruz, Mary Chieffo, Anson Mount, executive producers Alex Kurtzman and Heather Kadin. Tig Notarao, who is guest starring in the second season, will moderate.
When: 1:30 p.m.
Where: Hall H
What: [adult swim]: Robot Chicken
Get ready for never-before-seen clips and sneak peeks with Seth Green, Matthew Senreich, Douglas Goldstein, Tom Root, Breckin Meyer, Tom Sheppard and Rachel Bloom.
When: 2:30 p.m.
Where: Indigo Ballroom, Hilton San Diego Bayfront
What: Final Space: Q&A with the Cast and Creators of the TBS Animated Series
Get a closer look at the animated space saga.
When: 3:30 p.m.
Where: Indigo Ballroom, Hilton San Diego Bayfront
What: DuckTales
Join series stars Ben Schwartz, Bobby Moynihan, Danny Pudi and Toks Olagundoye and more for a sneak peek of the upcoming season two.
When: 3:30 p.m.
Where: Room 6A
What: Bob's Burgers
Join the cast and executive producer Loren Bouchard for a sneak peek at never-before-seen footage and a Q&A.
When: 4:15 p.m.
Where: Indigo Ballroom, Hilton San Diego Bayfront
What: IDW Entertainment & Syfy: Premiere Screening of Wynonna Earp, "Blood Red and Going Down"
The cast and creators hit the stage for special screening of the first episode of the new season.
When: 5 p.m.
Where: Horton Grand Theatre
What: Archer: Discussion and Q&A
Get the scoop on what's ahead in Archer season 10 with H. Jon Benjamin, Aisha Tyler, Jessica Walter, Chris Parnell, Amber Nash, Lucky Yates, executive producers Adam Reed and Matt Thompson, co-executive producer Casey Willis and art director Chad Hurd.
When: 5:15 p.m.
Where: Indigo Ballroom, Hilton San Diego Bayfront
What: Marvel Television: Marvel's Cloak & Dagger
Join stars Olivia Holt, Aubrey Joseph, Emma Lahana and Ally Maki for a Q&A and never-before-seen footage.
When: 5:45 p.m.
Where: Ballroom 20
What: The Last Sharknado: It's About Time
This is it, the last Sharknado panel. Stars Ian Ziering, Tara Reid and Cassie Scerbo hit the stage with plenty of surprise guests to talk about the last movie.
When: 7 p.m.
Where: Room 6BCF
What: AMC's Preacher
Series stars Dominic Cooper, Ruth Negga and Joseph Gilgun hit the stage with executive producers Seth Rogen, Evan Goldberg and Sam Catlin for a season three discussion.
When: 7:30 p.m.
Where: Hall H
SATURDAY, JULY 21
What: Inside the Writers Room: From Script to Screen, the Break-Down
Join writers from some of TV's hottest genre shows to get the scoop on life as TV writer.
When: 10 a.m.
Where: Room 24ABC
What: Black Lightning Special Video Presentation and Q&A
Prepare for an electrifying look at season two of The CW superhero series.
When: 11 a.m.
Where: Ballroom 20
What: NBC's The Good Place
Join executive producers Michael Schur, Morgan Sackett and Drew Goddard, stars Ted Danson, Kristen Bell, William Jackson Harper, Jameela Jamil, D'Arcy Carden and Manny Jacinto for a forking good conversation about the NBC comedy.
When: 11 a.m.
Where: Indigo Ballroom, Hilton San Diego Bayfront
What: The Simpsons
Creator Matt Groening, executive producer Al Jean, director David Silverman and actress Tress MacNeille look ahead to season 30 of the Fox animated comedy.
When: 12 p.m.
Where: Ballroom 20
What: Syfy's Krypton
The stars and producers of the DC Comics series tease what's ahead after the twisty season one finale.
When: 12 p.m.
Where: Indigo Ballroom, Hilton San Diego Bayfront
What: American Dad!
Get a preview of the new episodes coming soon to TBS.
When: 1 p.m.
Where: Ballroom 20
What: Manifest Special Video Presentation and Q&A
The world as the passengers aboard Montego Air Flight 828 knew it is no more. How did a whole airplane disappear for five years, yet it feels like no time has passed for the passengers? That's the mystery of Manifest.
When: 1 p.m.
Where: Indigo Ballroom, Hilton San Diego Bayfront
What: Family Guy
The cast, including Seth MacFarlane and Alex Borstein, join executive producers Rich Appel, Alec Sulkin and Steve Callaghan to preview what's ahead on the long-running comedy.
When: 1:45 p.m.
Where: Ballroom 20
What: Legacies Exclusive Video Presentation and Q&A
Get the scoop on the latest chapter in The CW's vampire chronicles with executive producer Julie Plec and stars Danielle Rose Russell and Matthew Davis.
When: 2 p.m.
Where: Indigo Ballroom, Hilton San Diego Bayfront
What: The Gifted
Fox's X-Men TV series takes Comic-Con for a season two sneak peek. Panelists include Stephen Moyer, Jamie Chung, Sean Teale, Emma Dumont and Blair Redford.
When: 2:30 p.m.
Where: Ballroom 20
What: Midnight, Texas Season 2
Get a sneak peek of season two of the NBC fantasy drama with a panel full of the cast and crew.
When: 2:45 p.m.
Where: Room 6BCF
What: Supergirl Special Video Presentation and Q&A
The cast and crew of The CW's superhero season breakdown season three and tease what's ahead.
When: 3:30 p.m.
Where: Ballroom 20
What: The Orville
Stars Seth MacFarlane, Adrianne Palicki, Penny Johnson Jerald and Scott Grimes, along with executive producers, preview season two of the Fox series.
When: 4 p.m.
Where: Indigo Ballroom, Hilton San Diego Bayfront
What: EW: Women Who Kick Ass
Chloe Bennet, Regina King, Camila Mendes, Amandla Stenberg and Jodie Whittaker talk all about the badass women they play.
When: 4 p.m.
Where: Hall H
What: Arrow special video presentation and Q&A
What's next for Oliver Queen? Find out!
When: 4:15 p.m.
Where: Ballroom 20
What: The Man in the High Castle
Amazon's drama returns for a third season and this panel will have all the sneak peeks and scoop.
When: 4:15 p.m.
Where: Room 6A
What: Batman: The Animated Series on Blu-ray
Join executive producers and voice talent to celebrate the release of the fan-favorite series on Blu-ray.
When: 4:15 p.m.
Where: Room 6DE
What: DC's Legends of Tomorrow Special Video Presentation and Q&A
Find out what's happening to the time-traveling DC superheroes.
When: 5 p.m.
Where: Ballroom 20
What: TV Guide Magazine's Fan Favorites
Join stars from The 100, Krypton, Gotham and more for scoop, behind-the-scenes stories and more.
When: 5 p.m.
Where: Indigo Ballroom, Hilton San Diego Bayfront
What: The Purge: From Film to Television
Get the scoop on USA Network's new series based on the hit movies.
When: 5:15 p.m.
Where: Room 6BCF
What: Netflix: Matt Groening's Disenchantment
Join the cast and creators of the new Netflix animated series from The Simpsons and Futurama guru Matt Groening for a special first look and Q&A.
When: 5:30 p.m.
Where: 6A
What: The Flash Special Video Presentation and Q&A
The Flash cast and creators zoom in for a season five scoop.
When: 5:45 p.m.
Where: Ballroom 20
What: Syfy's Deadly Class
Get a sneak peek of the new TV series based on the graphic novel by Rick Remender and Wes Craig.
When: 6 p.m.
Where: Indigo Ballroom, Hilton San Diego Bayfront
What: IDW Entertainment and Syfy: Wynonna Earp
The cast and creators of Wynonna Earp reveal exclusive footage and tease what's ahead in season three
When: 6:45 p.m.
Where: Room 6DE
What: Project Blue Book
Cast members Aidan Gillen, Michael Malarkey, Neal McDonough and Laura Mennell will join producers to discuss the new alien drama.
When: 6:45 p.m.
Where: Room 6A
What: Syfy's The Magicians
Join the cast and executive producers for an exclusive look at the upcoming fourth season.
When: 7 p.m.
Where: Indigo Ballroom, Hilton San Diego Bayfront
What: Twin Peaks and the Revival of a Cult Classic
Cast members from the original and new series discuss the show's evolution.
When: 8 p.m.
Where: Indigo Ballroom, Hilton San Diego Bayfront
SUNDAY, JULY 22
What: Supernatural Special Video Presentation and Q&A
What's in store for the Winchester brothers? Find out with the cast and crew, plus a special series highlights reel.
When: 10:30 a.m.
Where: Hall H
What: Riverdale Special Video Presentation and Q&A
What's ahead for Archie, Jughead, Betty, Veronica and the rest of the Riverdale gang? You'll find out here.
When: 11:45 a.m.
Where: Hall H
What: Mayans M.C. Discussion and Q&A
Join Kurt Sutter and the cast of the upcoming Sons of Anarchy spinoff series to learn all about the new FX series.
When: 1 p.m.
Where: Hall H
What: Legion Discussion and Q&A
Series creator Noah Hawley, executive producer John Cameron and Marvel's Jeph Loeb will be joined by cast members to discuss what's ahead on the FX drama.
When: 2:15 p.m.
Where: Hall H
What: X-Men: The Animated Series Celebrates 25 Years
Join series producers and writers for behind-the-scenes stories of one of the most iconic comic book cartoons.
When: 3 p.m.
Where: Room 7AB
What: Buffy Musical: "Once More with Feeling"
Say goodbye to Comic-Con with an interactive screening of the Buffy the Vampire Slayer musical episode.
When: 3:45 p.m.
Where: Room 6BCF