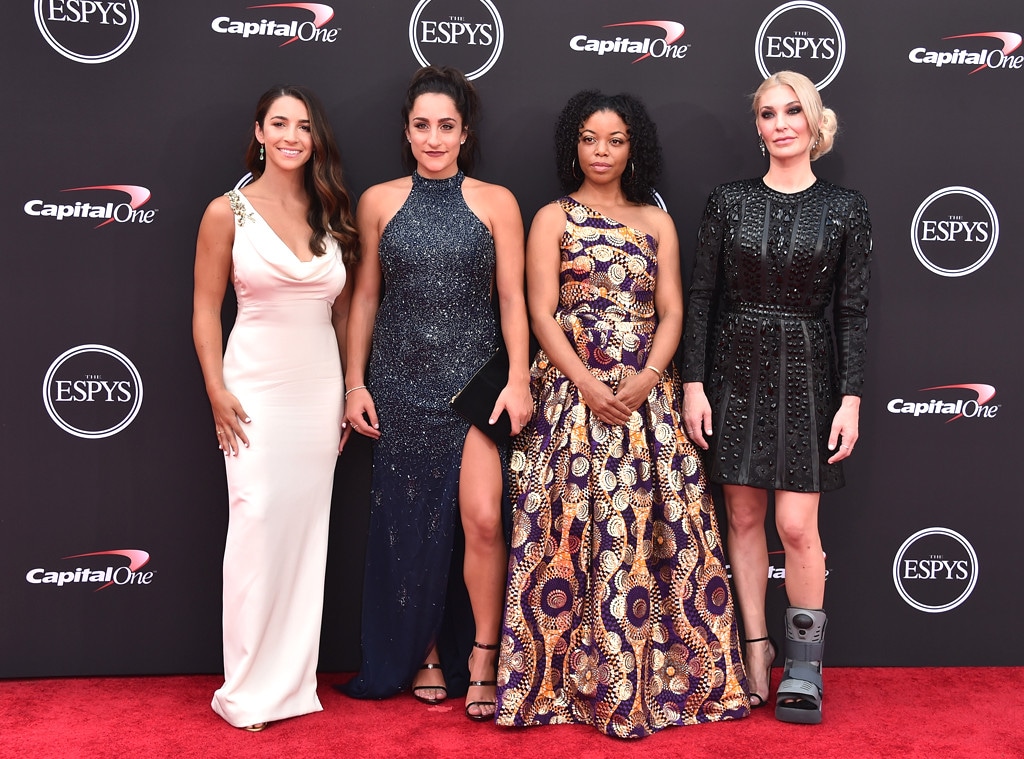 Alberto E. Rodriguez/Getty Images
The survivors of Larry Nassar's abuse were recognized with the Arthur Ashe Courage Award at the 2018 ESPYS.
On Wednesday evening, several women took the stage to accept the award from actress Jennifer Garner, after facing years of abuse from the former USA Gymnastics and Michigan State University doctor. Among the survivors that were there to represent the hundreds of athletes impacted by Nassar's actions were Olympians Aly Raisman, Jordyn Wieber and more.
In an emotional video montage, athletes Tiffany Thomas Lopez, Jamie Dantzcher, Sarah Klein, Jeanette Antolin and Larissa Boyce described the traumatic experiences they endured under the supervision of the doctor and how they were able to recognize themselves, not as victims, but as survivors.
Dozens of the survivors stood together on the stage as the audience applauded their strength and bravery.
When giving her speech, Klein told the audience, "It is a privilege to stand up here today with my sister survivors as we represent hundreds more who are not with us tonight. Make no mistake, we are here on this stage to represent an image for the world to see a portrait of survival. Speaking up and speaking out is not easy. Telling our stories of abuse over and over again in graphic detail is not easy. We're sacrificing privacy, we're being judged and scrutinized and it's grueling and it's painful and it is time. As a mother, I am here to say that we must start caring about children's safety more than we care about child reputations. "
She continued on to say, "As a survivor, I'm here to say if we can give one person the courage to use their voice this is worth it. If one more victim of sexual abuse feels less alone tonight, then our suffering has meaning."
Cory Morse/The Grand Rapids Press via AP
And in an equally powerful statement, Raisman recounted the years that the gymnasts spoke out about the sexual abuse they faced. "These were the years we spoke up about Larry Nassar's abuse. All those years we were told you are wrong, you misunderstood, he's a doctor, it's OK… The intention? To silence us, in favor of money, medals and reputation," the gold medalist described.
"But we persisted and finally someone listened and believed us… To all the survivors out there, don't let anyone rewrite your story. Your truth does matter. You matter and you are not alone," she concluded.
Willy Sanjuan/Invision/AP)
It was announced back in May that the survivors would be honored with the award during the 2018 ceremony.
"We are honored to recognize the courage of these women at the 2018 ESPYs, to acknowledge the power of their voices, and to shine a very well-deserved spotlight on what speaking up, fighting back, and demanding accountability can accomplish," Alison Overholt, Vice President and Editor in Chief of ESPN the magazine, espnW and the ESPYs shared in a statement. "They have shown us all what it truly means to speak truth to power, and through their bravery, they are making change for future generations. By honoring this group who spoke out, we aim to honor all of those who are survivors of abuse."