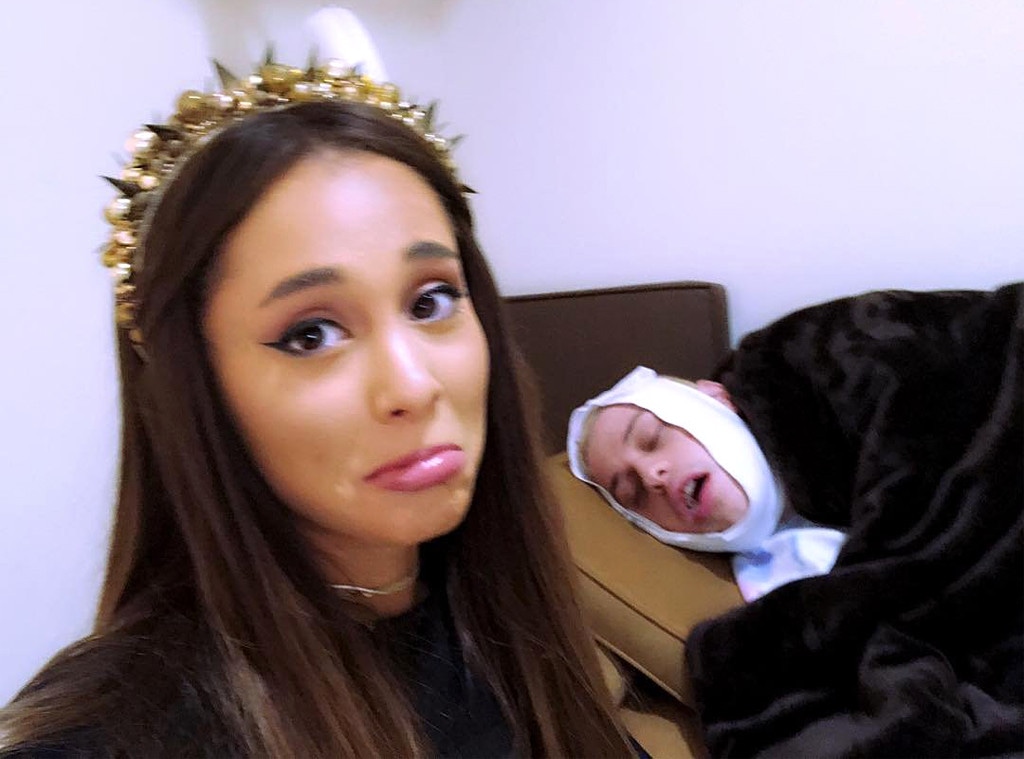 Pete Davidson/Instagram
Ariana Grande to the rescue! 
The pop star didn't leave Pete Davidson's side as he recovered from wisdom teeth removal surgery, taking to Instagram with a hilarious selfie on Friday. The Saturday Night Live star was sound asleep (with his mouth wide open), when Ariana put on her best puppy dog eyes and snapped a photo. 
"Why did my doctor put this thing around my face like it's the 20s?" the Saturday Night Live star captioned the moment. 
Ariana also shared a video of herself kissing Pete, who didn't seem to mind the thick medical bandages wrapped around his head. 
Later that evening, Davidson was able to remove the bandages and head out for a late dinner date with Grande. Photographers spotted the newly engaged couple on the streets of New York City dressed head to toe in stylish athleisure wear. The "No Tears Left to Cry" songstress rocked her trademark oversized hoodie with a pair of thigh-high boots. 
Meanwhile, Pete ditched the tie dye "God Is a Woman" sweatshirt he wore during today's procedure, a nod to Ariana's latest song. 
"GIAW music video and my wisdom teeth are out now," the 24-year-old wrote alongside a post-surgery snapshot. 
Get well soon, Pete! You're in great hands.