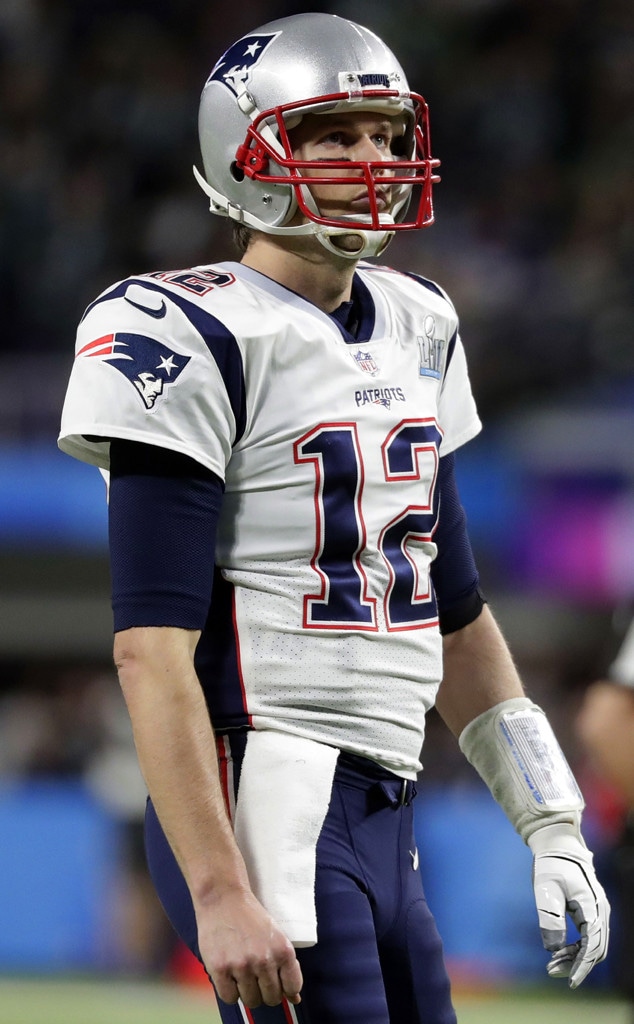 Tony Gutierrez/AP/REX/Shutterstock
"Relax" has never been in Tom Brady's vocabulary.
The world-famous athlete has rarely had a break in his almost 20-year NFL career. Actually, he didn't really have a break before then either. He has been determined since the time he was born.
Raised in a family of sports fanatics, Brady always had a competitive edge. While other kids were playing football at recess just for fun, the youngster was taking the lead.
In high school, Brady was not only a star football player, but also a talented baseball player with the potential to go pro. His determination to play football at a high level paid off, as he had one of the most successful careers at the University of Michigan. Brady was then drafted into his forever team, the New England Patriots.
He has led the Patriots to five Super Bowl wins, and has been called one of the greatest quarterbacks of all time. This week, he may take home three awards at the 2018 ESPYS, including one for Best Male Athlete.
As shown by the title of his 2018 docu-series Tom vs. Time, Brady has begun to look at how he uses his time a little bit differently, especially during the off-season.
That's not to say he's taking it easy by any means—Brady has a regime of workouts, diets and traveling that most people couldn't stomach. But it means he's finally doing it on his own terms.
This last season was particularly tough for Brady. In his eighth Super Bowl appearance, the Patriots disappointed fans as they lost to the Philadelphia Eagles 41-33. The loss has forced Brady to take some time to reflect on his season and his long career in general.
The quarterback shocked Patriots fans when he decided that he would not be participating in the team's off-season training sessions. Instead, he's making his own fitness goals with the help of his long-term personal trainer, Alex Guerrero.
Instead of mindlessly training, Brady has to be more aware about what his body needs.
He told Men's Journal, "So much of what I do now is maintaining my strength, maintaining my conditioning, but also keeping my muscles I would say soft and pliable. When you're 38, you gotta think a little smarter than you did when you were younger. It's been evolutionary, and it's been a lot of fun to commit in the off-season to the same things I'm doing in the season, in order to maintain a high level of play."
That higher level of play will hopefully be reflected in the upcoming season, where Brady is set to return at the age of 41 for his 18th season.
Another cornerstone of Brady's routine is his nutrition. He has revealed that during the season, he stays away from alcohol, caffeine, dairy and sugar, while eating large amounts of vegetables and lean protein.
During the off-season, however, he isn't afraid to give in to a few indulgences. During an appearance on The Late Show with Stephen Colbert, Brady chugged an entire beer in one gulp.
He told Men's Journal that his diet is all about moderation explaining, "You know, if you love ice cream, you should eat it.  And don't feel terrible about it either, just don't eat it every day. I think there's definitely parts of moderation that you gotta live in your life.  And that moderation may be different for different people so, for an athlete who's trying to maximize the length of their career, you better be pretty disciplined."
He shared that having a good diet helps maximize not only his professional career, but also his personal passions saying, "I love being active. I love golfing, I love surfing, I love playing with my kids and I want to be doing all those things that I want to do without being in pain."
In addition to following his diet and fitness routine, Brady's off-season also includes plenty of family time. In his docu-series, he stated that "this offseason is going to be about my family. They deserve it. There's more to think about than just me."
In the last few months, he's been seen being an all-star dad to his three kids, and a loving husband to his wife of nine years, model Gisele Bundchen.
The family has spent time together all over the world, including trips to Qatar, Brazil and to their compound in Montana. Brady has also shared adorable family moments on social media, including a family dodgeball game, proving his kids share his competitive edge.
Ultimately, Brady is taking this off-season to reflect back on his career and life and to realize that any time he has left in his sport is a gift. And above all, he is grateful for his team, his fans and his family.
In an Instagram post a few days after his 2018 Super Bowl loss, Brady wrote, "There are many emotions when you come up short of your goal. And they are all part of learning and growing in this journey of life. Learning turns everything into a positive. And the number one feeling I have had the past 4 days is gratitude."
The 2018 ESPYS air Wednesday night at 8 p.m. only on ABC.