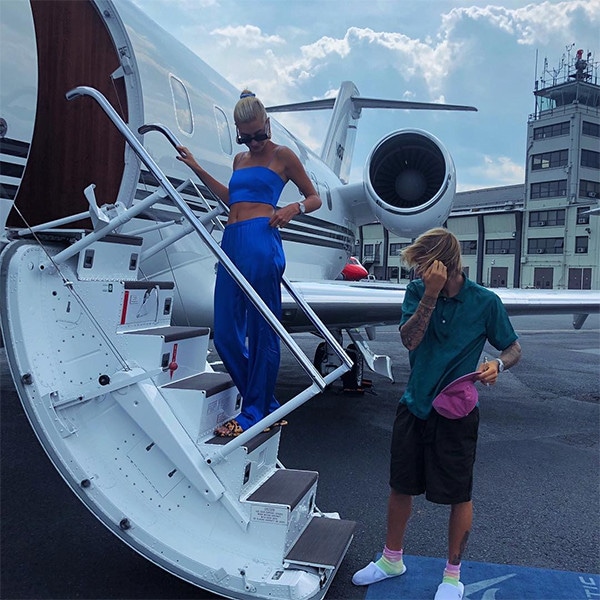 Instagram
Hailey Baldwin is sporting some extra bling after getting engaged to Justin Bieber.
On Friday, almost a week after the 24-year-old singer proposed to the 21-year-old model, daughter of actor Stephen Baldwin, in the Bahamas with a massive diamond ring, he posted on his Instagram Story a photo of the two wearing matching his and hers diamond watches.
"Me and bae," he wrote.
Hailey shared on her Instagram page a photo of her standing on the steps of a private jet near the singer, whose annual earnings are estimated to be $83.5 million, according to Forbes. Both are wearing their diamond watches and she is sporting her engagement ring, which Justin had helped design and which features a large, oval diamond and 18-karat gold band. 
One of Hailey's uncles and Stephen's brothers, actor Daniel Baldwin, talked about Hailey and Justin's engagement on the Daniel Baldwin Show on ESPN Syracuse on Monday, speculating that the singer may buck tradition and foot the bill for the wedding.
"Now you're marrying Justin Bieber, arguably the biggest male star in the business, wouldn't you say? He's right up there, one or two, whatever you're gonna argue," Daniel said. "There's classifications, financially, of wealth...Justin Bieber's a big jet category, he's way up there. I don't think he cares. To make his wife happy, to have a wedding that's gonna make her happy."
He also talked about Hailey's engagement ring.
"You get to a point where you just feel bad about your current wife's rock," he joked. "My wife's gonna look, and she's got a big rock, and she's gonna look at that bad boy and go, 'Well, you didn't get me one like Hailey!'"