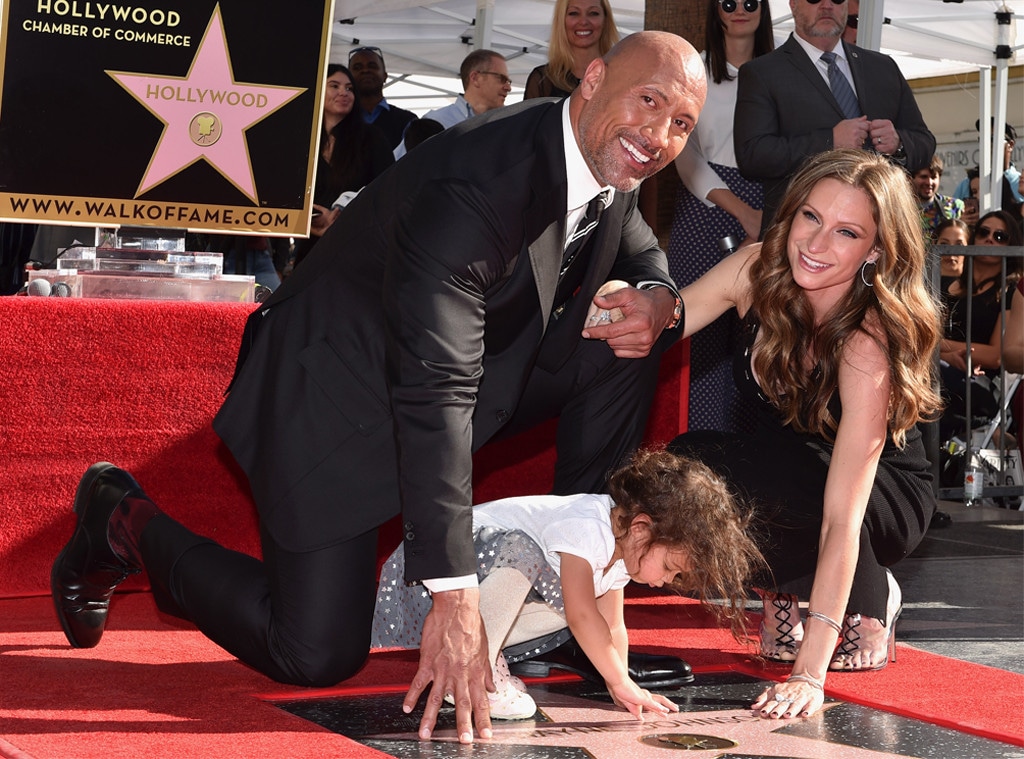 Lionel Hahn/AbacaUSA/Instarimages.com
Once upon a time, the notion that Dwayne Johnson—or, as he was better known to the world, The Rock—was destined to become one of Hollywood's most bankable and lovable leading men would've gotten you laughed out of whatever room you were standing in.
After his introduction in 1996, the man quickly made a name for himself as a wrestler for what was then known as the World Wrestling Federation. The self-proclaimed "People's Champion" was scripted as something of a WWF villain, but Johnson's undeniable star power was clearly present as ever, prompting a passionate, yet niche audience to push his 2000 autobiography The Rock Says to a No. 1 debut on The New York Times Best Seller list.
But Johnson's first stabs at a "legitimate" Hollywood career weren't exactly warmly received. He made his theatrical debut in the 2001 sequel The Mummy Returns as the victim of the film's overly ambitious CGI, the reveal of his Scorpion King becoming an object of derision for years to come. How anyone thought the character was deserving of its own film remains a question to this day. The Scorpion King may have opened at No. 1 and remained there for a second week, eventually becoming a moderate box office success, but critics absolutely eviscerated the film. Johnson may have already become something of the People's Champ, but it would take a bit more time for the Hollywood gatekeepers to agree.
From the jump, though, Johnson's roles, however profitable, weren't entered into with the intention of winning over any critics. The People's Champ always had his public in mind, a lesson his wrestling career ingrained into the affable performer's DNA. "The number-one goal in all those towns, from Paducah, Kentucky, to Bakersfield, California, was always take care of the audience. You find that today in anything I do," he told Rolling Stone in April. "Never send an audience home unhappy."
While he made sure his audience always went home with a smile on their face, his family-friendly steps made after The Mummy franchise weren't exactly the key to the enduring career he longed for. "My career was a little shaky – really shaky," he told the magazine. "Returning to wrestling wasn't an option, because I didn't want to go back deemed a failure. So I'm making these movies, my third family movie in a row, which is often considered career suicide for someone who started in the world of action. Like, 'Check, please – you're done.'"
But it was essentially those films that opened up Johnson's brand and positioned him into the cinematic archetype that has come to make a Dwayne Johnson film almost a genre unto itself: The guy who will save the world simply because he also needs to save his family—at all costs. It didn't hurt that he was well on his way to becoming that sort of guy in real life. 
Johnson welcomed his first daughter into the world right at the time he made his big screen debut in The Mummy Returns, as then-wife Dany Garcia gave birth to Simone on Aug. 14, 2001. "When Simone was born, I remember looking at her and saying, 'I'm gonna take care of you for the rest of my life,'" he recalled during a 2017 interview with People. But just like his career took some time getting off the ground, so too did his acclimation to fatherhood. 
As he was floundering in that string of family films, he also divorced Garcia in 2007. Despite beginning dating long-term girlfriend and mother to his two younger daughters, Lauren Hashian, the bout of depression he found himself in pushed him to explore therapy. "Around 2008, 2009, I was going through a lot of personal s--t that was really f--king me up. I was just struggling, man. Struggling to figure out what kind of dad am I gonna be. Realizing I'd done a piss-poor job of cultivating relationships, and a lot of my friends had fallen by the wayside. I was just scared. Personally, everything was in a very bad and challenging place," he told Rolling Stone. "And then professionally, I couldn't bet on myself. I wasn't used to that. I'd always felt like I could put in the work and fix the scenario with my own two hands."
With a little help from his therapist and the determination present in each of his characters, he pushed through and slowly became the bankable star who could revive your flagging franchise. Beginning with 2011's Fast Five, he joined a successive string of franchises that included Journey 2: The Mysterious Island and G.I. Joe: Retaliation. And we probably don't have to tell you this, but each of them made more than their Johnson-less predecessors. 
In the last five years, Johnson has kept at work with an almost preternatural pace. Aside from almost single-handedly keeping the movie industry afloat (Skyscraper, his second release of 2018, marks his 15th film since 2013 began), he's found the time to executive produce and star in the HBO comedy Ballers, with season four about to debut, as well as keep up his production company, his partnership with Under Armour, his newly-launched ad agency, and his philanthropy—in 2006, he founded the Dwayne Johnson Rock Foundation, which works with at-risk and terminally ill children—as well as welcoming his two daughters with Hasihan, Jasmine (born in 2015) and Tiana Gia (born earlier this year). 
"He's a freak of nature," Johnson's Rampage co-star Jeffrey Dean Morgan gushed to Rolling Stone. "It seems like every month he's in a movie and making a killing. In the middle of shooting Rampage, he's off hosting SNL and doing ads for Apple and running for president and whatever else. He works out at 3:30 in the morning so he can get to set on time. I don't know how he does it. And the other thing is, he's a family dude, so not only is he juggling the 9 million things he's got on his plate for work, he's also raising kids and got a happy marriage. Jesus Christ. I kind of f--king hate him."
It's an ethos that Johnson insists on bringing to every role he plays. "No one's going to see me play a borderline psychopath suffering from depression," he told the publication. "I have friends I admire, Oscar winners, who approach our craft with the idea of 'Sometimes it comes out a little darker, and nobody will see it, but it's for me.' Great. But I have other things I can do for me. I'm gonna take care of you, the audience. You pay your hard-earned money – I don't need to bring my dark s--t to you. Maybe a little – but if it's in there, we're gonna overcome it, and we're gonna overcome it together."
Johnson doesn't take lightly his ability to make fans the world over happy. "When you walk by someone and they're screaming and you turn and walk toward them and they start bawling and you hug them and take a selfie, it's so gratifying to me to make people happy," he told Variety last year. "I have the opportunity to make somebody's day and having that type of impact is a big deal. Plus, it takes effort to be an asshole. It takes so much effort not to be nice, and it's shocking how many in our business are not nice — not just not to fans, but they're not nice to each other."
But above all else—the multi-million dollar films (and the alleged $20+ million dollar paydays they net him), the connection with his fans, the potential bid for presidency—it's family that matters most and family that comes first.
"Having a two-year-old and having a 16-year-old, I'm constantly surrounded by beautiful, amazingly strong points of view — including my two-year old — and the women in my life and my family continue to be my best source of inspiration," he told the trade months ahead of Tiana's birth.
The People's Champ has spoken.