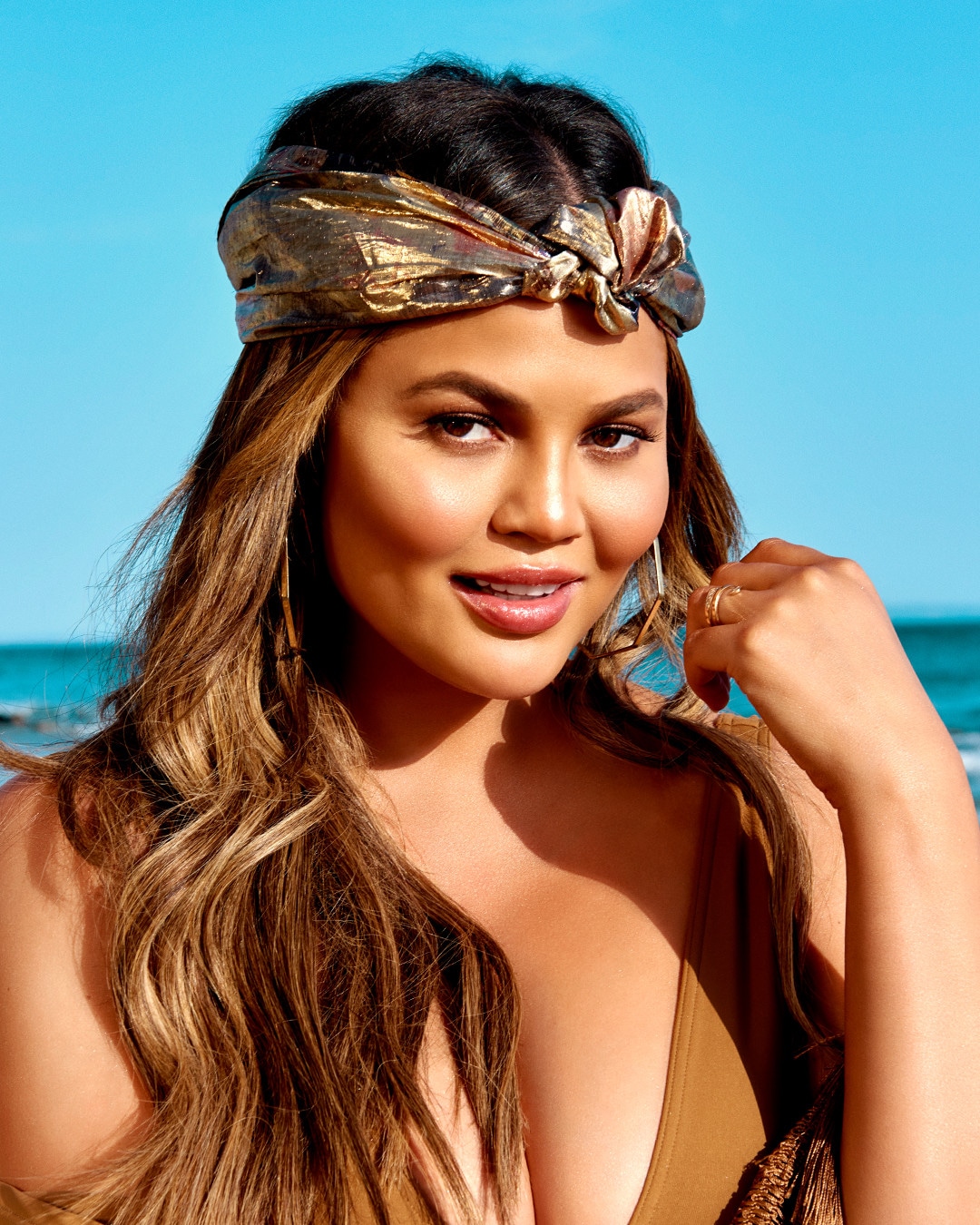 Becca Cosmetics
Chrissy Teigen's life has changed, and she's glowing more than ever before.
After welcoming Miles, the mom of two is focused on spending time with her family. Red carpet appearances are less frequent. Those intense glam sessions are close to non-existent. And, trips to the grocery store are the highlights of her day. 
"I'm doing my makeup myself," she told E! News at the launch of her new collection with Becca Cosmetics. "I am going to the grocery store and doing daily activities with them, but I still want to feel beautiful and confident."
As she should. Just because she's traded in her city lifestyle for a quiet Malibu home, where she cuddles with John Legend, Luna and Miles on the beach, doesn't mean she's left her glamorous lifestyle as a Sports Illustrated model and red carpet stunner behind...completely. 
This is where her collaboration with Becca Cosmetics comes into play. The Endless Summer Glow lip shades, Bronze and Glow Palette and Glow Body Oil connect her life as a busy mom with her love for beauty.
"I think the inspiration [for the collection] came from just having such an appreciation for the beach," she continued. "This is a natural, beautiful glow that you can throw together effortlessly. Honestly, with the babies now and a family and always running around, it's so nice to just be ale to do a beautiful lip gloss and this body oil."
While the products fulfill her current needs, she's used her career as a swimwear model to perfect the formula. According to the Lip Sync Battle host, the body oil is unlike any other. In comparison to baby oil (a popular product on set), which she calls "a nightmare," her Glow Body Oil has a lightweight consistency that won't make your skin or hair look greasy.
"It has such a nice, golden glow to it that you can afford to put it in your hair," she revealed. "It makes it smell beautifully and it doesn't give it a dirty look. It really is a drier oil. I've run it through my hair. I'm not an everyday washer anymore."
Although she doesn't wash her hair as often or put on a lot of makeup, there's one person that fangirls over her look: Luna, an aspiring beauty blogger.
Chrissy told us, "She doesn't shower with us, but she'll sit at the end of the shower, just cross-legged. She'll watch you shampoo and she'll go 'Shave, shave, shave!' Then, when I do my makeup at the sink, she's like 'Up, up, up.' ...If you hand her a lip gloss or a compact and she'll dab, dab."
The cutest part, however, is what Luna does when she's done with "her makeup" and mirroring her mother.
"Then she goes," Chrissy said, kissing into an imaginary mirror, "'Feel pretty!' It's really cute."
It doesn't stop there. Luna has also taken an interest into fashion.
"She's at a stage where she'll compliment you on your outfit. Of course, her taste in outfits—you know, you can't really trust it."
When she gets older, that will change, especially since her beauty coach (a.k.a. mom) has a wealth of beauty and style knowledge.
So, channeling our inner-Luna, we asked Chrissy to teach us a thing or two. Unsurprisingly, she, by way of makeup artist Mary Phillips, changed the game with one piece of advice.
"Mary has me put my under-eye pads in the freezer. I always leave them in there for about two years, before I remember they're in there," she said laughing. "You just leave them out for five minutes and they're good—nice and cool...Those SK-II face masks that everyone uses, I keep them in the fridge."
Beyond that, she advises a routine and products that make you feel good without requiring time.
"We wanted a small beach collection that will give people an effortless confidence. That's what it gave me."