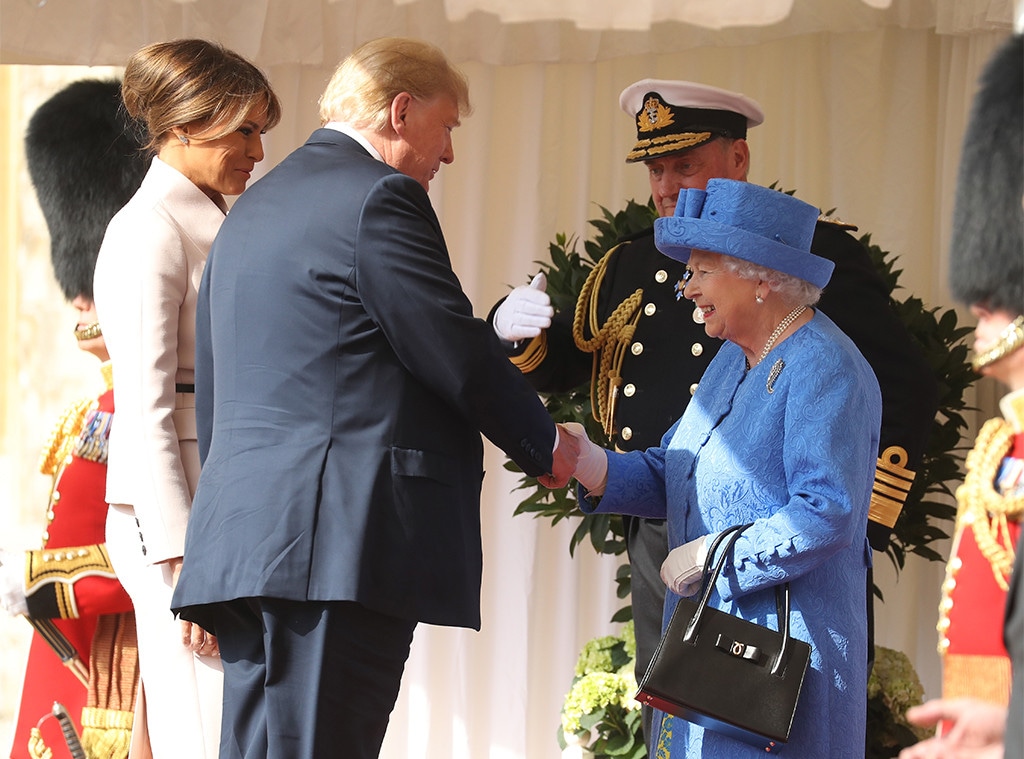 Chris Jackson/Getty Images
President Donald Trump, meet Queen Elizabeth II. 
The president came face to face with the English monarch on Friday when he arrived at Windsor Castle with First Lady Melania Trump for a scheduled meeting over tea. Upon arrival at the queen's Berkshire residence, the royal, donning a periwinkle lace coat and matching hat, greeted the couple at the Quadrangle of Windsor Castle.
The American Commander-in-Chief and his wife were subsequently treated to a royal salute by the Guard of Honor, made up of 1st Battalion Coldstream Guards, as the United States national anthem was played by a revered military marching band. He and Queen Elizabeth II then walked side by side as they inspected the guard. 
Matt Dunham - WPA Pool/Getty Images
Chris Jackson/Getty Images
Trump is the fourth United States president the queen has received at Windsor Castle since the 1980s. She welcomed former presidents Ronald Reagan, George Bush and Barack Obama in 1982, 2008 and 2016 respectively. 
If Trump's visit is anything like Bush's was, the trio will sit down in the White Drawing Room, where they will enjoy a traditional English spread featuring tea, small sandwiches and cakes.
The president's visit to England has not been a welcome one for some citizens as thousands of protesters have gathered in London to march in objection of the American politician. 
The former Apprentice host's meeting with the queen was also a point of contention for Meghan Markle's father, Thomas Markle, who was miffed that Trump was meeting with the queen before he did. As royal enthusiasts well know, the queen's grandson Prince Harry married the American actress in May. 
"If the Queen is willing to meet our arrogant, ignorant, and insensitive president, she has no excuse not to meet me." he told TMZ in June. "I'm nowhere near as bad."