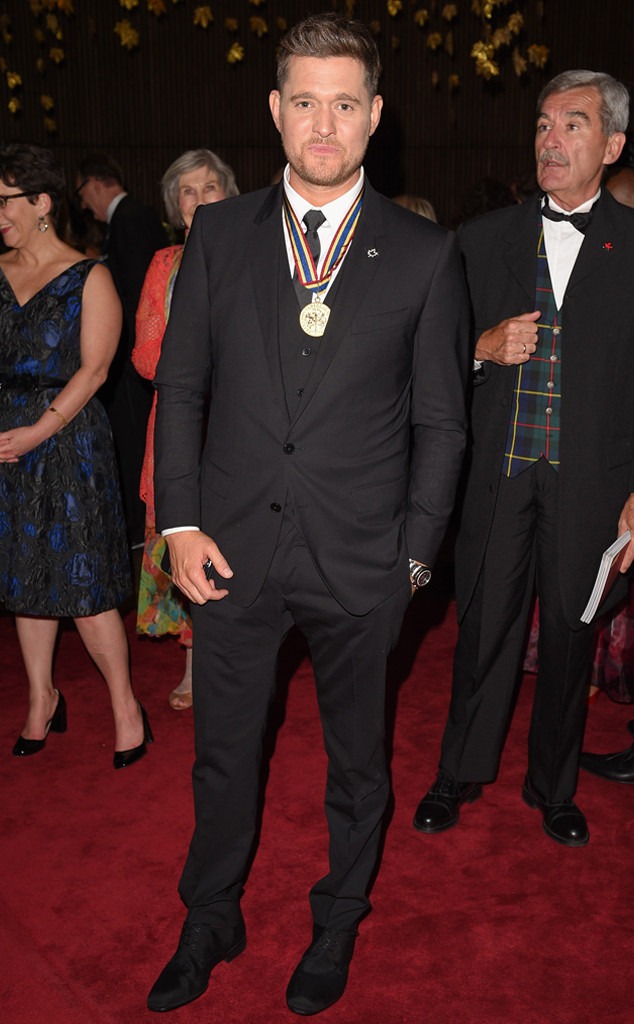 GP Images/WireImage
Michael Bublé is back. 
Nearly two years since the star was faced with his firstborn son Noah's cancer diagnosis, the Grammy-winning standards crooner has officially returned to the stage.
It had been three years since his last studio album when the 42-year-old soon-to-be father of three released Nobody but Me in October 2016. As he recalled to London Evening Standard, just days after the album dropped, he got a text that would change the course of his family's life. 
The text was from his wife of seven years, Luisana Lopilato, with a photo of a surgical scan showing what they would soon learn was a tumor in their then-3-year-old's liver. At the time of the text, Bublé was in London about to appear and perform on BBC One. 
Ever the professional, he pressed on through the performance and jetted home immediately after. The next seven months were spent in the hospital with their son, fearing for the worst at Children's Hospital Los Angeles. 
"You don't get reassurance—you get the opposite," he told Evening Standard. "Everything that they tell you is the worst-case scenario."
After a very private battle, Lopilato gave the public a welcomed update on the youngster's progress in April 2017: he was well. Noah returned home that month and just over a year later, he's about to become a big brother to a little sister as the couple is expecting again. 
Meanwhile, Bublé is also easing back into the spotlight with his 10th studio album on the way and taking the stage on July 7 for a crowd of roughly 70,000 in Dublin followed by a headlining performance for British Summer Time in Hyde Park on Friday. 
Most importantly, he and his family can put the 2017 nightmare behind them. 
"He's perfect," the star told the London Evening Standard of his son today. "The most important thing was to get [the tumor] out, with clean margins. Because if you do, it goes from being this scary thing to just being tremendous odds. No one likes talking about percentages but, honestly, [we have] a percentage where we can live our life, and not live in fear every day. We know we're ok now. But, what we went through was f--king brutal."
Nevertheless, his son overcame it all. "This boy is a hero," the singer told the newspaper. "He's my hero."