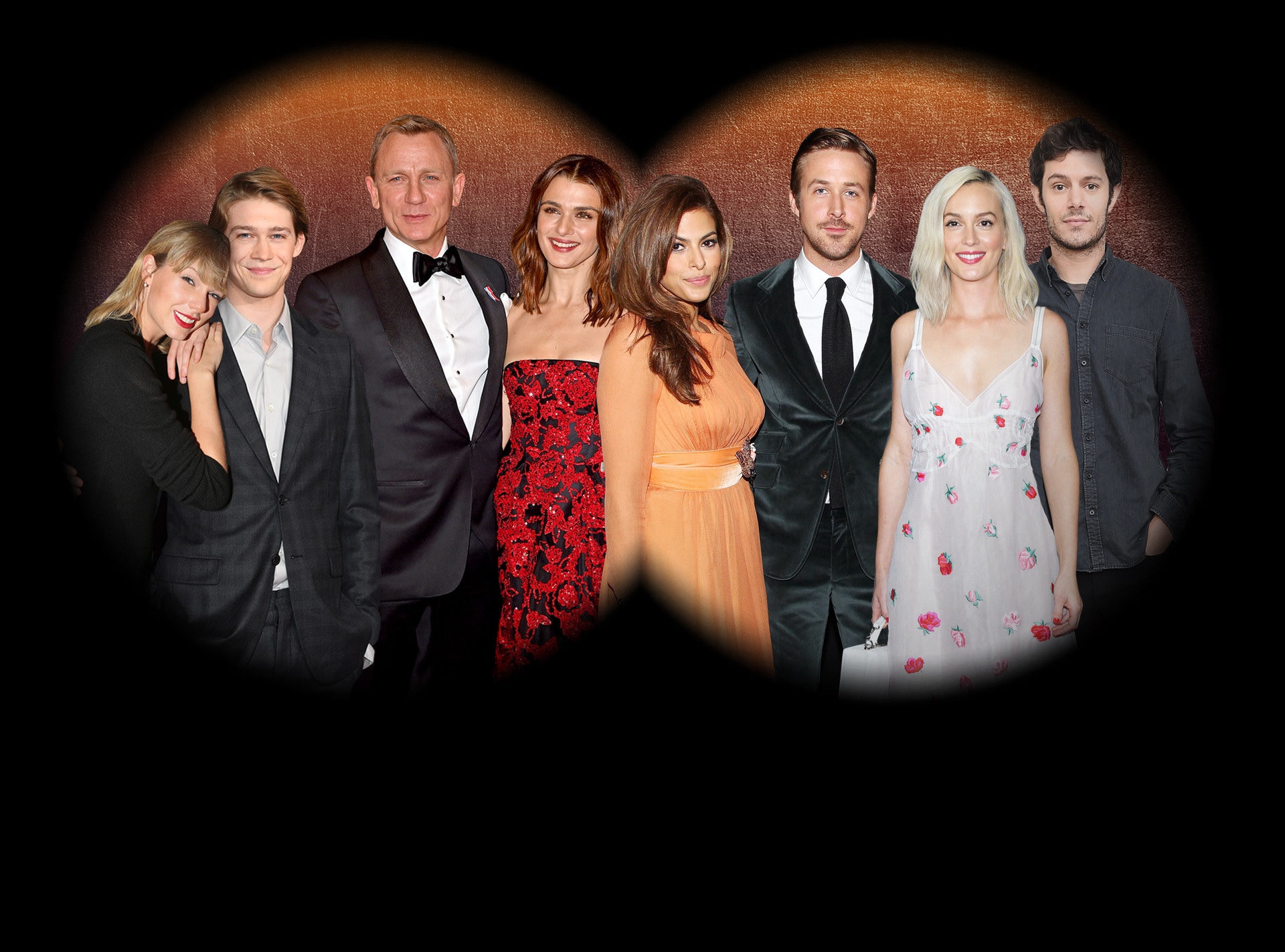 Melissa Herwitt/E! Illustration
Putting on a show. It's kind of what celebrities do. 
So it shouldn't be all that surprising how often their talent for attention-grabbing drifts over to their personal lives. Take Justin Bieber's decision to propose to on-again love Hailey Baldwin in front of a crowd of vacationers in the Bahamas (though his security did ask onlookers to stow away their phones for the big moment). Or Ariana Grande and Pete Davidson's tendency to use social media as their own personal text messaging service. 
And with so much oversharing floating through Hollywood, it can be easy to forget that there's a whole host of very well-known stars who prefer that their real life displays of attention be of the private nature. The type of person who believes, yes, there is sometimes too much information. 
Because for every Will Smith and Jada Pinkett Smith talking about their propensity for getting busy in the back of a limo, there's an Anna Kournikova and Enrique Iglesias, a couple so private, we've spent the better part of two decades guessing if they're even together—speculation that was more or less put to rest when they revealed they'd welcomed twins last December. 
And for every well-Instagrammed celebrity wedding, there are stars like Margot Robbie and Adele, so averse to sharing their most treasured relationships that they only confirmed their marital status after much prodding by fans.
We're not saying one camp is better than others. Or that because some stars fiercely guard their personal lives, they must value them more. Forced to wager a guess, we'd say those in camp overshare are simply so excited to have found their person, they can't help but talk about their joy.
And there's certainly a rapt audience. We hungrily viewed every last detail of Kaley Cuoco's June 30 wedding to Karl Cook down to the spectacular tunnel of twinkle lights and we're still hoping for the full length version of their wedding video.
This is simply a different strokes for different folks situation. As Kerry Washington, unofficial captain of team private explained, to Glamour, "The point is to do what's best for me. I have girlfriends in this business who talk about their personal lives, and it works for them, and I love it. But not for me."
by Jeff Kravitz/FilmMagic
Washington has her reasons. You see, once upon a time she was, while not an over-sharer, certainly not a woman afraid of posing for the cover of InStyle Weddings, gushing about her future nuptials to actor David Moscow.
But a funny thing happened on the way to forever. She and Moscow split before making it down the aisle and Washington realized she wasn't interested in sharing the intimate—and likely painful details—with a couple million of her closest friends.
"I learned through experience that it doesn't work for me to talk about my personal life. I've had earlier times in my career when I did talk about it. I was on the cover of a bridal magazine," she told Glamour in 2013. "But I couldn't just turn around and say, 'I only want to talk about the good stuff, but not the bad stuff.' So I just thought, 'OK, no more.'"
Joe Schildhorn/BFA/REX/Shutterstock
So as delighted as she must have been to find her forever in San Francisco 49ers player Nnamdi Asomugha, she held firm to her own guidelines. When word leaked out they'd quietly wed in Idaho, most people were shocked to learn she was even seeing the cornerback.
They haven't discovered much since. While Washington remains very connected to fans—her Scandal costars credit her with spearheading their weekly live tweets—the most personal parts of her life remain reserved for the people who are actually, you know, a part of it. As she points out to Glamour, she's not hiding anything— "I'm walking around in the world with my ring. And when people say congratulations, I say thank you,"—she's simply offering up the salient details. 
The closest she's come to sharing her joy, was while pregnant with daughter Isabella. (The 4-year-old's arrival, like 21-month-old brother Caleb's wasn't discovered for weeks.) "You know, it's sort of like the rest of my private life: I'm not talking about it that much," she told E! News at the 2014 SAG Awards, "but I feel really, really blessed." 
Keeping anything under lock-and-key in a town as talkative as Hollywood is impressive. Even more so when both halves of the couple are in the industry. And while quite a few pairs have demonstrated remarkable secret-keeping skills (One Tree Hill alum Hilarie Burton and The Walking Dead's Jeffrey Dean Morgan managed to have a child before anyone even realized they were together!) the title of most private pair might just belong to Eva Mendes and Ryan Gosling.
Since connecting on the 2011 set of The Place Beyond the Pines, the duo have only offered the sparest shreds of evidence that they are, indeed, a couple. There was the time Gosling called out "Eva and Ezzy," from the Saturday Night Live stage in 2015, the latter a reference to their daughter Esmerelda, whose impending arrival was only made known some two months before her September 2014 due date. (When Mendes became pregnant with Esmerelda's sister, now 2-year-old Amada, she again managed to keep the pregnancy under wraps well into her ninth month.)
And there was the time Mendes tagged along to the March premiere of Gosling's Song to Song at South by Southwest—a rare joint outing only made known because she Instagrammed a pic of the theater. 
Sonia Recchia/Getty Images
Perhaps most notably, though, was Gosling's sweet tribute at the 2017 Golden Globes. Accepting his best actor trophy, the La La Land star said, "While I was singing and dancing and playing piano...my lady was raising our daughter, pregnant with our second and trying to help her brother with his battle with cancer." 
His words cut right to the heart of why the couple have chosen not to invite their fans into their relationship. "Whether we like it or not, privacy is going to be very difficult for Esmeralda. I think it's unfair but that's our reality," Mendes told Violet Grey in 2014, years before Amada would enter the picture. "So Ryan and I decided early on to give her as much privacy as we could. And my pregnancy was the first opportunity to give her that."
Paul Drinkwater/NBCUniversal via Getty Images
That desire to shield their offspring from a life they didn't sign up for is behind many a star's decision to go dark. As mom of three Isla Fisher explained to TODAY Parents, "If you speak about your children or if you take them to a red carpet event, you can't be litigious later on when there is a picture of them in something and say, 'Hey, they deserve anonymity,' but they do."
For Leighton Meester, who shocked Gossip Girl devotees and fans of The O.C. alike when it was revealed she and Adam Brody quietly wed in Northern California in 2014, the decision extends beyond that. She knows that if she gets to chatting about 2-year-old daughter Arlo in an interview, the entire conversation might get wrapped up in her life as a mom, ignoring the entire reason she was speaking to press in the first place. 
"I don't talk about Arlo very much," she told Refinery29. "I am very proud of that area of my life. But I'm also really proud of the show, and of the work I do." Continued the actress, "I think the perception is: You're an ingenue, or you're an icon, or you're a mom. There's no in between." (Though with her next project being an ABC pilot titled Single Parents, we're guessing the questions won't stop coming.) 
Stefanie Keenan/Getty Images for InStyle
A desire to shield her offspring may be something that fuels Rachel Weisz now that she and husband Daniel Craig are expecting their first child together. (She also has a 12-year-old son with director Darren Aronofsky; he has a 25-year-old daughter with actress Fiona Loudon.) But, frankly, they never wanted to invite outsiders into their marriage. A union they managed to pull off, by the way, like a pair of secret agents. Not even the blurriest of pap photos exist of their 2011 vows.
Pumped for details some nine months later by GQ, he refused to indulge, only confirming the obvious: They were happy and very much in love. "We got away with it. We did it privately. And I've got a lot of people to thank for that," he said of the New York ceremony attended by just four guests. "But that was the point. We did it for private reasons. Because we didn't want it f--ked up, because that would be sharing a secret. And the whole point is that it was a secret."  
Seven years in, Weisz revels in "being Mrs. Craig," she recently told The New York Times, she's simply not interested in divulging all of the reasons why. "He's just too famous," she noted to More magazine in 2015. "It would be a betrayal. You have to protect your marriage."
Kevin Winter/Getty Images
Vincent Kartheiser agrees, saying he remains tight-lipped about his union to Alexis Bledel and their nearly 3-year-old son (one we may never have known about if it weren't for her loose-lipped Gilmore Girls costar) for fear of tarnishing their bond.
Quoting Ernest Hemingway's The Sun Also Rises to Vulture ("You'll lose it, if you talk about it"), he explained, "It's something I realized about the most important things in my life. If I share them with the world and I open that door to their fuming anger that they need to get out or their adoration that they want to flaunt, it lessens it. It cheapens it; it weakens it. And it's magical, love, and all of that is…profoundly spiritual, and it just doesn't feel right."
For other celebrities, they have simply been there, tried that. From the time Taylor Swift dropped her first verse about the high school boys who "thought they would be cool and break my heart", her relationship status has been of unique interest. When she wasn't being labeled as a serial dater, outsiders were speculating about why she didn't have a man. 
And then there was the breathless coverage of the relationships themselves. Whether she was walking down a Brooklyn street with Jake Gyllenhaal or strolling through Central Park with Harry Styles, there was a need to know exactly where they stood: Was it love? A romance that could end in engagement? Or simply fodder for her next album?
By 2014, Swift had enough. "I feel like watching my dating life has become a bit of a national pastime, and I'm just not comfortable providing that kind of entertainment anymore," she told Rolling Stone. "I don't like giving comedians the opportunity to make jokes about me at awards shows. I don't like it when headlines read 'Careful, Bro, She'll Write a Song About you,' because it trivializes my work. And most of all, I don't like how all these factors add up to build the pressure so high in a new relationship that it gets snuffed out before it even has a chance to start."
So when she crossed paths with rising actor Joe Alwyn...uh, somewhere, at some point after she split with Tom Hiddleston in September 2016 and before their relationship was uncovered in May 2017, she decided it best to adopt a courting method that can only be described as covert. 
In the early months, she and the British actor went into what a source calls "lockdown" mode, an approach that involved a series of private jets, UK customs officials willing to check her passport on the tarmac, blacked-out sedans and dates spent in private locales "where they could really get to know each other without the pressure of being in a public relationship and people making judgment calls." 
Gachie / NPEx / Splash News
Even after The Sun revealed "Taylor's Secret Brit Love" last May, they maintained their cloak and dagger routine. Though they've since been captured by photographers a few times, they're hardly posing hand-in-hand on a red carpet. And the closest Swift has come to gushing about Alwyn was pointing in the direction of his VIP seat before launching into her single "Gorgeous" at the May opening of her Reputation Stadium Tour. 
Such efforts may be viewed as extreme, but they were certainly effective. "Being low-key and staying out of the spotlight has really helped their relationship," an insider tells E! News of the 10-time Grammy winner and the Mary Queen of Scots actor. "It's made things more special and sacred." 
Golden Eye/London Entertainment/Splash News
And, ultimately, that's the reason for the red carpet avoidance, the unanswered questions, the necessary subterfuge. 
When a star pairs up with another star, they get why their devotees are interested in every last detail. "I understand why people ask, 'Are you married? Do you have a girlfriend? Do you have kids? Do you have kids that we don't know about," Iglesias admitted to E! News in March 2014. 
But fans also need understand why he chooses not to answer. 
"When I go back home," he explained. "I want to make sure that whatever goes on in my house, it's just for me and my loved ones that are with me right there. I need that."