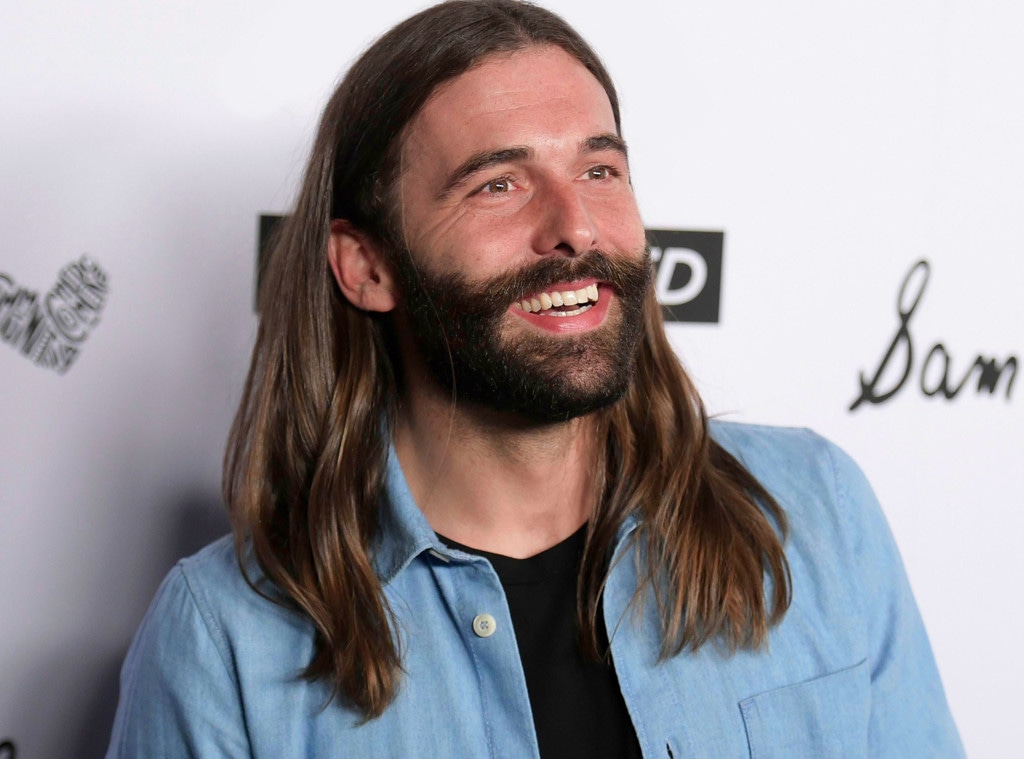 Richard Shotwell/Invision/AP/REX/Shutterstock
Jonathan Van Ness is having an extremely good year, and in particular, an extremely good day. 
When the Emmy nominations were announced this morning, Van Ness was surrounded by his Queer Eye costars to discover that not only was the critically acclaimed Netflix series nominated for an Emmy (or several), but so was his hilarious Game of Thrones recap show, Gay of Thrones. 
After also scoring a nomination in 2016, Gay of Thrones wasn't eligible in 2017 due to the fact that Game of Thrones aired later in the year. Other than depriving him of another year at the Emmys, Game of Thrones' airing schedule also created a pretty interesting schedule for Jonathan. 
"Last year, I shot Gay of Thrones and Queer Eye at the same time," he tells E! News. "I don't think a lot of people realize that. I was shooting Queer Eye like Monday through Friday, and then you know, maintaining my hair clientele and then like flying to LA, doing hair on Saturdays, and then filming Gay of Thrones on Sunday, and then I fly back to Atlanta, and I really had to keep that under wraps because you know Netflix hadn't announced yet. And it was really difficult, but it was also such an honor." 
That means that this year, Van Ness is essentially nominated for two Emmys for one particular grueling but very rewarding summer. 
"I can't stop crying when I think about it," he says, starting to actually cry. "It means so much to me." 
The Fab Five watched the nomination announcements together this morning, and as a video posted on Jonathan's Instagram proves, they absolutely lost their minds over both the Queer Eye nomination and Jonathan's double nomination. 
"We were all together. Everyone was watching together, and we're so excited, and I totally screamed, and I'm so excited for Queer Eye," he says. "We were just like so excited to share our passion with everyone that would be responded to is really just so incredible. To be an executive producer on Gay of Thrones and to get this nomination from the viewers just means like so much to me. It was just like a long road with Gay of Thrones, and Erin the director of it and I distinctly have overcome so much. You know Funny or Die has been through so much, and to get our second nomination in this category is just like…I don't know. I can't remember the last time I've cried so hard. I'm so excited." 
Chelsea Lauren/Variety/REX/Shutterstock
Read on for the rest of our interview with Van Ness! 
E! News: What does it mean to you to be a part of two shows that are both nominated? 
JVN: I had been a hairdresser my whole life, and once I got introduced to Gay of Thrones, and basically that happened because I recapped Game of Thrones accidentally in the chair, and Erin had this vision, and she ran with it. That was how I got introduced into entertainment. You know, going from a hairdresser to an executive producer of an Emmy-nominated web series and to be on an Emmy-nominated show like Queer Eye is just beyond my wildest dreams…like it really leaves me speechless. But I think the most important thing and what I'm so excited for is that all of the people…oh my god, I'm so going to cry…like all the people that talk to me, they see themselves in me, and they can see someone like me succeed when they see themselves in you is just a privilege I never thought I would have, and I've just come through so many tough times, and this is just really incredible. Even if you never win anything, to be recognized in this way is just incredible to me, so I'm just really honored.
E! News: Big award shows like this have often been accused of being a little more traditional and not as willing to step out of the box. How does it make you feel that these two not-so-traditional shows are getting this recognition?
JVN: I think that the Emmy's are by far the most reflective of all of the shows. I think it's more ear to the ground, in a way that…it just has its ear to the ground. And just for queer visibility and for LGBTQUIA+ visibility, this is just so important that little boys and little gay and lesbian and queer and trans and all sorts of little kids can look up and see people that are in their community thriving, and that's really important. But I also think that it's important to remember not to pat yourself on the back too much for [diversity] and inclusivity because LGBTQUIA+ shows are woefully underrepresented, so it's like, this is amazing, and I'm so excited, but I only want more for our community—not myself, but more for our community. LGBTQUIA+ people are so diverse and are just such a gorgeous tapestry, and they hold our society together in so many ways, and we're gorgeous. And I'm so excited that we're being allowed to thrive. No, actually, I'm just really excited that we're thriving. We're not being allowed to thrive, we are just thriving, is what it is.
E! News: Are you looking forward to going to the ceremony? Do you have plans for what you're going to wear?
JVN: Yes! I don't know what I'm going to do—I don't know. I'm pretty sure there's going to be a heel involved, but I don't know.
E! News: Any plans to shock us all on the carpet or go really big?
JVN: I don't know. My middle name is I Don't Spoil Stuff—I don't know if anyone ever told you that. Some people think it's McDonald, but it's actually I Don't Spoil Stuff. Kidding! But I really don't know what I'm going to wear yet.
E! News: Since Queer Eye has started, I feel like your catchphrases specifically have become really widespread, like a lot of people have started to use them, a lot of people are starting to imitate you. How do you feel about that?
The only piece of it that makes me a little sad is like I really do say "Can you believe?" like all the time. I feel like a lot of my other catchphrases are ones from my vault, like I haven't used it since 2005, and I dust her off, and I give her a new spin. But I really do say "Can you believe?" a lot, and now every time I say it, I feel like really pretentious and like I'm quoting myself, but it's just like actually something I say all the time. So that's the only one like I feel like in my vernacular, like "Can you believe?"—I feel really awkward using her now, and she's like my favorite thing to say.
E! News: But you started it, so I think you're okay.
JVN: It's okay, right? Sometimes I feel like when I meet new people then I'll be like "Oh my gosh, like can you believe?" Then they give you this look like ew, and I'm like "No!" it's like my favorite thing to say.
Queer Eye is now streaming on Netflix, and Gay of Thrones will return to Funny or Die alongside the final season of Game of Thrones on HBO in 2019.
Queer Eye scored four 2018 Emmy nominations, including Outstanding Structured Reality Program, Oustanding Cinematography for a Reality Program, Oustanding Picture Editing for a Structured or Competition Reality Program, and Outstanding Casting for a Reality Program.