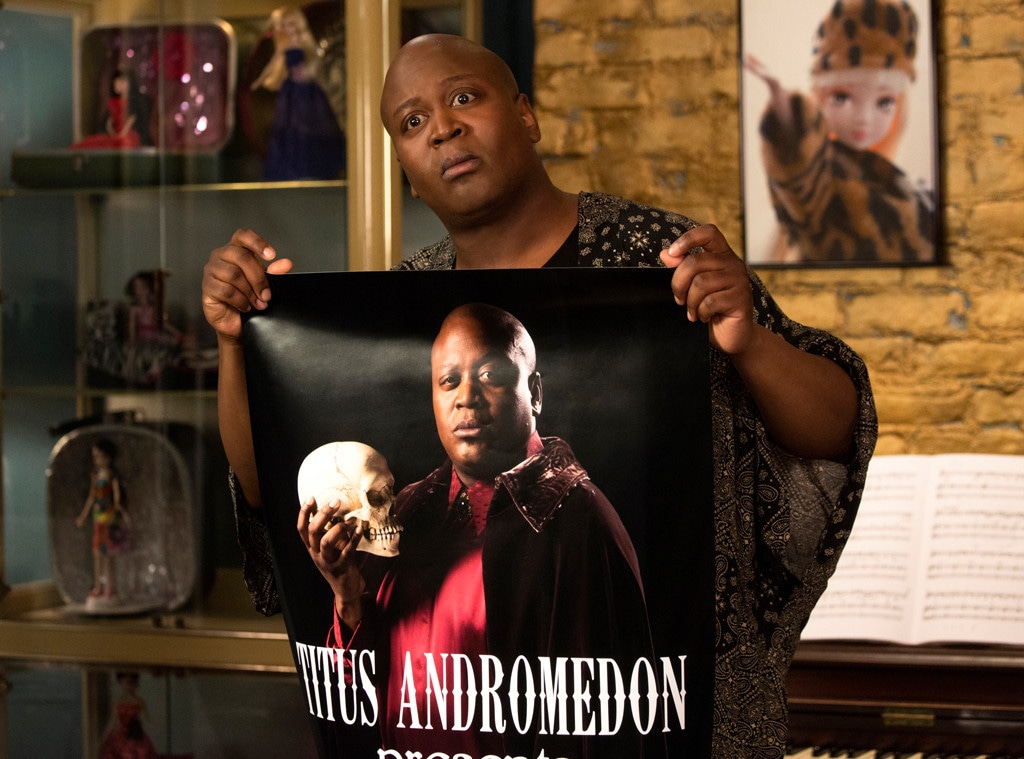 Netflix
Tituss Burgess got the call about his fourth Emmy nomination for Unbreakable Kimmy Schmidt in a place nobody probably wants to receive any kind of news, good or bad: The airport security line.
"I was totally in line going through security and I had to put my phone away and I heard it ringing and I turned it to vibrate and it went through the conveyor belt I didn't find out until I got through," Burgess said via a phone interview at the airport. "And of course I was chosen for a random search, so, [Laughs.] just my luck, the news was delayed and of course you know, finding out at security is not exactly the place you wanna scream and shout, whether its joy or anger, so I waited until I had a private moment and then I squealed."
Burgess said it was impossible to keep his elation in check, but he did it.
"I just feel honored and I can't believe it happened to me, honestly. I am in an esteemed group of colleagues that are in the category, so it's an honor," Burgess admitted.
As for the celebration? "Champagne on the airplane, put my feet up and take a well-deserved nap because I have been a busy bee," Burgess said.
A busy bee who just completed work on the series finale of Unbreakable Kimmy Schmidt. Burgess' costar Jane Krakowski was on Watch What Happens Live with Andy Cohen and revealed the cast and crew had wrapped production and she said the ending was beautiful for the characters.
"Oh, it was bittersweet, it's very hard to walk away from them and this setting, it's even harder for me to, to have to hang up Titus Andromedon, but hopefully not for long, there is a movie rumored, but even so just the thought that his days are numbered in terms of me being able to put him on and wear him," Burgess said, noting the sadness he's feeling saying goodbye to the character and show.
"But I am ever-so grateful that I had the opportunity to just be in the mix," he continued.
Burgess didn't take anything away from set on the last day—he's been taking items over time!
"Oh, I stole a few things throughout the seasons we were on air," he said. "I have a house full of trinkets they don't know about…I've been stealing all these years."
Burgess said everyone was appreciative of the work they all did for the final season. "We were very happy to deliver a strong season that was well-thought and well-written by Tina Fey and Robert Carlock. I'm glad it was acknowledged in the comedy category," he said.
The remaining episodes of Unbreakable Kimmy Schmidt premiere on January 25. The first half ended on a cliffhanger with Titus, Kimmy (Ellie Kemper) and Co. being spied on.
"[Laughs.] It's going to be so good," Burgess said.