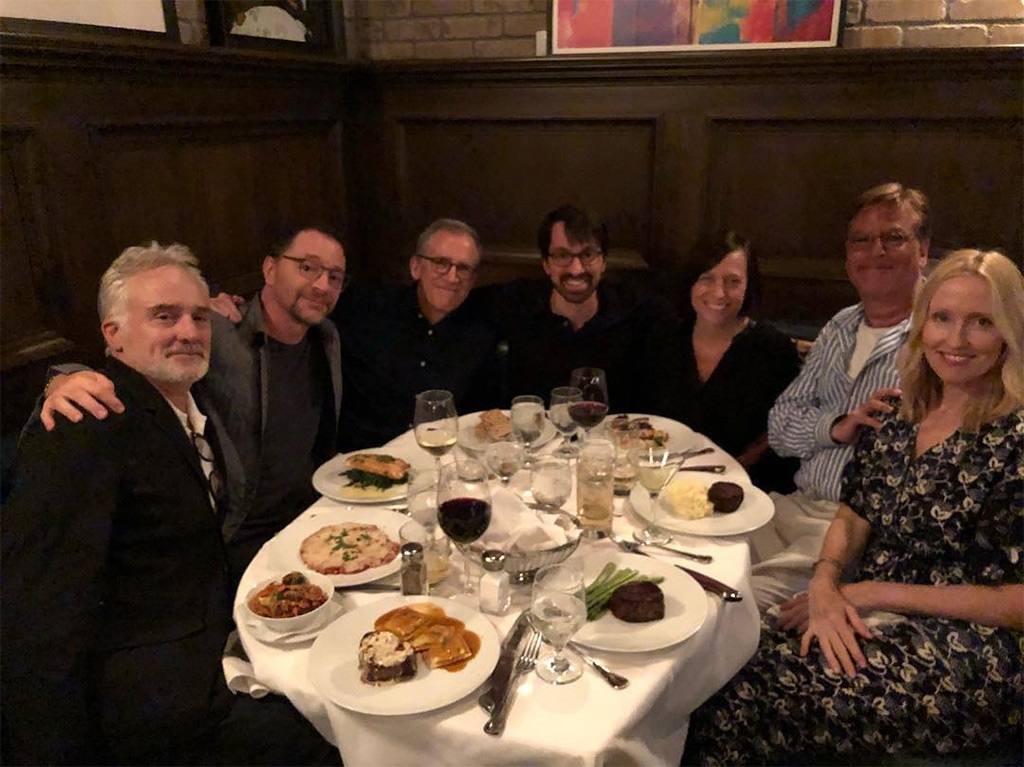 Instagram
It's another West Wing reunion!
Joshua Malina, who played Will Bailey on the NBC series, posted on Wednesday night a photo on social media of him having dinner with friends, including fellow former co-stars Bradley Whitford (Josh Lyman) and Janel Moloney (Donna Moss) and show creator Aaron Sorkin.
"Talking reboot," Malina wrote.
Was he being series? The actor, who's spent the last few years as a cast member on Scandal, is known for his sense of humor. But while no plans to reboot the show have been announced, Sorkin appears to have a standing offer at NBC to create one.
Britford, recently seen on The Handmaid's Tale, is also known for his sense of humor. During the recent West Wing reunion dinner, the actor wrote in a since-deleted tweet, "I'm horny."
"Come by," comedian and Silicon Valley and The Big Sick star Kumail Nanjiani replied.
"I'm having dinner with @JoshMalina," Whitford tweeted in response. "He took my phone and tweeted that last tweet. It was not me. I swear to God. Forgive him. @kumailn."
"Oh ahaha. Yeah I was joking anyway!" Nanjiani said. "Totally cool! *walks into bathroom. Turns on cold shower. Gets in still wearing his tuxedo*"
Scores of fans have pushed for a West Wing reboot, especially since the 2016 election.
in 2017, NBC Entertainment Chairman Bob Greenblatt told Deadline in 2017 that he had said to Sorkin, "Do you want to do The West Wing again, wouldn't it be great to do it?" and that the show creator told him, "You know I love that show and some day I'd love to revisit it, but it's not going to happen right now."
Later that year, Sorkin told The Hollywood Reporter that if he were to reboot the West Wing, he would want This Is Us' Sterling K. Brown to play the U.S. president, and that there would be a plot about "some kind of jam, an emergency, a very delicate situation involving the threat of war or something, and [President] Bartlet, long since retired, is consulted in the way that Bill Clinton used to consult with [Richard] Nixon."
This past April, Sorkin said on Malina's The West Wing Weekly podcast that Greenblatt had told him a year prior, "I want you to do The West Wing again in some form. You can do it for nine episodes, 13 episodes. You do it with a different cast, the same cast."
"Incredibly, the show has a legacy," Sorkin said. "The last thing I would want to do is harm that, so if I can come up with an idea that doesn't feel like A Very Brady Christmas, if I can come up with an idea that works, then yeah." 
Members of the cast of The West Wing have occasionally reunited since the show ended its seven-season run in 2006.
Malina, Martin Sheen (Jed Bartlet), Allison Janney (C.J. Cregg), Dulé Hill (Charlie Young), Melissa Fitzgerald (Carol Fitzpatrick) and William Duffy (Larry) jumped back into their roles for a Funny or Die video in 2012. Also that year, Sheen, Janney, Whitford and several others stars reunited to star in a campaign video for now-Michigan Supreme Court Justice Bridget McCormack.
In 2015, Malina, Whitford, Hill, Janney, Sheen, Mary McCormack (Kate Harper), Richard Shiff (Toby Ziegler) and show writer Eli Attie reunited for another Funny or Die video. In 2016, many cast members and Sorkin reunited for a Today show interview to celebrate the 10-year anniversary of the series.