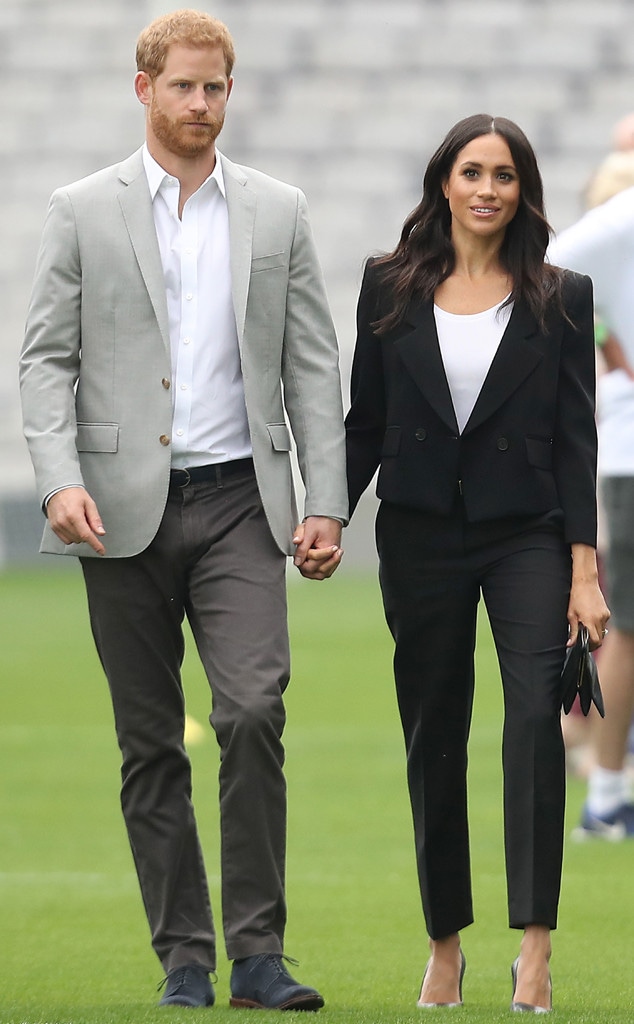 Chris Jackson - Pool/Getty Images
Prince Harry absolutely wants to have children. How many, however, remains up for debate.
As the royal family member and Meghan Markle continued their trip to Dublin today, a few lucky fans were able to interact with the couple.
One well-wisher was Elaine Adam-Stewart who told Prince Harry that her husband has red hair and gave her five children. She proceeded to ask: "When are you and Meghan going to get going?"
"He laughed and said, 'five children?—too many,'" Elaine shared with People when recalling the fun interaction.
That's not to say having kids is out of the question for this world-famous couple.
During the couple's first joint interview on the BBC, a reporter asked about their plans for children. "I think one step at a time and hopefully we'll start a family in the near future," Prince Harry shared shortly after getting engaged.
Speaking of kids, a light-hearted moment occurred earlier in the day when the couple visited Dublin's Croke Park stadium.
As a young boy posed for pictures alongside the Duchess of Sussex, the kid decided to play with Meghan's hair.
Meghan immediately lit up and smiled as she held his little hand. Prince Harry also noticed the innocent moment and decided to scold the young fan by wagging his finger at him. But don't worry, he had a giant smile on his face and it was all in good fun.
During their visit to Croke Park stadium, the topic of today's World Cup game just so happened to come up too.
Before England takes on Croatia, the duke was asked by a reporter if "football was coming home" in reference to the chant from the hugely popular Three Lions anthem.
As Harry and Meghan posed for a picture with President Michael D. Higgins and his wife Sabina, the duke replied laughing "most definitely." Safe to say we know who this couple is rooting for today.