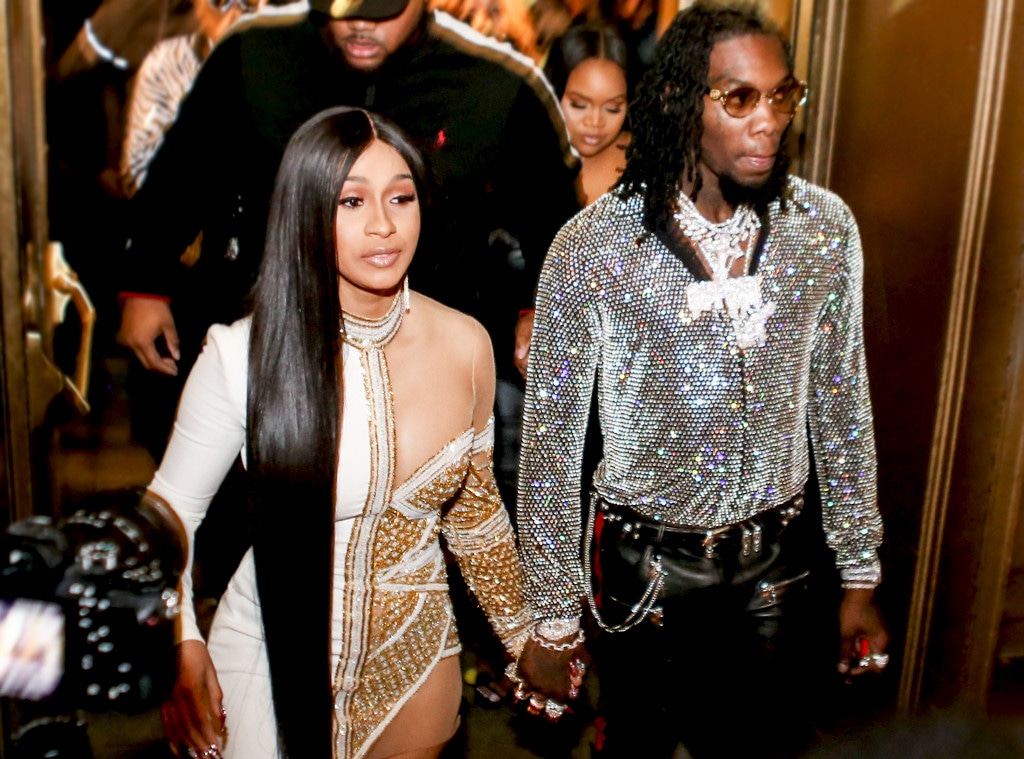 Thaddaeus McAdams/Getty Images
President Offset and First Lady Cardi B.  
Those were the labels hip-hop fans threw out when Migos' standout (born: Kiari Cephus) and the sensation behind "Bodak Yellow" (her given name: Belcalis Marlenis Almanzar) first stepped out holding hands at the 2017 Super Bowl in Houston.
It's hard to argue that they were wrong. In the 17 months since, despite a few undeniable snags in their burgeoning relationship, the couple have consistently reigned over the trap music world, racking up popular tracks ("I Like It" earned Cardi her second Billboard Hot 100 No. 1, making her the first female rapper to do so), magazine covers (Rolling Stone recently chronicled their rise to power couple) and records. Having already dropped two successful mixtapes, Cardi watched as her chart-topping debut album, Invasion of Privacy, notched the most first-week streams by a female artist on Apple Music. 
Now they have a princess who can share their kingdom. Kulture Kiari Cephus, born yesterday per Cardi's Instagram, represents a new chapter for the thoroughly modern couple who kept their spur-of-the-moment bedroom-set September nuptials a secret for months, only confessing the news when Offset, 26, referred to her as his wife while accepting a trophy at the BET Awards. "Cardi is in love and cried when she was born," a source tells E! News of the new arrival, whose unique moniker was chosen by Dad, a possible nod to Migos' most recent albums. "They are both obsessed and really happy."
As they dive into a the world of diapers and late night feedings, we wouldn't bet on parenthood (Offset has three kids from three previous relationships) slowing their ascent to music superstardom. Set to join Bruno Mars on tour this September, Cardi, 25, already has plans for her newest fan to tag along. "What I envision is my tour bus has my own personal room, and I just want to be with my baby," she told Rolling Stone last month. "Only time I don't have my baby with me is when I'm getting my hair done, makeup done, performing."
Because a woman who turned her stripping gig into an Instagram following and a role on VH1's Love & Hip-Hop: New York, then tried her hand at rapping in an effort to monetize her notoriety is confident she can seamlessly add ever-present mother into the mix. "I don't want to miss one second," she told the mag. "I don't want to miss no smiles, I don't want to miss no new movement, I don't want the baby to confuse me and the babysitter." Expect Dad to be hands-on as well. "Offset has been super supportive," says an insider. "He has been by her side throughout all of her projects." 
Though Offset—a musician with a lengthy rap sheet that includes gun and drug charges and an eight-month jail sentence—guested on "Lick," a track off Cardi's Gangsta Bitch Music Vol. 2 release, the pair didn't come face-to-face until what Cardi calls a chance meeting in New York in February 2017, right around the time Migos notched their own hit with "Bad and Boujee". 
Their Super Bowl outing was actually a first date—a statement making one that forced the pair to continuously explain their relationship status over the coming months. And while Cardi was quick to label the Georgia-born musician, who's collaborated with everyone from 21 Savage to Macklemore, her "babe" in a Valentine's Day Instagram, she stopped short of confirming their coupling, telling Fader that March, "I'm not saying I'm dating an Atlanta guy."
Daniel Boczarski/Getty Images for blu
Even after they made what can only be a declarative statement of coupledom, stepping out together at a Met Gala afterparty, the two-time Grammy nominee declined to make him her plus one at June's BET Awards, a source telling HollywoodLife at the time, "She's playing it cool with him right now. He didn't ask her to go with him and she's for sure not going to ask him. They're still talking to each other, but it's complicated."
Complicated being an apt description for the entire first year or so of their romance. Just when it seemed they were making their union officially official, like the time Cardi hinted at engagement rumors ahead of her August MTV Video Music Awards performance, saying, "Every woman, I think, wants to get married and wants to have children. It's never too early to get married now," there would be an equally public sign that the relationship was in flux. 
Jordan Strauss/Invision/AP
Last October, while Offset's likeness still decorated the tips of her elongated nails, she posted two separate photographs. With the first, she dubbed herself single. On the second, she proclaimed, "Peace nikka." By the next day, though, she was tweeting it was all a misunderstanding over a stolen purple blanket. (Because, really, who hasn't been there?) "But on a serious note," she concluded, "I really loveeeee my man he was gifted to me from Jesus."
At Power 99's Powerhouse in Philadelphia days later, a sold-out crowd watched as he dropped to one knee, a sea of cell phone cameras capturing the moment and her enormous eight-carat teardrop-shaped diamond. "Jesus Christ I'm so emotional," she wrote on Instagram. "@offsetyrn I loveee you so much. Thank you for seeing the potential in me since you met me. For giving me advice molding me and loving me...I can't wait to spend FOREVAAAA with you. Lets make a lot shmoney and love together."
So far they're on plan, the pair (worth a reported $8 million combined) having already weathered their first scandal. 
A December iCloud hack allegedly caught Offset with another woman, a report she seemed to confirm, in since-deleted missives, "I'm going to make a decision in my own times with my heart and mind. I don't need to be rushed or be told what to do. It's my life! I belong to me not to the world," she wrote, adding that while "it's not right" to cheat, "What you want me to do? Go f--k me another n---a? start all over again and get cheated on again? This s--t happens to everyone."
She later explained her situation to Cosmopolitan, saying, "It's like everybody is coming down my neck like, 'Why are you not leaving him? You have low self-esteem.' I know I look good. I know I'm rich, I know I'm talented. I know I could get any man I want—any basketball player, football player. But, I want to work out my sh-t with my man, and I don't got to explain why." 
Because the truth was pretty complicated. As Cardi would eventually reveal, they were actually already legally bound, the idea springing to mind one day when they were lounging in his expansive Atlanta manse. 
"Our relationship was so new breaking up and making up and we had a lot of growing to do but we was so in love we didn't want to lose each other," she explained, "one morning in September we woke up and decided to get married." 
So they phoned up Atlanta-based minister Melinda Guess, choosing to focus on the enormity of what they were entering into rather than the traditional trappings of a wedding. Standing in front of their king size bed as her cousin looked on, Cardi (in fitted pants and a top) and a jeans-and-a-tee-clad Offset exchanged the standard vows provided by Guess. Without rings to share, they sealed the moment with a kiss and several hugs. "They were definitely excited and I could tell they were a little nervous too," the officiant told E! News. "You can tell there is so much love between them." (Offset later chose to carry out his dramatic proposal, Cardi explained, because he wanted "for me to have that special moment that every girl dreams of when he got down on his knee and put a ring on my finger and he did that for me!!")
Formally husband and wife, they started whispering about what it would be like to adopt the titles of Mom and Dad, but Cardi still didn't expect the home pregnancy test to come back positive. 
After an initial freak out ("A lot of successful women have kids, and a lot of successful artists have kids, but not at the peak of her career," she noted to Rolling Stone), she FaceTimed Offset who sealed their fate with a broad smile and a promise. "He said, 'What do you mean, what are you going to do?' You're going to keep it,'" she shared.  
For her part, Cardi explained during an April appearance on Power 105.1's The Breakfast Club, just days after she revealed her baby bump in spectacular fashion on Saturday Night Live, "I just didn't want to deal with the whole abortion thing. I just didn't want to." Besides, she continued, "I'm a grown woman. I'm 25 years old. I'm a schmillionaire and I'm prepared for this."
After all being able to support a family has been the overarching drive that's propelled her from a downtown strip club to the upper echelons of music fame. "I need to make money for my family and my future family," she told Rolling Stone last October, weeks before she realized just how prescient her words were. "I'm not a YOLO person. I think 25 years from now. I think about my future kids, future husband, future house."
Sister Hennessy Carolina told E! News she was confident her older sibling has all the trappings of being "a really good mom." Concluded the TV personality, "She spoils a lot, she knows how to buy the best gifts so she'll be the best mom. And she's funny so we're going to have a lot of fun."
Astrid Stawiarz/Getty Images for New York Fashion Week: The Shows
Concluding that she rebelled because her mother was so strict, Cardi plans to be the cool mom, one that will sign her daughter up for Spanish and French classes along with boxing ("I don't want my kid to get picked on and she don't know how to defend herself,") and perhaps ballet. 
A lesson in street smarts is in the offing as well. "I'm going to tell her everything. Everything," she revealed to Rolling Stone. For example: "You have a choice. I could maintain you. I could spoil you if you go to college. Or if you want to be independent, go ahead. When you a teenager and you 18, 19, you can't get no job that pays you more than $200 a week. You want to become a stripper? 'Cause I became a stripper 'cause I ain't have no choice. You gonna be getting your a-- smacked by n---as that have less money than you, less of an education than you, but they going to feel like they better than you because they feel like you need them. You want to live like that?" 
John Parra/Telemundo/NBCU Photo Bank via Getty Images
Little Kulture would be wise to listen. Not satisfied with her already overwhelming success, Cardi has plans to settle in Atlanta with Offset to her mom and follow in who has plans to settle in Atlanta with Offset ("My boo is very down-South," she said by way of explanation) and expand their empire, investing in whatever "makes our money work." 
Her man is content to be along for the wild, Cardi ride. "My mama was the man of my household," he explained to Rolling Stone. "Guys, fellas! You'll lose your wife trying to stop them from being the best they can." 
And he's well aware he's found the very best. "We really love each other," he said. "She's real. I wanted real. I also wanted successful." 
Mission decidedly accomplished.