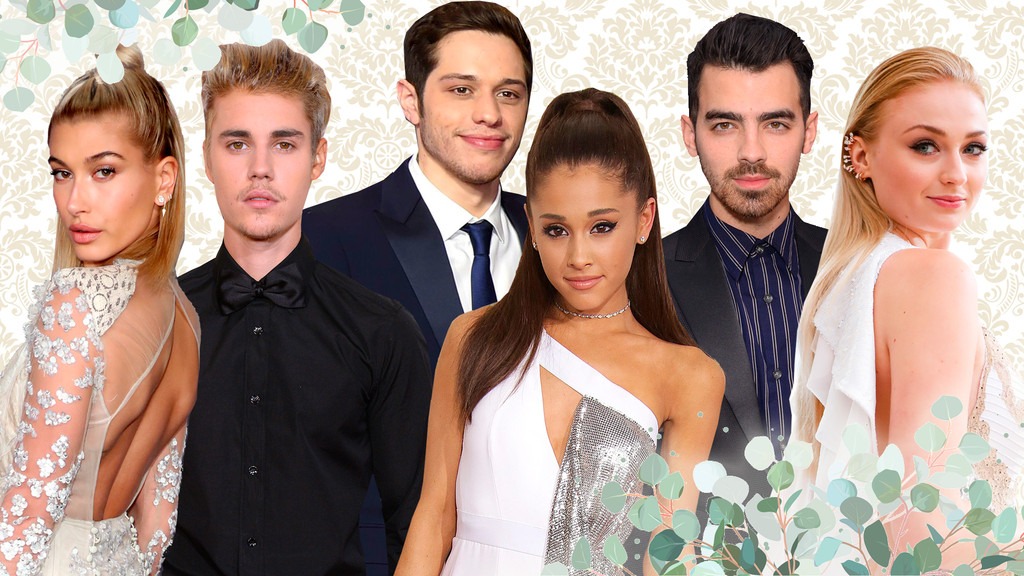 E! Illustration
23.6.
That is the average age of three young couples that have recently got engaged in Hollywood after all dating for less than a year: Justin Bieber, 24, and Hailey Baldwin, 21; Ariana Grande and Pete Davidson (both 24 at the time of the proposal), and Joe Jonas, 28, and Sophie Turner, who was 21 when she said yes.
But according to a recent study by The Pew Research Center, the median age of first marriage in the U.S. has risen over the years. It's now 27 for women and 29 for men, up from 20 and 23, respectively, in 1970. And another study conducted by eHarmony found that young American couples know each other for about six and a half years before tying the knot.
So while the rest of us seem to be waiting longer than ever to get married, why does it seem like young Hollywood is so ready to settle down?
One of the main reasons millennials are waiting longer than their parents did to settle down is to focus on their careers and become financially independent, a feat a majority of these young celebrities accomplished before even getting their driver's permit. 
While you were hoping your crush would walk past your locker after fifth period in middle school, Bieber was staging a world tour, selling out the biggest stadiums in every major country. Consider it growing up in reverse. 
Let's face it, these stars have not had normal childhoods, with their highs and lows well-documented and commented on by the adoring (and sometimes admonishing) public. One wrong move and an empire crumbles? A lot of pressure on such a young set of shoulders. 
"The thing I am most excited for is that my little brother and sister get to see another healthy stable marriage and look for the same!!!"
That line in Bieber's gushing Instagram post confirming his engagement could prove to be the most telling, pointing to the impact his parents' complicated relationship history had on him as a child.
Since becoming famous at such a young age, just 12 when he was discovered, Bieber has been open about his struggles with growing up in the spotlight.
"You get lonely, you know, when you're on the road. People see the glam and the amazing stuff, but they don't know the other side. This life can rip you apart," he told NME in 2015. "'[I get depressed] all the time. And I feel isolated. You're in your hotel room and there are fans all around, paparazzi following you everywhere, and it gets intense. When you can't go anywhere or do anything alone you get depressed. I would not wish this upon anyone."
Marriage may represent one traditional thing they can achieve in their extraordinary lives that have often been defined by their professional goals over their personal wants and needs, with Sophie Turner, famous thanks to her turn as Sansa Stark on Game of Thrones, saying in an interview with Marie Claire, "There's a sense of peace that comes with finding your person. But there's a drive that comes with your career."
It's worth noting that all of these recently engaged couples are made up of independently famous people, who were all used to generating clickbait headlines on their own, a unique bond most people could never relate to. And it could help alleviate any concerns of someone using you for your fame or fortune, a concern Bieber addressed in a Complex interview.
"When you get famous, you get people that will encourage whatever you do," he said. "You'll do something and they'll be like, 'That was dope, Justin!' When you're young especially, you don't know who's bullshitting you."
Grande, who was a fan-favorite on the Nickelodeon channel for years before hitting pop stardom, has also been open about her "dark and deranged" childhood.
Settling down could symbolize the stability and comfort these rich, famous and young people have been looking for through their late teens and early twenties after spending their formative years among adults in a professional environment, with Grande once describing herself as a "obsessive-compulsive workaholic" even from the time she was 8.
It makes sense given Grande's recent defense (which she later deleted) of her engagement, as well as Bieber's after a fan joked about the proposals being orchestrated by their mutual manager, Scooter Braun.
"You do realize we are human beings who love and have lives…right?" she responded. "Love is lit. S—t happens."
Like any normal young person, they are looking for a life partner after achieving professional success; they just happened to have found it at a much younger age than most. 
But for some young celebrity couples, the flame can sometimes start to dim even before the vows can be said.
After dating for three years, Miley Cyrus got engaged to Liam Hemsworth when she was just 19 and he was 22 in 2012. The couple broke up in September 2013 only to reconcile in 2016, their engagement back on at the relatively young ages of 23 and 26. 
Still, you can do a whole lot of growing up between those ages, a sentiment Cyrus expressed in a candid interview with Howard Stern. 
"You get time to be yourself. You get time to grow up," she explained. "I think if you're growing up attached to another person, you never really get solid as your own being."
Somewhat similarly, Bieber and Baldwin had dated on and off for three years and had been reconciled for a few weeks before their engagement. 
"Ever since they reunited, they have been inseparable and Justin knows he can't live without Hailey," a source told E! News. "Justin and Hailey had talked about marriage before but Hailey didn't think it would happen so quickly."
So it seems young Hollywood is living and Instagramming by the iconic line said by Billy Crystal's Harry Burns in When Harry Met Sally: "When you realize you want to spend the rest of your life with somebody, you want the rest of your life to start as soon as possible."
That line seems to ring especially true when you are living in the often isolating world of being a world-famous superstar, like Grande, who defended her and her Saturday Night Live beau's displays of affection on social media in a response to a fan on Twitter.
"i been the fuck thru it and life's too short to be cryptic n shit about something as beautiful as this love I'm in," she wrote.