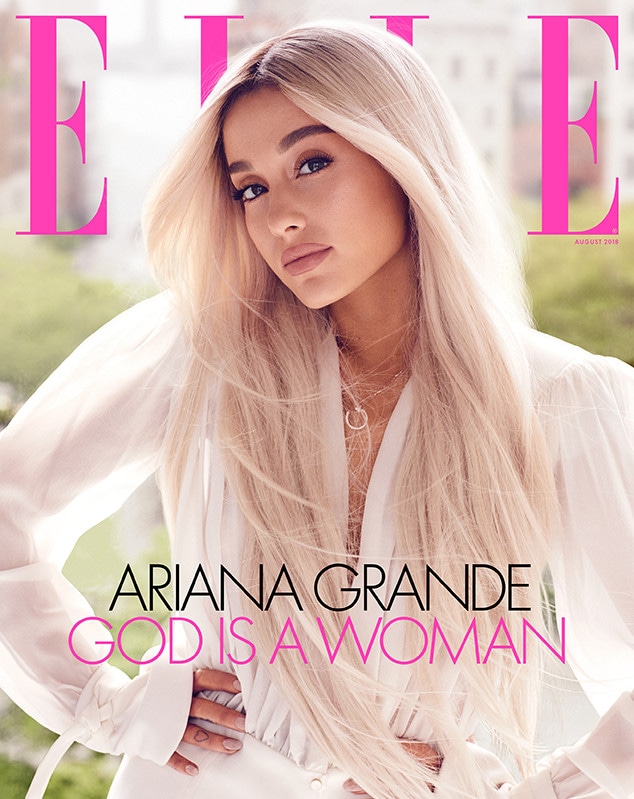 Alexi Lubomirski/ELLE
Ariana Grande's voice is bigger than her small stature.
Gracing the cover of ELLE's August issue (on newsstands July 24), the pint-sized pop star spoke passionately about why it's important to speak out about political and social issues. Realizing that the United States is in the midst of a "tough, wild, chaotic time," Grande said, "Everyone has to have uncomfortable conversations with their relatives. Instead of unfriending people on Facebook who share different political views, comment! Have a conversation! Try to spread the f--king light." That last line may be a reference to her current single, "The Light Is Coming," but that doesn't mean it's untrue. And should she face any repercussions for being outspoken, so be it. "There's a lot of noise when you say anything about anything. But if I'm not going to say it, what's the f--king point of being here? Not everyone is going to agree with you, but that doesn't mean I'm just going to shut up and sing my songs. I'm also going to be a human being who cares about other human beings." As an ally, she wants to use her "privilege to help educate people."
According to Grande, an artist's role is to "not only help people and comfort them," she said, "but also push people to think differently, raise questions and push their boundaries mentally."
ELLE's cover story, conducted the day after the 2018 Met Gala (i.e. before Pete Davidson proposed), also touched on how she's been affected by last year's Manchester Arena bombing.
"You hear about these things. You see it on the news. You tweet the hashtag. It's happened before and it'll happen again," she said. "It makes you sad, you think about it for a little, and then people move on. But experiencing something like that firsthand, you think of everything differently..." She paused, swallowing a lump in her throat, and added, "Everything is different."
In the immediate aftermath, Grande organized the One Love Manchester concert, helping raise $23 million for the We Love Manchester Emergency Fund. She decided to finish her world tour, but after it ended, "I had really wild dizzy spells, this feeling like I couldn't breathe. I would be in a good mood, fine and happy, and they would hit me out of nowhere. I've always had anxiety, but it had never been physical before," she recalled. "There were a couple of months straight where I felt so upside down." Grande, who has been in therapy for over 10 years, knew she needed help. "I'm a 25-year-old woman. But I've also spent the past handful of years growing up under very extraordinary circumstances," she told ELLE. "And I know how that story goes..."
Initially, Grande was unsure if she would ever sing again. But, she later realized, it would be dishonorable to stop living her life. "Why would I second-guess getting on a f--king stage and being there for them? That city, and their response?" the singer asked. "That changed my life."
Watch Daily Pop weekdays at 12:30 p.m., only on E!