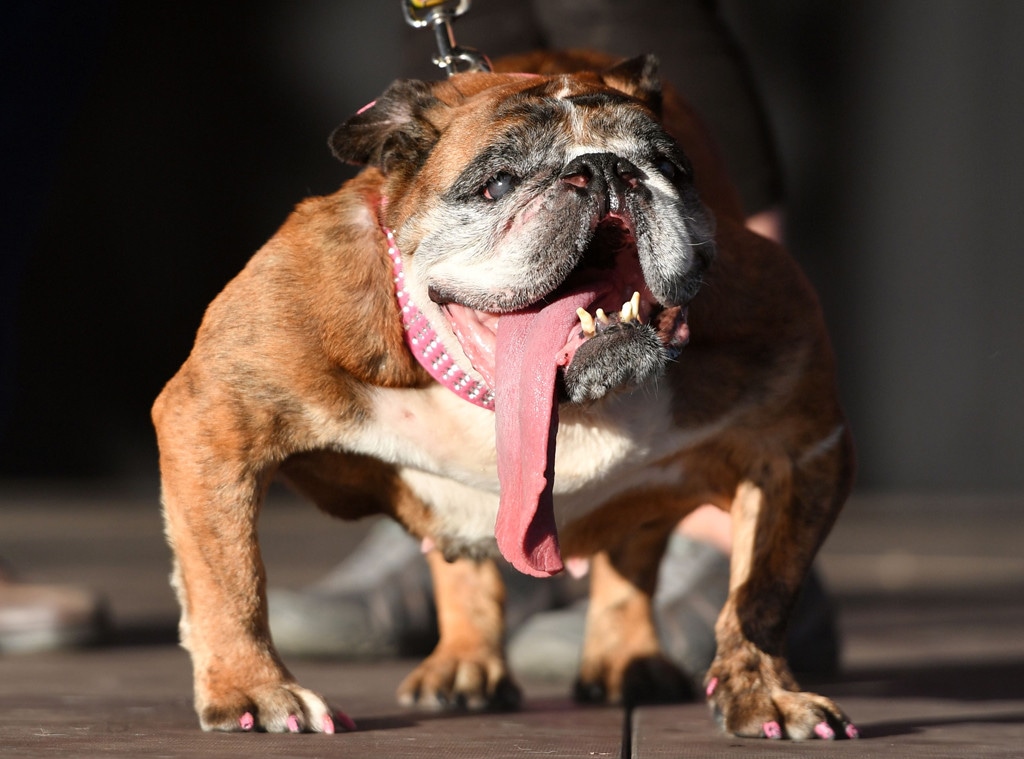 JOSH EDELSON/AFP/Getty Images
The world's ugliest dog, Zsa Zsa, has passed away, Today reports.
The English bulldog's owner, Megan Brainard, has confirmed that Zsa Zsa died peacefully in her sleep last night. Much like when she won the competition, the family is surprised by the news of her death. "I'm still in shock ... It's kind of like when she won (the World's Ugliest Dog contest). It's been two weeks and I still don't believe it. It's probably going to be the same with her passing."
Luckily the dog was given a proper farewell, with Brainard sharing that she, her husband and their 15-month-old daughter said their goodbyes earlier today. "I picked Zsa Zsa up and took her outside and laid her down in the grass. We were all saying our goodbyes and Mareslie went right over and gave her a kiss. It was sweet. She was waving at her," Brainard said.
Zsa Zsa's family has issued the statement following her passing, "Zsa Zsa was made for the spotlight. She was so photogenic and adaptable to whatever situation or environment she was in! She was going to be an advocate to help end puppy mills. Everyone hug your dogs! Ugly is beautiful!"
Just weeks ago the nine-year-old pup, which was named after Hollywood socialite Zsa Zsa Gabor, drew national attention when she was crowned the World's Ugliest Dog at the Sonoma-Marin Fair in Petaluma, California.
Her rise to fame did not come easy, with the droopy tongued dog spending five years in one of Missouri's puppy mills before the Underdog Rescue group rescued her and placed her in the Brainard family's loving home.
Her owners were happy that in her finals weeks she "was definitely living it up after she won."
In a statement to E! News, Sonoma-Marin Fair publicist Christy Gentry said, "Our hearts break for the Brainard family and mourn their loss. Zsa Zsa was lady through and through. She handled the contest and being a celebrity with charisma and charm. It was an honor to know her."
Rest in peace, Zsa Zsa!