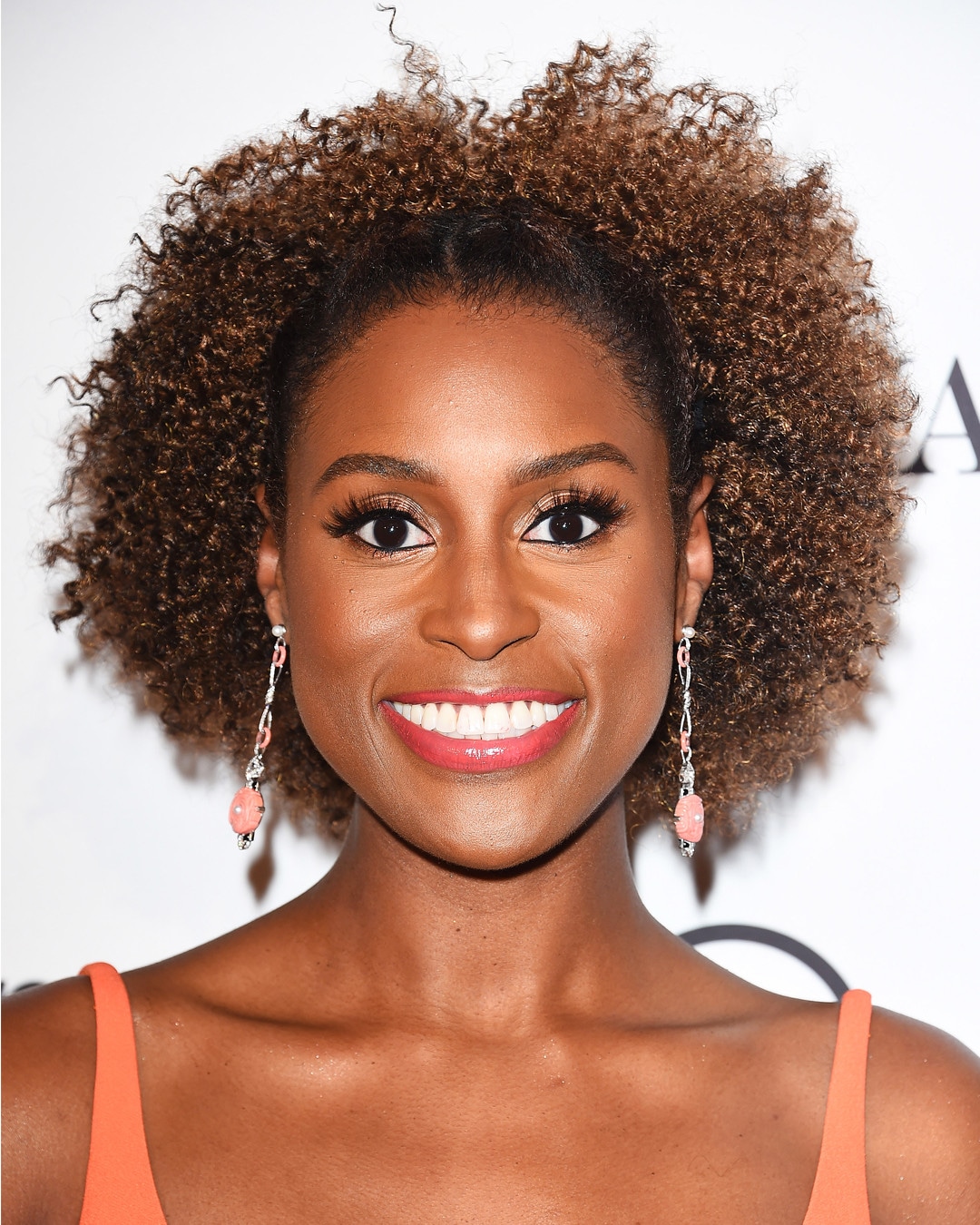 Vince Flores/startraksphoto.com
Believe it or not, natural hair-care is a relatively new phenomenon. 
In the last decade, knowledge on how to care for curly hair has grown by leaps and bounds. In fact, most adult black women with natural hair have transitioned from straightening or perming their hair to their natural texture, due to a lack of products and exposure to natural hairstyling during their childhoods. The process of growing out said over-processed hair, however, is challenging. 
That's where Issa Rae's hairstylist, Felicia Leatherwood, steps in. 
"My mom didn't know what to do with my hair," the hairstylist told E! News during the Essence Festival in New Orleans. "We didn't have textures—3, 4, C, etc—any of that. There were no hair products. When you don't have the products and the people to give you direction, what do you do? The easiest thing was really the creamy crack."
"Creamy crack" refers to perms, the chemical treatments used by millions of women with curly hair that researchers have found to cause uterine fibroids and early on-set puberty, as reported by American Journal of Epidemiology.
While the now-publicized side effects and a larger movement towards natural beauty have women putting down the chemicals, keeping their new unprocessed hair moisturized proves to be the largest issue that women face. Felicia, who has been a natural hairstylist since 1999, has the solution:
"Take care of your scalp," she strongly noted. "Hot oil treatments are great for the scalp. If you can get a hot oil treatment once of twice a month, as you deep condition. When you put the hot oil on the scalp and you have the deep conditioner in your hair, when you go to rinse it out, the oil coats over the conditioner. That's how to seal the moisture into your hair."
There are two ways to do a hot oil treatment at home: You can buy a self-heated oil treatment or simply warm up your hair oil in a microwave-safe bowl or placing an applicator bottle in hot water (Caution: Make sure you test the temperature before applying). Then, massage the oil into the scalp. After applying your deep conditioner, let the products
The beauty pro suggests Maui Moisture Hair Care, which offered the 510,000 Essence Festival attendees personal hair consultations to spread knowledge on natural hair-care. 
Kevork Djansezian/NBC/NBCU Photo Bank via Getty Images
"What I love about this product line is the hair always feels moisturized and hydrated," she shared, recommending the Heal & Hydrate + Shea Butter Raw Oil and Hair Mask, which retail for less than $10. 
Once your hair looks moisturized and healthy, the expert recommends using celebrities like Issa to inspire your hairstyling. 
"Issa Rae has helped me showcase what natural hair could be, and give women options of what they can do," she continued. "I'm really proud of that, because I don't want anyone to feel left out, or like they're not good enough, as it relates to their hair and their skin."
She points to the Golden Globes as an example: "[The look] was awesome. I've down about 800 hairstyles on Issa Rae, maybe more, including the show...She's my black Barbie."
If you're having trouble transitioning or styling your hair, the pro says, "Just hang in there so you can see real results over time!"