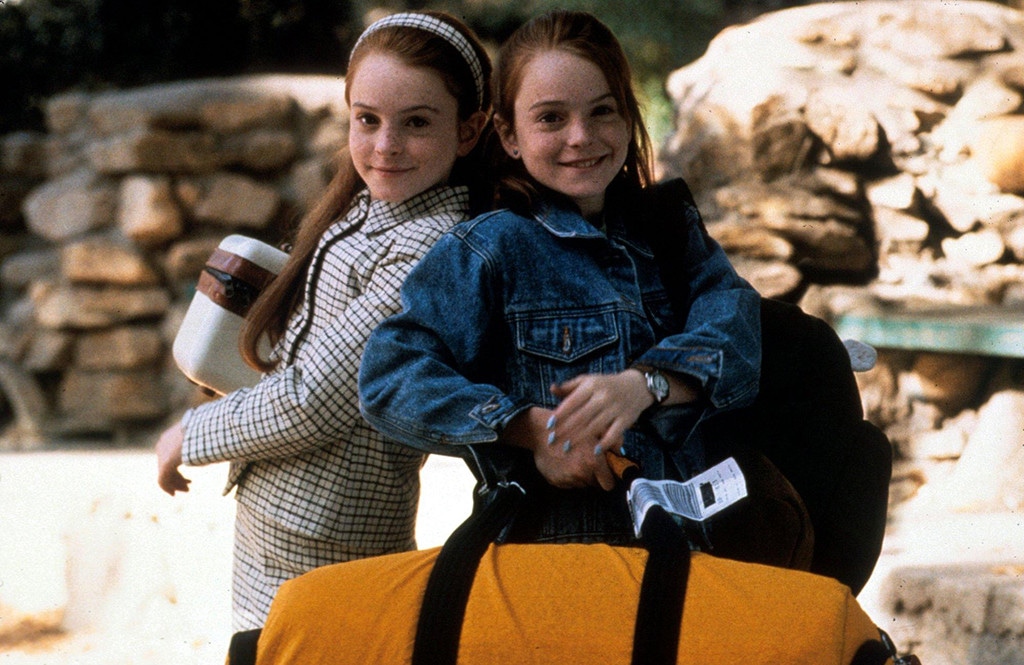 Walt Disney Pictures
Twenty years ago, The Parent Trap turned Lindsay Lohan into an instant star.
Directed by Nancy Meyers, it was the 11-year-old actress' first movie, and she pulled double duty, alternating between the roles of twin sisters Annie James and Hallie Parker. A remake of Walt Disney Pictures' 1961 film of the same name (starring Hayley Mills), Meyers' movie also starred Elaine Hendrix, Simon Kunz, Dennis Quaid, Natasha Richardson and Lisa Ann Walter.
Ever since its premiere on July 29, 1998, the beloved film has aired countless times on cable, becoming a cult classic. The story goes like this: After a whirlwind romance, vineyard owner Nick Parker (Quaid) and wedding dress designer Elizabeth James (Richardson) got divorced in the late '80s. With Nick staying in California and Elizabeth returning to her native London, they agreed to take custody of one daughter—and keep the news a closely guarded family secret. Their plan backfired years later, as they coincidentally sent Annie and Hallie to the same camp. Together, the twins devised a plan to not only meet the other parent—but to reunite them. Distance aside, there was one major problem: Meredith Blake (Hendrix), Nick's young fiancée.
As if Meredith ever stood a chance!
In honor of the film's twentieth anniversary, E! News compiled 20 facts about family favorite.
1. Meyers was looking for "a little Diane Keaton" to play the twins. Scarlett Johansson and Mara Wilson auditioned for the roles, and Michelle Trachtenberg was also considered. Jena Malone, meanwhile, has said she "turned down" the role "like three times." An exhaustive casting search was conducted in Atlanta, Boston, Chicago, London,  Miami, Minneapolis, Toronto and Vancouver, with open calls in L.A. and New York City. "I saw Lindsay on a tape from New York," Meyers said in a DVD interview. "I said, 'There's something electric about this girl.'"
2. The twins were named after Meyers and producer Charles Shyer's real-life daughters.
3. The Meyers-Shyer sisters had cameo roles in the film. Annie played a towel girl who gave Elizabeth the first-aid kit at the Stafford Hotel, while Hallie acted in a scene at Camp Walden.
4. For split-screen scenes, Lohan wore an earpiece so someone off-camera could feed her the other twin's lines. She also had a body double, Erin Mackey, to give her a visual reference point.
5. Maggie Wheeler, who played camp counselor Marva Kulp Jr., also played Janice on Friends.
6. The Parent Trap was also Kat Graham's first movie. Although her dialogue was cut from the final edit, she kept her Camp Walden tee—which she beaded in between takes—as a souvenir.
7. In the booby-trapped cabin scene, Lohan's body double had a needle placed in her hair to increase the chances that the water balloon would pop. Also, the scene in which Annie steps barefoot in molasses was shot 10 times because it wouldn't squish between her toes properly.
8. In the isolation cabin, Annie and Hallie bonded over their mutual love of eating Oreos with peanut butter. "I forgot I even wrote that," Meyers told Hello Giggles, revealing, "I think it was just something weird that both girls would like. It was another example of the fact that they're twins. I made it up...for no reason other than it sounded weird and some cute kid would do it."
9. Lohan had her ears pierced specifically for the movie. In the U.K., the ear piercing scene was removed to discourage copycat behavior, and it was later cut from Disney Channel's broadcast.
10. Annie and her butler's secret handshake features 18 moves. It took Lohan an hour to learn.
11. Lohan's mom and siblings were extras in the scene where Hallie arrived at a London airport. The actress' elder brother also played the lost boy who accidentally attended the all-girls camp.
12. A scene in which Hallie met Queen Elizabeth II outside Buckingham Palace was filmed, but ultimately wound up on the cutting room floor. Meyers felt it delayed the pacing of the movie.
13. Vera Wang actually designed the wedding dresses for the Elizabeth James Bridal Shop.
14. Production designer Dean Tavoularis wanted to paint the London home pumpkin, a color Meyers initially resisted. But after he did it, it made sense. "Lindsay's hair color was similar," Meyers said. "It was something that would make her feel at home and be comfortable there."
15. Joanna Barnes played the wicked girlfriend, Vicky Robinson, in the original film. She returned to play Meredith Blake's mother in the 1998 remake—and she was also named Vicky.
16. As Hallie met Meredith coming out of an elevator in the Stafford Hotel, she sang "Let's Get Together." The song hailed from the original Parent Trap and was famously performed by Mills.
17. "Where the Dreams Have No End" is a real wine—but not from the QE2 ocean liner. Nick and Elizabeth were married in 1986, but the first bottle of the label wasn't produced until 1987.
18. The word "actually" is used 23 times, including the last line of dialogue: "We actually did it!"
19. The movie once featured an extended ending, in which Hallie said to Annie, "You guys are going to love living in California." Surprised, Annie replied, "California? You guys are going to love living in London." The camera then panned out to show the front yard, where their dog Sammie barked at a neighboring poodle, Chessy and Martin kissed and Charles returned home.
20. Disney is considering rebooting The Parent Trap for its streaming service, debuting in 2019.