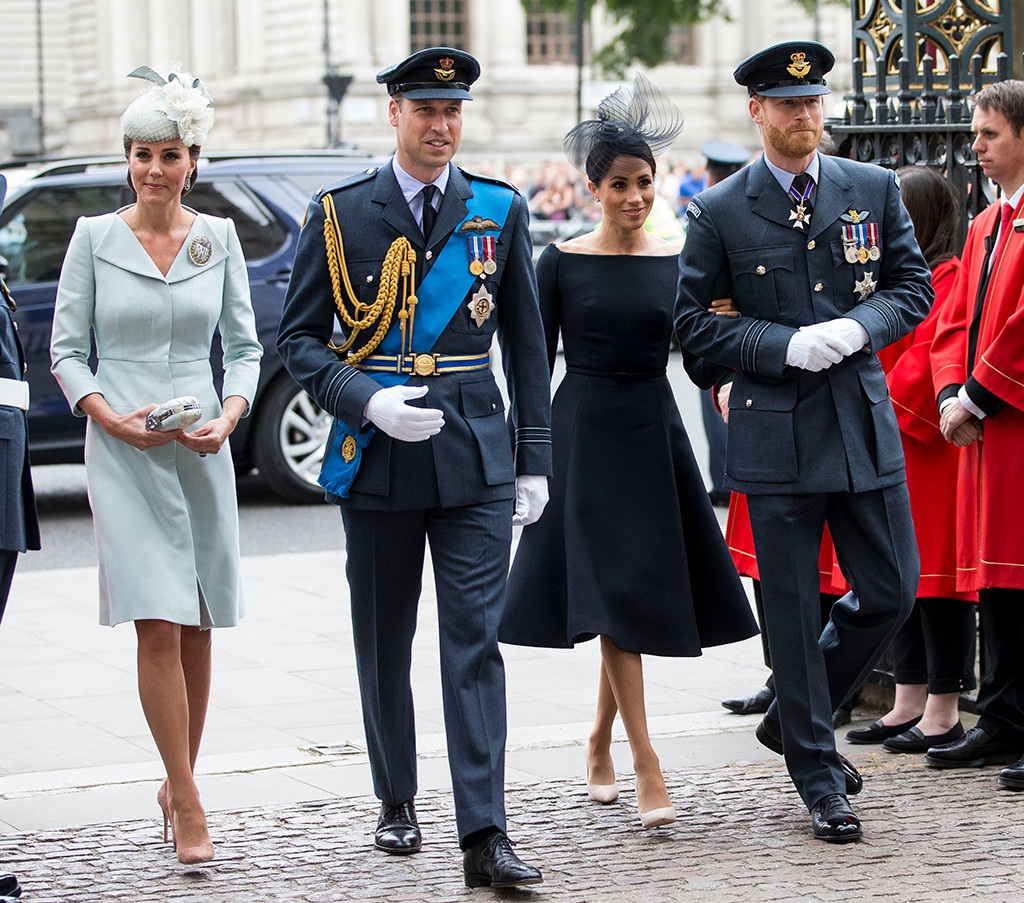 DAVID HARTLEY/Shutterstock
Meghan Markle and Prince Harry showed some minor PDA in London on Tuesday.
While arriving to the Royal Air Force's centenary at Westminster Abbey, the Duke and Duchess of Sussex were photographed linking arms. While this may not seem like a big deal, the couple was photographed alongside Prince William and Kate Middleton, who are rarely spotted engaging in any PDA. A photo of the foursome walking together on Tuesday shows Meghan holding on to Harry, while William and Kate kept a bit of distance between them.
William and Harry's former butler, Grant Harrold, told TIME in May that when it comes to royal PDA it "depends on where the royals are and what situation they're in." Choosing not to engage in any displays of affection in public could just be a personal preference of the couple. "We don't need to see too much—they have a private life of their own," he said of William and Kate.
Dominic Lipinski/Pool Photo via AP
Inside the church service on Tuesday, Meghan was spotted committing another "royal faux pas" when she crossed her legs, instead of her ankles. Video posted to Daily Mail shows Meghan correcting her seating position from crossing her legs to her ankles during the service. She had previously been criticized for crossing her legs, a move frowned upon for royal family members, at an event in June.
After attending the service, Harry and Meghan took a flight to Dublin to kick off their first official visit to Ireland. It's been a busy week for the couple so far. On Monday, the duo was spotted attending Prince Louis' christening at The Chapel Royal at St. James' Palace. The location is the same place where Meghan was baptized before her wedding to Harry.