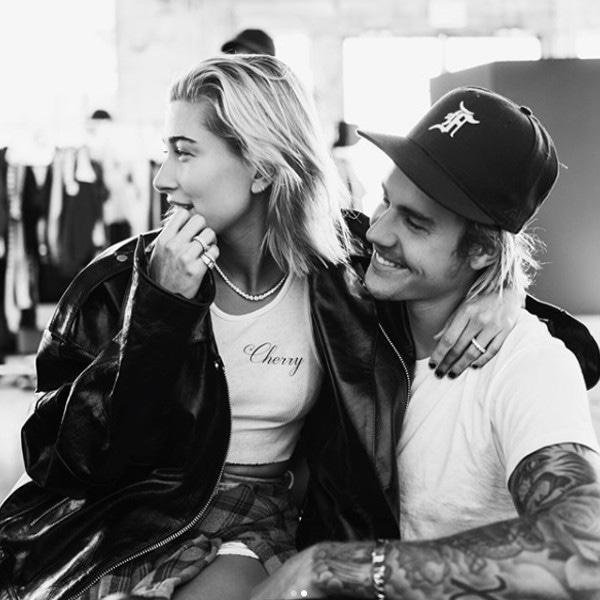 INstagram
What do you mean Justin Bieber doesn't follow his future bride on Instagram? 
The pop star sent hearts breaking around the world on Monday when he personally confirmed the weekend news that he is indeed engaged to model Hailey Baldwin after years of dating on and off and recently reconciling. 
The singer popped the big question while on vacation Saturday night in front of a crowd in Baker's Bay, one source told E! News. 
"Justin made arrangements for the ring when they were in NYC and knew that he wanted to propose to her," the insider said. "It was a sudden decision, but Justin always knew Hailey and him had a special bond that was incomparable."
"Hailey I am soooo in love with everything about you!" the musician gushed on Instagram in response to the headline. "So committed to spending my life getting to know every single part of you loving you patiently and kindLY."
As he continued to pour out his heart on social media, "My heart is COMPLETELY and FULLY YOURS and I will ALWAYS put you first! You are the love of my life Hailey Baldwin and I wouldn't want to spend it with anybody else."
While the Canadian native is clearly active on Instagram, it seems the love of his life hasn't made the cut when it comes to the accounts he follows on the social media platform. As of this writing, Baldwin follows her future hubby, but he hasn't returned the favor. He does follow 91 people, among them stars like Drake, Will Smith, Sofia Richie and Shawn Mendes.
Come on, Justin—click the follow button on Hailey's page and maybe it won't be too late to say sorry. 
Hat tip to Buzzfeed for first noticing the unreciprocated follow!