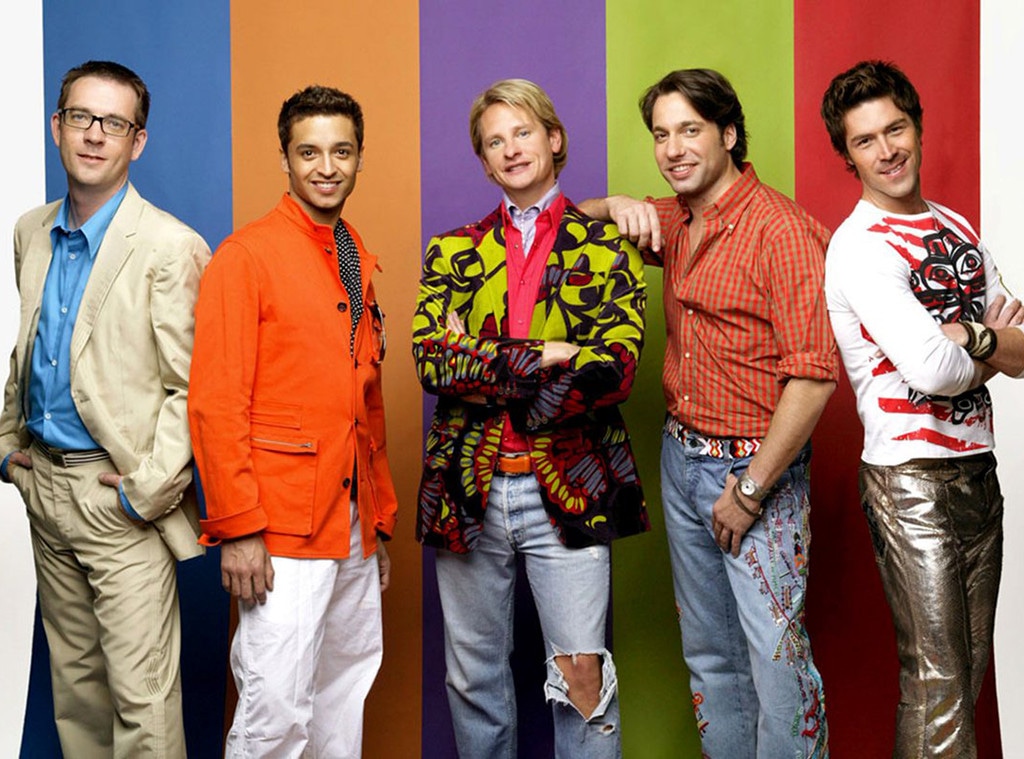 Bravo
When Queer Eye debuted on Netflix at the beginning of the year, bringing the show back to the small screen for the first time in over a decade, a logical question followed:
How can we watch the original?
It wasn't that we didn't love the new Fab Five. Rather, it was our love for them and those first eight episodes of the revival that was responsible for reigniting our obsession with a reality TV franchise we once thought had strictly become a thing of the past. And it seemed only natural that someone would want to capitalize on our revived affection and make the five seasons of the original iteration, which aired on Bravo from 2003 to 2007, available, if for nothing else than to hold us over until new episodes of the revival arrived.
And yet, nothing.
With the 15th anniversary of the show's debut on July 15, 2003 fast approaching, the fact that those original episodes of Queer Eye aren't available to stream anywhere on demand feels all the more egregious. (Curiously, seasons four and five are available to purchase on Amazon Prime Video, but that's it.) Bravo's announced no plans to spend the day celebrating with a marathon of OG reruns (though, as of press time, their line-up for the day remains TBD). And Netflix seems to be in no hurry to secure the rights to the original run. Given that creator David Collins and his Scout Productions are attached to both iterations, it's not as though there's a third-party production company jamming up the works with their claims to ownership or streaming rights. So what gives?
It turns out that the answer to this seemingly easy question is rather difficult to come by, and a lot of it can feel a bit like inside baseball to the average TV fan, but we're going to break it down as best we can for you here.
There are a couple factors at play with Queer Eye specifically, but before we get to those, let's talk about Netflix in general because this issue of beloved TV becoming less and less available on the streaming service is only growing. And it may seem counter-intuitive that a streaming site that once lured you in with the promise of every season of most of your favorite older TV shows is shedding them like a snake sheds its skin—you know, on average, two to four times a year—but there are a handful of reasons why this makes perfect sense.
To start, securing the streaming rights to TV shows you don't own outright is an expensive business. It's a bit like leasing a car in that you pay for the rights to the series for a window of time. When that window is up, you have the option to re-negotiate terms for another period of time or you turn the car in and move on to something new. When Netflix was first getting itself off the ground, it needed those shows you were familiar with but couldn't watch anywhere else exactly when you wanted to entice you to become a member. But as the company has shifted its business model and quickly cornered the original content market, it's found itself out of both the need to rely on leased content and the desire to allocate the funds to lease them.
It's safe to say that original content is nearly all that matters to Netflix at this point in the game. Not only does the ownership become cheaper in the long run—no need to continue to lease from someone else when the original content can just live on your site in perpetuity, free of additional charge—but it's imperative to brand-building. It's what has given Netflix its identity beyond "third-party supplier of things you once watched elsewhere."
On top of that, with the television industry going through as much disruption and upheaval as it currently is—something owed, mostly, to Netflix—most studios and networks are looking into streaming services of their own. Again, this all goes back to ownership. Rather than lease out your content to places like Netflix or Amazon Prime Video or Hulu and allow them to, in part, profit off your content, the idea is to offer your own subscription service where you house all of your content exclusively and make all the money there is to be made off it. It's why CBS launched CBS All Access, it's why DC Comics and Warner Bros. will be launching DC Universe in beta this August, and it's why Disney has slowly begun snatching their highly-prized content (think Disney Channel, Freeform, and ABC, as well as all the Disney, Pixar, and Marvel film libraries) back for a service of their own, due next year. 
As cord-cutting becomes more and more common, studios and networks will be less likely to farm out their content to other services. This goes double for cable networks who understandably not too keen on lining the pockets of those who pose the greatest threat to their primary business model any further. But that's not to say that everyone is getting ready to deny Netflix the rights to stream their content. The CW, for example, has a very lucrative pact with Netflix that sees the network deliver full seasons almost immediately after they finish airing on traditional linear television, only to watch their viewership double next season thanks to those who've discovered the content over the summer. It's what made Riverdale such a ratings sensation for the network during season two.
So we've explained prioritizing original content and diminishing availability of "leased" content, but neither of those can account for Queer Eye's absence. At least, not fully. You'll notice that none of Bravo's content is available to stream on Netflix. However, some of it can be found over at rival Hulu. (Though, frustratingly, not nearly enough of it.) And that's because Hulu is a joint venture between the Walt Disney Company, 21st Century Fox, AT&T, and NBCUniversal. And who's a part of the NBCUniversal family? That would be Bravo.
Much of the NBCUniversal family's content (which also includes E!) has, logically, found its way to Hulu almost exclusively. And our best guess as to why OG Queer Eye isn't available there currently is because it might be viewed as promotion for the new class over at Netflix.
Will we ever see Thom Filicia, Carson Kressley, Jai Rodriguez, Kyan Douglas, and Ted Allen on a streaming site? Only time will tell, but odds are, if we ever do, it won't be Netflix.
(E! and Bravo are both part of the NBCUniversal family.)