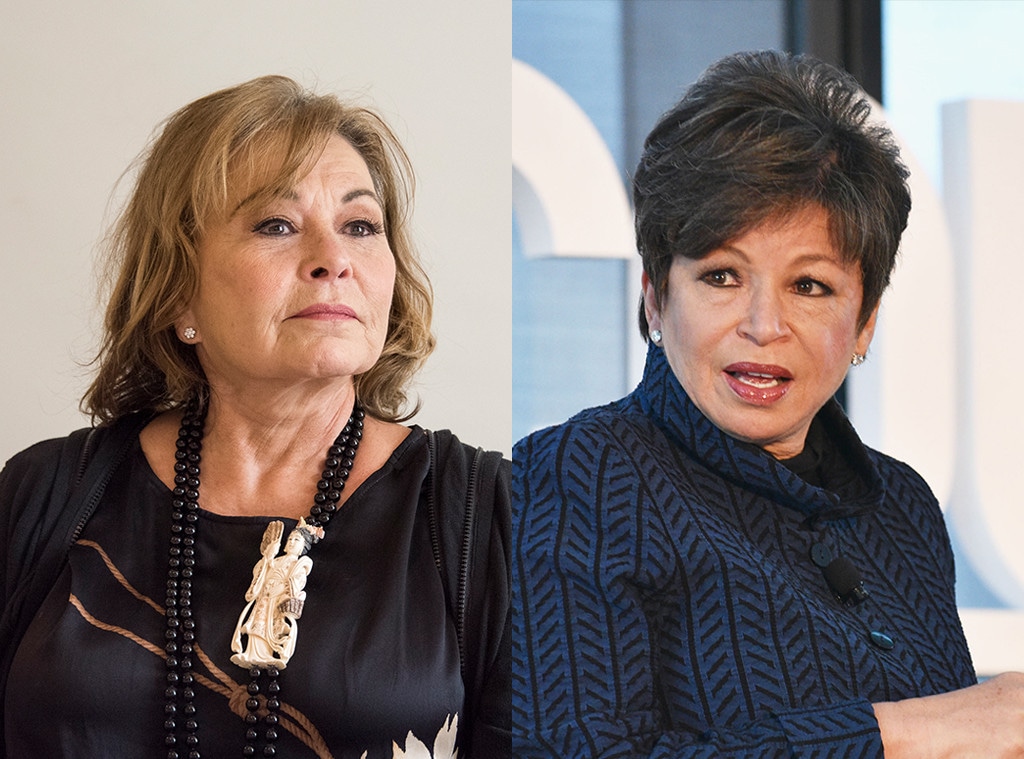 Getty Images
Just about a month after ABC cancelled Roseanne following Roseanne Barr's racist tweet, the 65-year-old actress spoke on the Rabbi Shmuley Podcast and delivered a message to Valerie Jarrett.
While Barr said she's against the former Obama advisor's work and policies, she's not against her as a person.
"My sister helped me because she's a Torah student, too," Barr said in an interview shared over the weekend, "and she helped me to say the work of your hands…makes me feel threatened. I shouldn't have said, you know, like what you said—don't make it personal. But you kind of have to when it's, like, the work of your hand is what I'm against—not you personally—but the work of your hands."
At the end of May, Barr tweeted  "Muslim brotherhood & planet of the apes had a baby=vj." Barr later claimed she had been "Ambien tweeting"—arguing she was "not a racist, just an idiot who made a bad joke."
Barr echoed these sentiments on an earlier episode of the Rabbi Shmuley Podcast.
"Of course I'm not a racist. I'm an idiot," Barr said. "I might have done something that comes across as a bigoted and ignorant, and I know that that's how it came across. I ask for forgiveness because I do love all people, I really do."
Sobbing, she then added, "I have black children in my family. I never would have wittingly called any black person and say they are a monkey. I just wouldn't do that, and I didn't do that and that people think that I did that. It just kills me." 
Jarrett has also spoken out about Barr's tweet and expressed hope this would serve as a "teaching moment."
"I'm fine," she said during an interview on MSNBC's Everyday Racism in America town hall. "I'm worried about all the people out there who don't have a circle of friends and followers coming to their defense."
In June, ABC announced there would be a Barr-less spinoff called The Conners. The show is set to debut this fall.