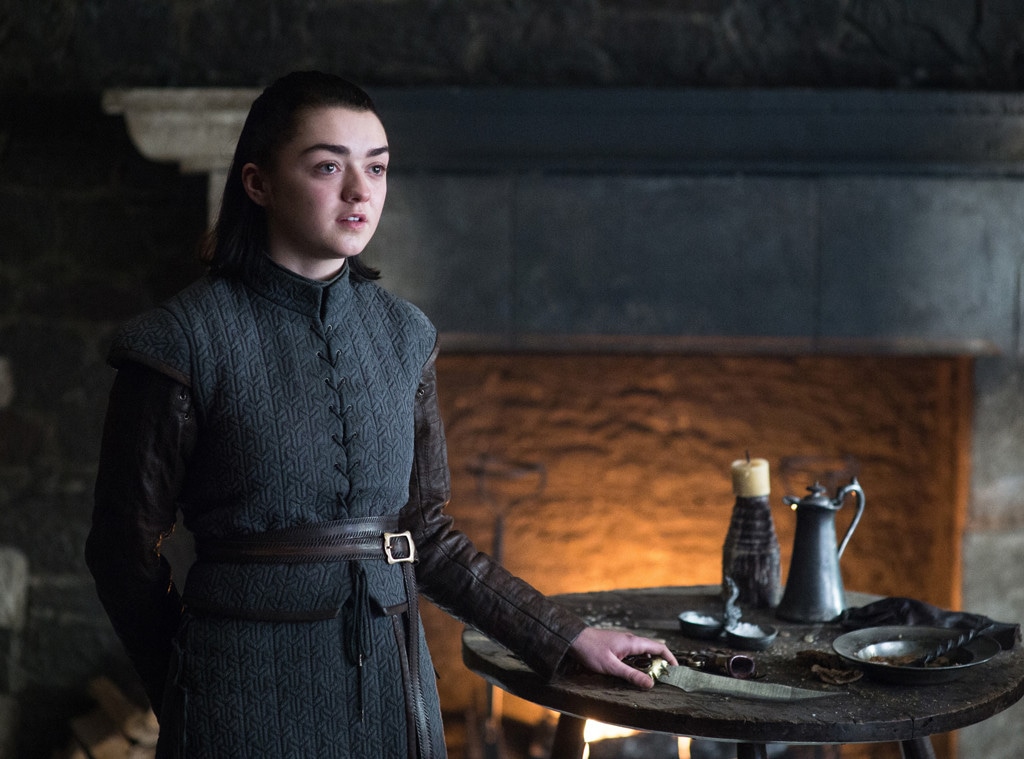 HBO
It's all coming to an end for Westeros. Game of Thrones is wrapping up production on its eighth and final season, something the cast has known was coming for some time, but that doesn't make saying goodbye any easier. What does make saying goodbye easier is social media. Several cast members have taken to the web to bid adieu to the show that helped launch them to fame.
Most recent is Maisie Williams. That's Arya Stark to Game of Thrones fans. Williams took to Instagram over the weekend to mark her series wrap on the HBO fantasy show.
"goodbye belfast. goodbye arya. goodbye game of thrones. what a joy i've had. here's to the adventures to come," Williams posted, punctuating the below Instagram post with these hashtags: "#lastwomanstanding #barely #immasleepforthenextfouryears #justkiddingidontsleep"
Don't read too much into the "last woman standing" comment. You think an actor would spoil the outcome on Instagram like that? This cast is savvy. She could also be referring to she was the last one to wrap. Emilia Clarke previously told Vanity Fair about filming her last scene as Daenerys Targaryen.
"It f--ked me up," Clarke told Vanity Fair. "Knowing that is going to be a lasting flavor in someone's mouth of what Daenerys is…"
She posted on Instagram about returning to set to say goodbye. "Hopped on a boat to an island to say goodbye to the land that has been my home away from home for almost a decade," Clarke wrote on Instagram. "It's been a trip @gameofthrones thank you for the life I never dreamed I'd be able to live and the family I'll never stop missing."
While Sophie Turner hasn't expressly posted a farewell to Game of Thrones message, she did get a tattoo that pays tribute to the show with a quote from last season. Let's be clear about that again: It's a quote from last season, not a spoiler.
"When I was getting it done, people advised me not to because it looked like I was giving everything away," Turner told James Corden on the Late Late Show. "But I wasn't! It's just a quote from last season, but everyone figures that the pack really does survive."
"It's just a moral that I like to live by," Turner explained. She also debuted a new haircut on Instagram.
Series star Kit Harington, who recently married Rose Leslie with many of his co-stars in attendance, said he cried during the last read through.
"We had the read-through last week, in fact, so I know everything now," he said on The One Show in October 2017. "I cried at the end! It wasn't anything particular that happens. You have to remember, I've done eight years of it. I think, no-one really cares about it more than us.
"I get a bit weepy thinking about it. It's going to be a strange year saying goodbye to everyone and having last scenes with this person and that person. Not only you're attached to it, loads of people around the world are attached to it," he continued.
When Game of Thrones ends, that doesn't mean that's the last of Westeros you'll see on TV. HBO is currently working on several spinoffs and already ordered one to pilot.
Game of Thrones returns to HBO in 2019.