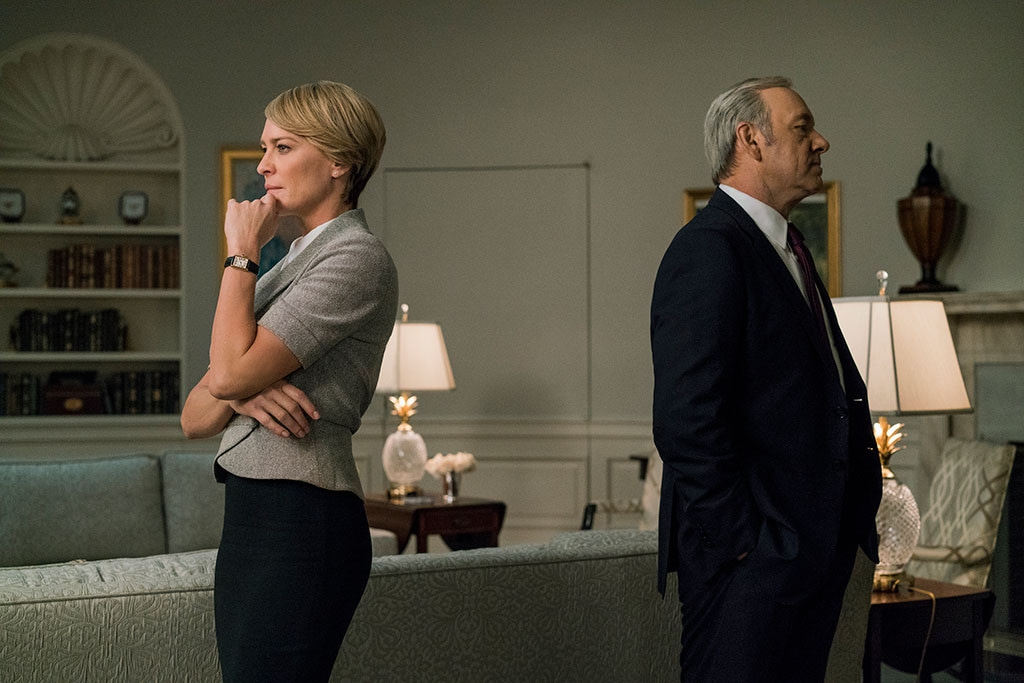 David Giesbrecht/Netflix
Nine months after Kevin Spacey was first accused of sexual misconduct by Anthony Rapp, his House of Cards co-star, Robin Wright, broke her silence about the allegations on NBC's Today.
In an exclusive pre-taped interview with Savannah Guthrie that aired Monday, the Golden Globe-winning actress distanced herself from him and said everyone was "surprised" and "ultimately saddened" when Rapp's allegations were made public last fall. "We forged ahead and were so thankful that we were able to complete the series as planned," she said. Wright added that she had enjoyed a "respectful, professional relationship" with Spacey, but stopped short of labeling it a friendship. "We were co-workers, really. We weren't—we never socialized outside of work," she said. "...He was so great with me. He was never disrespectful to me. So, that's my personal experience. That's the only thing I feel that I have the right to talk about."
In October, Rapp claimed Spacey a pass at him when he was 14 and when the actor was 26. In response, Spacey tweeted his "sincerest apology" and came out as a gay man. Netflix later said it was "deeply troubled" by Rapp's claim and traveled to the show's set to ensure the cast and crew felt safe and supported; production on Season 6 was suspended a day later. After several House of Cards employees also accused Spacey of inappropriate behavior, Netflix fired the actor, and his character, Frank Underwood, was written out of the series' sixth and final season.
The decision to fire Spacey troubled Wright. "I don't know how to comment on that," she admitted on Today, "but I think at that time, the shock was so intense all over the nation—for many reasons, many stories, many people—I think everybody felt it was respectful to back off."
(House of Cards' final season will now revolve around Wright's character, Claire Underwood.)
Since Rapp's allegation, more than 15 men have come forward with sexual misconduct allegations against Spacey, who is being investigated in multiple cases by the London police. He hasn't been seen in public in eight months, when his rep told E! News the actor would be seeking "evaluation and treatment." Spacey has denied the claims through his lawyer.
Wright has not spoken to Spacey since his firing. "I haven't heard from him and I don't even know how to reach him," she said. Reiterating that they were more colleagues than chums, she added, "Kevin and I knew each other between action and cut and in between setups, where we would giggle. I didn't really—I didn't know the man. I knew the incredible craftsman that he is."
The actress herself has experienced sexual harassment at work. "This is a bigger, broader issue, I think, which is seduction. I don't care who you are. It's about power. And once you overpower someone, that person then becomes vulnerable," she said. "This last year, I think, has shined a light, in a way, to allow us to start a new conversation. So, we just need to shift the paradigm."
(E! and NBC are both members of the NBCUniversal family.)