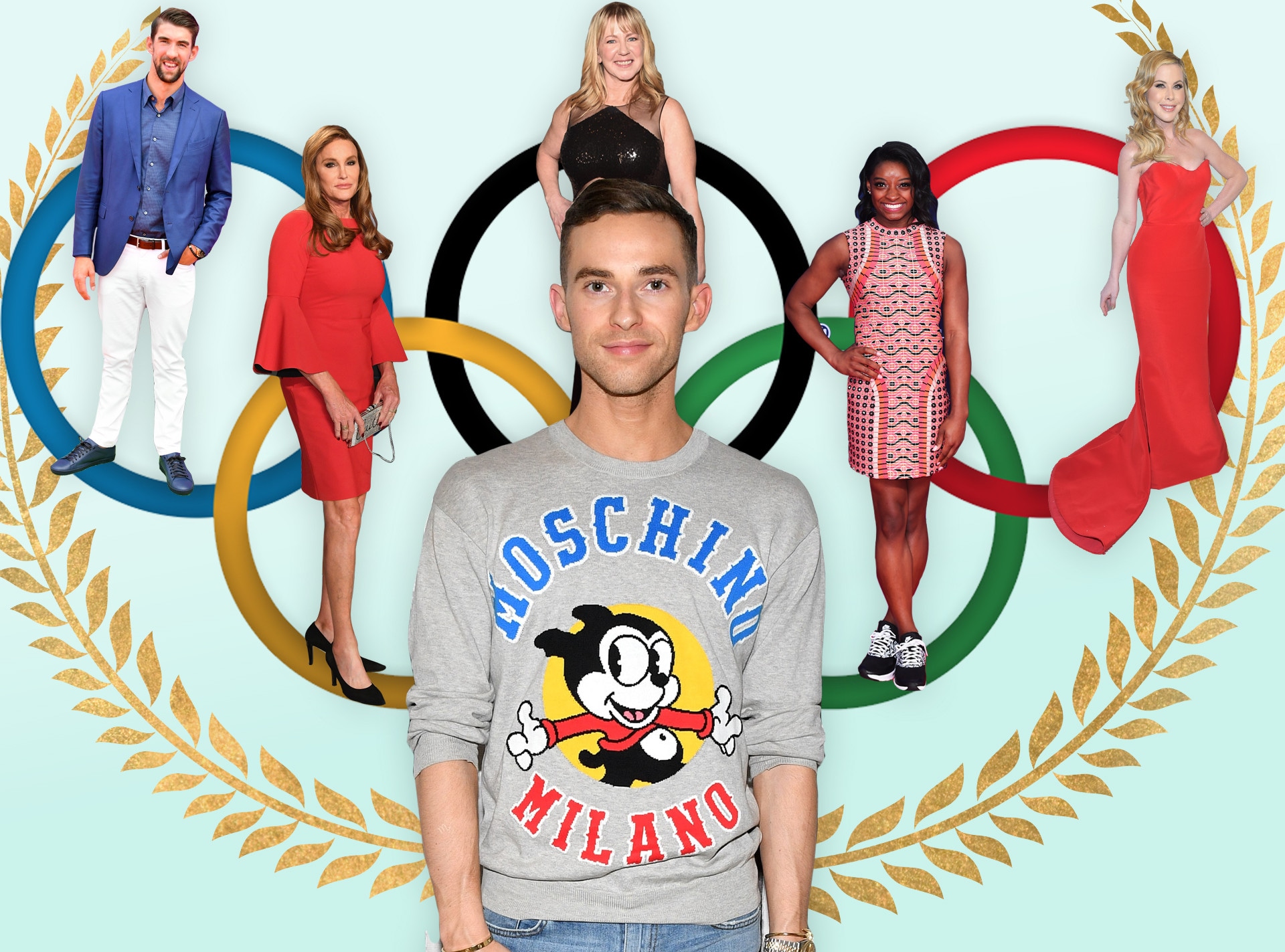 Getty Images; Melissa Herwitt / E! Illustration
For about two weeks every two years, there's no bigger celebrity in America than an Olympic athlete. Step aside, Meryl Streep. Beep beep, Brad Pitt. Out of the way, Ariana Grande. There's a figure skater coming through!
During this year's Winter Games in Pyeongchang, our newest national obsession began with skater Adam Rippon, as he became the first openly gay American athlete to medal at any Winter Olympics and proved that his whip-smart and camera-ready personality was just as formidable as his skills on the ice. As he left South Korea and returned Stateside with his bronze medal in the team event, his newfound celebrity status and invites to appear on literally every talk show known to man awaited him. And that's when the real work began.
For years, this is how the Olympic fame cycle has worked: Athlete travels to far-flung international location to compete on behalf of their country in a sport that doesn't really have any other viable career opportunities, they do the damn thing and become a source of national pride, they return home and do the talk show circuit, maybe land an ad campaign for Subway or Head & Shoulders, and return to training and whatever 9-5 day job they have to help them get by. 
(Fun fact: In the United States, there is no compensation from the federal government for these athletes who represent the stars and stripes on the world's largest playing field. Compare that to Canada, where athletes receive a monthly income that maxes out at $18,000 annually, and, well, you've got a perfect distillation of the major differences between us and our neighbors.)
There are the lucky few that break through and manage to live the life of an Olympian during the four years that stand between each new Olympic games. The ones whose story transcends the sport, catapulting them into our national pop culture lexicon with permanence. They're your Caitlyn Jenners, your Nancy Kerrigans and Tonya Hardings, your Michael Phelpses and Ryan Lochtes, your Simone Bileses and Gabby Douglases, and, yes, your Adam Rippons. They've captured the nation's attention, usually in sports that Americans already have some cursory interest in—sorry, curling superstars!—and (usually) stolen our hearts. But even for them, the path isn't totally clear, especially in these modern days with our fractured, cluttered media landscape.
It's been a little over four months since Rippon returned home from the Games, and in that time, he's hustled to check off most of the boxes on the post-Olympics playing card. Attend the Oscars? Check. Appear on Ellen? Check, more than once. Compete on Dancing With the Stars? Check, making him the 18th Olympian to have done so in the show's 26-season history. (We bet that Mirrorball trophy looks real nice next to his bronze medal.) Tour the country? Check. (That Stars on Ice schedule can't have been easy, concurrent as it was with DWTS.) Bare all on the annual ESPN Magazine Body issue cover? Check. Become a viral video machine and altogether media daring? Check and check. (Curiously, the only thing that's seemed to have eluded Rippon during the last few months is a high-profile endorsement deal which, frankly seems like a missed opportunity on capitalism's end if you ask us.)
And yet, his future still seems, well, vague. He's reportedly developing a reality TV project with Ellen DeGeneres, a media fixture whose career he's been vocal about hoping to emulate, though nothing concrete has been announced or even hinted at by either party. He's admitted to E! News that, while he's not sure if he's retiring from the sport that brought him national fame completely, he won't be returning to the Olympics in 2022. So, what's next?
Does he edge in on Johnny Weir's gig and begin delivering color commentary on his sport? He's already somewhat ruled that out. Does he follow in Lochte and Jenner's footsteps into the world of reality TV? Perhaps. Or does he carve himself a new path entirely? The options for the groundbreaking Olympian seem vast at the moment, but the clock is ticking. With each passing day, the memory of the Winter Games gets a little bit fainter, a little bit smaller in the minds of the nation. After all, if you hadn't noticed, there's a whole lot of stuff going on in America these days. But if there's any Olympian poised to challenge convention when it comes to life after the Games, it's Rippon. Something tells us he won't have to fall back on the motivational speaker circuit. (Not that there's anything wrong with that.)
"I think when you continue to push yourself and step out of your comfort zone is when you have the best and most fulfilling experiences," he told E! News after his DWTS win. So long as he keeps that mantra in the back of his mind, we have no doubt that we'll still be paying attention, whatever he does next.