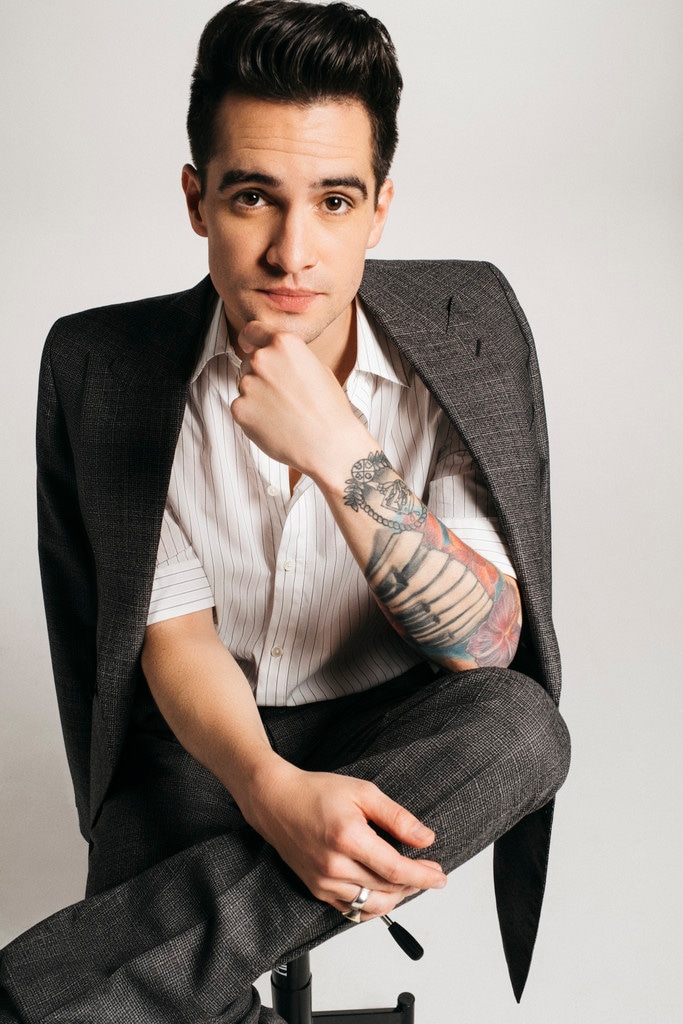 Dustin Mansyur / Paper
"Girls love girls and boys / And love is not a choice."
Panic! at the Disco's lead vocalist Brendon Urie delved deeper into his sexuality when he told Paper Magazine he identifies as pansexual—meaning his attraction is not limited to people of a particular gender identity or sexual orientation. "I guess you could qualify me as pansexual because I really don't care. If a person is great, then a person is great," the "Girls/Girls/Boys" singer said in an interview published today. "I just like good people, if your heart's in the right place."
"I'm definitely attracted to men," Urie added. "It's just people that I am attracted to."
Urie has been happily married to wife Sarah Orzechowski since 2013. "I'm very much in love with her," he said, "but I'm not opposed to a man, because to me, I like a person."
Coming to terms with his pansexuality "was never weird for me," Urie maintained. "I know that it made a few people uncomfortable, when somebody gets uncomfortable about me doing what I used to call 'stage gay.' It kind of presses me to want to do it more." Stage gay? Allow Urie to explain. "For our first headline tour I would go up to [Ryan Ross] our guitar player, and like kiss him on the neck or kiss him on the mouth and he would be so mad. I was like, 'I just want to kiss you bro,'" he said. "I would hang out with friends and after five or six beers we're just kind of like smooching on each other. People just get hammered and fool around."
Regarding his relationship with Ross, who left the band years ago, Urie said, "There are still fans that ship us together as a gay couple. It's adorable. For like the last 13 years they are like 'Rydon is real.' I tell them 'no' all the time, and they don't believe me. I'm like, 'Good. Don't believe me.'"
Urie's candor about his his sexuality is one of the many reasons for his enduring popularity. Fans have even dedicated an entire Instagram account to him, with over 6,000 followers. It's flooded with posts from admirers of all ages, thanking him for his music and how it has impacted their lives. In his case, honesty does seem to be the best policy.
However, Urie contended he has not always had a positive relationship with fame. He was only 17 years old when he told his family he was leaving home to pursue a career in music. It was around that time that he also told them he is an atheist, despite being raised in a Mormon household. "Telling them that I don't believe in God broke their hearts. Then I sat them down and said, 'You know you guys are just as atheist as me, you just believe in one more God than I do,'" he recalled. "My mom was like, 'I could see how you could say that, but we don't see it that way.'" Today, "I have no relationship with religion anymore except that I will still read the scriptures sometimes. It's interesting to me. To read it now in the context of who I am now, thinking about who I was as a kid and how I let all this stuff affect me. Until I started thinking for myself."
Becoming famous at a young age was a shocking experience, to say the least. "It was not easy," Urie told Paper Magazine. "I don't think I dealt with it very well."