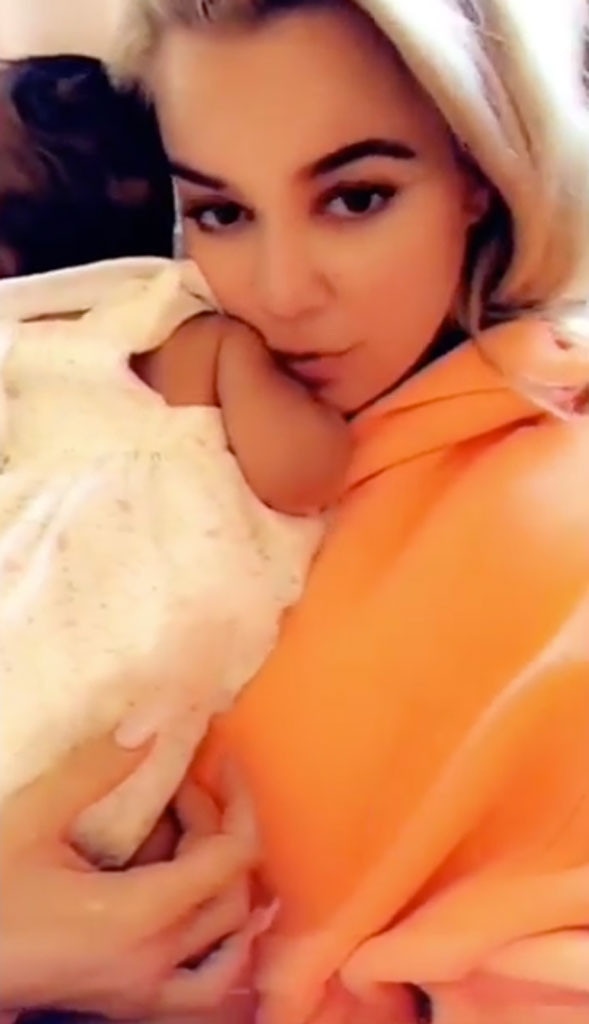 Instagram
Khloe Kardashian is dreading the end of her maternity leave.
Three months have passed since she gave birth to True Thompson, and now it's time for the E! reality star and Good American designer to head back to work. KoKo lamented about leaving her baby girl for the first time on social media, admitting she's experiencing some pretty major anxiety as she prepares for the inevitable. 
"Tomorrow is my first day back to work," Kardashian told the camera while holding her firstborn daughter. "I've missed a feeding here and there with True, but I've never missed multiple feedings in a day so I have a ton of anxiety."
Confessed Khloe, "I've been thinking about the 6th. Oh my God, I have to start work on the 6th and I've been getting just anxious about it. Today I'm very anxious. I don't know how I'm going to leave her all day tomorrow. That's freaking me out." 
"I don't know what to do because I love our routine together," the 34-year-old stressed in another video. 
Despite Khloe's extremely understandable nerves, she has a great attitude about the transition from new to working mom. "I got to go back to work at some point," she added while turning toward True. "So it will be OK. Right, mama?"
Khloe also had a message for big sister Kourtney Kardashian, who is well-versed in the highs and lows of motherhood and always prioritizes her three little ones over everything else. "Kourtney," she said, "I take back all the times I've made fun of you!" 
Just yesterday, the Keeping Up With the Kardashians mainstay enjoyed one final celebration before resuming the work grind. Khloe and boyfriend Tristan Thompson invited their friends over, including Kendall Jenner, for a Fourth of July pool party at the couple's home in Los Angeles. 
Khloe brought the Independence Day heat in a bright orange, Yeezy Season 7 jumpsuit. 
Good luck tomorrow, KoKo! You got this! 
Watch the season 15 premiere of Keeping Up With the Kardashians Sunday, Aug. 5 at 9 p.m., only on E!