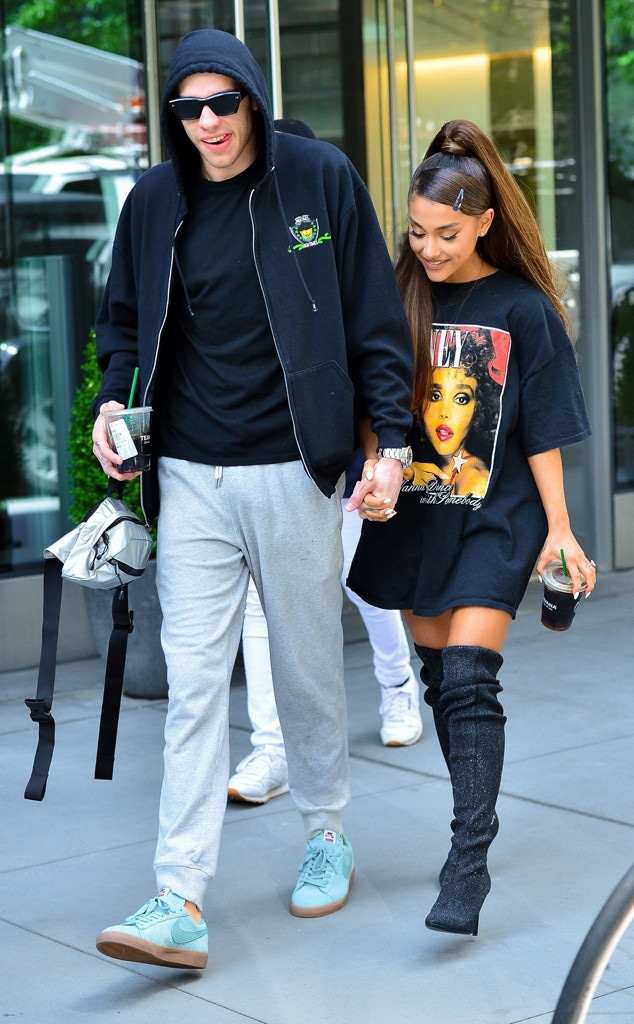 BACKGRID
Ariana Grande understands why some of her fans took offense to a joke Pete Davidson made about last year's Manchester Arena bombing. 
Days after the Saturday Night Live star came under fire for bringing up the terror attack—which occurred during a Grande concert and left 22 people dead—during a stand-up comedy performance, the pop singer took to Twitter with a statement. 
In response to one user who said Grande should break up with her fiancé over the insensitive remark, she wrote, "This has been v tough & conflicting on my heart. he uses comedy to help ppl feel better ab how f-ed up things in this world are. we all deal w trauma differently. I of course didn't find it funny. it was months ago & his intention wasn't/ is never malicious but it was unfortunate." 
She added, "I hear and respect you all always."
Davidson has not commented publicly on the routine, which The Mirror reported happened several months ago. According to the outlet, the 24-year-old made light of Ariana's level of fame by joking, "Britney Spears didn't have a terrorist attack at her concert." 
Around the one-year anniversary of the tragedy in May, Grande discussed just how deeply it has impacted her. 
"Music is supposed to be the safest thing in the world," the songstress told Time. "I think that's why it's still so heavy on my heart every single day. I wish there was more that I could fix. You think with time it'll become easier to talk about. Or you'll make peace with it. But every day I wait for that peace to come, and it's still very painful."
It's reported that the couple's personal hardships have brought them even closer together, and just last week Grande revealed a new tattoo dedicated to Davidson's late father. The 25-year-old inked "8418" on the top of her foot—the badge number of Pete's dad, New York City firefighter Scott Davidson, who died in the 9/11 terror attacks.
In early June, news broke that Davidson had proposed to Grande after just weeks of dating.