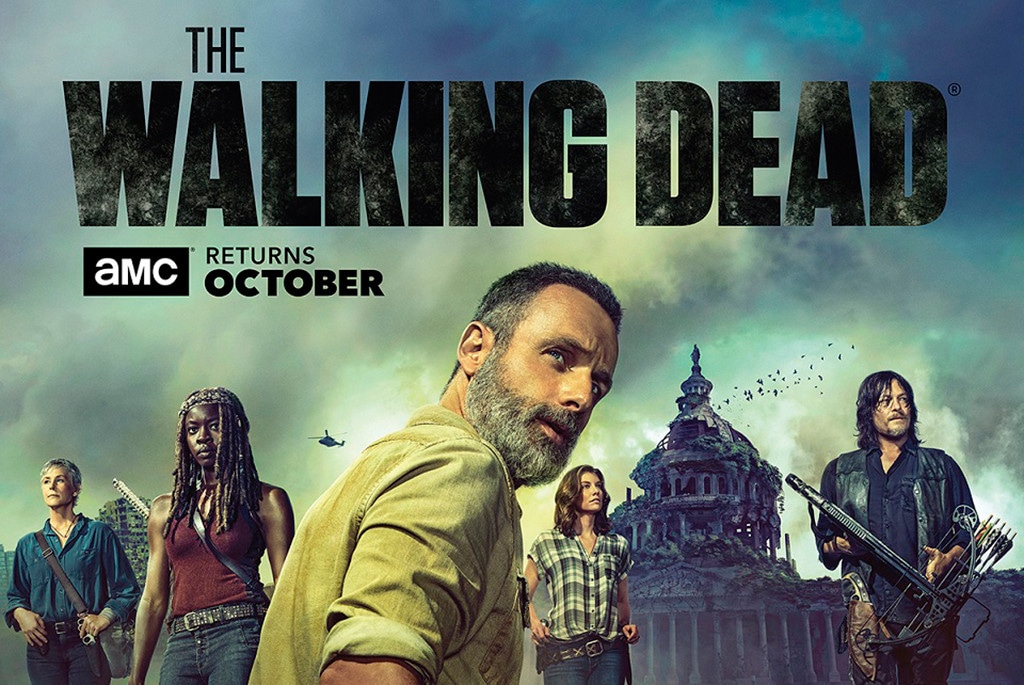 AMC
Who's ready to dissect an image? The Walking Dead fans are!
AMC released The Walking Dead's 2018 Comic Con poster featuring Andrew Lincoln's Rick Grimes front and center with a cropped haircut, a crossbow-wielding Daryl Dixon (Norman Reedus), Michonne (Danai Gurira), Carol (Melissa McBride) and what looks like Maggie (Lauren Cohan) sans baby bump.
Nothing out of the ordinary there when it comes to the characters, aside from the new 'do on Rick and Maggie's lack of bump. New showrunner Angela Kang confirmed there will be a jump ahead when the show returns for season nine in October.
"We're playing with time in the season, so we get to jump forward in the story," Kang said during a panel appearance in New York City. So at least six to nine months have passed...
What is interesting in the photo is the background. Is that the Capitol in Washington, DC? There's also a skyline behind Carol. And there are helicopters flying overhead. Is Rick Grimes' plan for survival going countrywide? Well, what's left of the country?
Rumors about the cast of The Walking Dead have been running rampant during recent months. Cohan is set to star in ABC's Whiskey Cavalier alongside Scott Foley, but is returning to The Walking Dead. For how long? That remains to be seen. And according to reports, this will be the last season of TWD for Lincoln. What happens to Rick Grimes, the central character of both the TV and comic book series its based on, again, is unknown. However, Jon Bernthal, who played Shane in the first two seasons, was spotted in Atlanta with the cast.
"We're working on a season that has a really fresh look and feel," Kang said about the new season. "We come in on some pretty fun stuff. I'm really focusing a lot on the core character relationships in the show that have kind of been long-lasting, as well as all of our wonderful series regulars."
More details will be revealed at Comic Con.