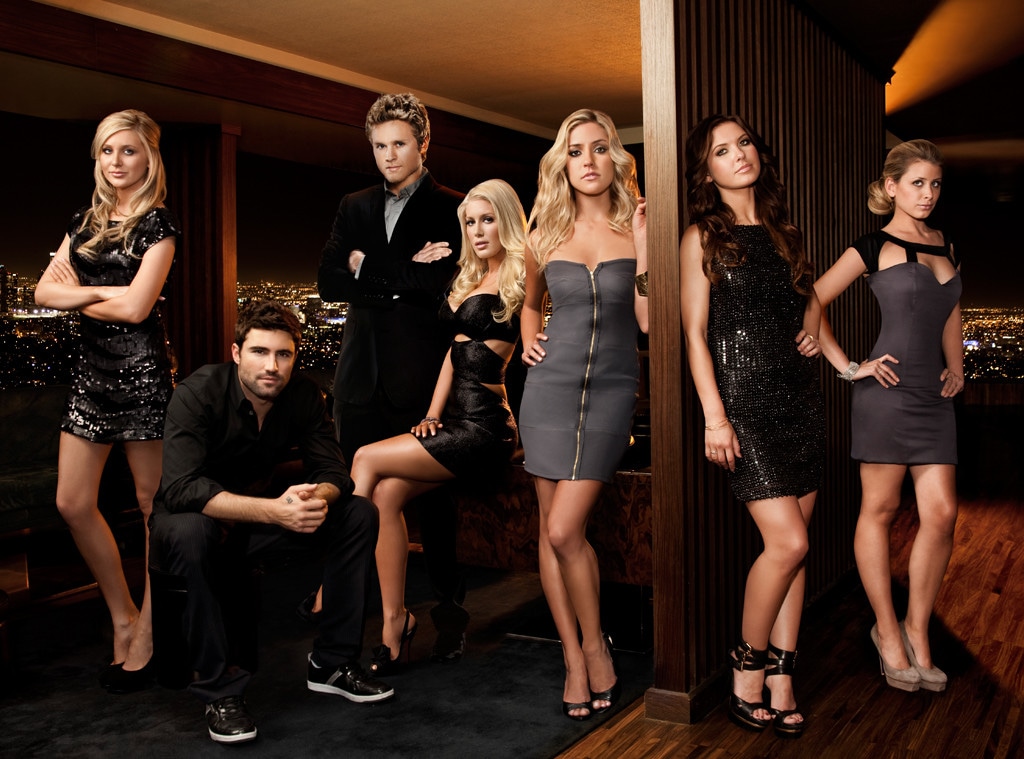 MTV
Can you believe it's been eight years since The Hills aired its series finale?
That's right, the last episode of the hit MTV series aired on July 13, 2010. The Laguna Beach spin-off first premiered in May 2006 and documented the lives of Lauren Conrad and her closest pals as they tried to make it in Los Angeles. After five seasons, Conrad decided to leave the show and her former frenemy Kristin Cavallari stepped in for the rest of the series.
Since it's been eight years since the fan favorite show went off the air, we're doing a deep dive into the lives of The Hills stars. Let's see what LC, Cavallari, Audrina Patdrige, Whitney Port, Heidi Montag, Spencer Pratt and more Hills stars have been up since the series finale of the show eight years ago!
Lauren Conrad: A month after leaving The Hills in May 2009, Conrad became a New York Times best-selling author when her first book, L.A. Candy, was released. Later that year, Conrad launched LC Lauren Conrad, a collaboration with Kohl's.
In Feb. 2012, Conrad started dating former Something Corporate band member William Tell after meeting on a blind date. In the fall of 2013, the couple announced their engagement and went on to tie the knot in Sept. 2014.
On July 5, 2017, Conrad gave birth the couple's first child, a son named Liam Tell. Their baby boy just celebrated his first birthday and Conrad shared a sweet family photo in celebration.
Kristin Cavallari: Shortly after saying goodbye to The Hills, Cavallari started dating NFL quarterback Jay Cutler. The couple—who tied the knot in June 2013—now have three children together.
On the business side, Cavallari is the founder of the lifestyle brand Uncommon James and she's also NYT best-selling author. Cavallari's first book, Balancing in Heels: My Journey to Health, Happiness, and Making it all Work, was released in 2016. Her second book, True Roots: A Mindful Kitchen with More Than 100 Recipes Free of Gluten, Dairy, and Refined Sugar, was released in April 2018.
Cavallari is also now the star of E!'s new series, Very Cavallari, which follows her life in Nashville where she lives with her family and runs Uncommon James.
Audrina Patridge: About a year after the finale of The Hills aired, Patridge starred in her own reality show, Audrina, for one season on VH1. In 2014 and 2015, Patridge hosted NBC's series 1st Look.
In 2015, Patridge got engaged to BMX rider Corey Bohan after dating on and off for many years. The duo welcomed a daughter named Kirra Max in June 2016. In Sept. 2017, Patridge filed for divorce from Bohan and obtained a temporary restraining order.
Patridge has since moved on from her relationship and has been dating Ryan Cabrera. In May, the couple enjoyed a romantic getaway in Mexico for her birthday.
Heidi Montag and Spencer Pratt: Montag and Pratt's relationship was well documented on The Hills. From their early days to their wedding, Speidi fans were there to witness it all on the reality show. And the couple is still going strong today!
In Oct. 2017, the couple welcomed their first child together, a baby boy named Gunner Stone. The following month, the couple celebrated their ninth wedding anniversary.
"Happy 9 year anniversary! It was love at first sight. I knew my life would never be the same. You are my soulmate, my heart, my soul, my best friend, my everything," Montag wrote to Pratt. "We have fought through so much to be together. Every moment of it has been such a blessing. I knew I had to follow my heart and have faith in love and in you. Best decision of my life."
She continued, "Thank you so much for our son! This is been the best 11 years of my life. It continues to get better every moment, every day, every year. I love you more than I'll ever be able to tell you! I didn't think our love could get deeper until @gunnerpratt arrived! Not only are you the most amazing husband, you are the most amazing father! I can't wait to see the journey life has in store for us!"
Whitney Port: Port left The Hills after the show's fourth season to star in her spin-off series The City. The show, which documented Port's life in New York City trying to make it in the fashion world, aired for two seasons from 2008 to 2010. Port also launched her fashion line Whitney Eve during this time.
Port and former City producer Tim Rosenman began dating two years after the series ended. The couple tied the knot in 2015 and welcomed their first child, a son named Sonny, in July 2017, just weeks after Conrad's baby boy was born.
Brody Jenner: After taking some time away from reality TV, Jenner appeared on nine episodes of Keeping Up With the Kardashians in 2013. He also had his own show, Sex With Brody, in 2015.
The following year, Jenner got engaged to Kaitlynn Carter after two years together. "On May 4th 2016 I got engaged to my lover and my best friend @kaitlynn_carter. I couldn't be more in love with this woman and I can't wait to spend the rest of my life with her," he wrote on social media at the time.
Last month, Jenner and Carter tied the knot in Indonesia with former Hills co-star Doug Reinhardt in attendance.