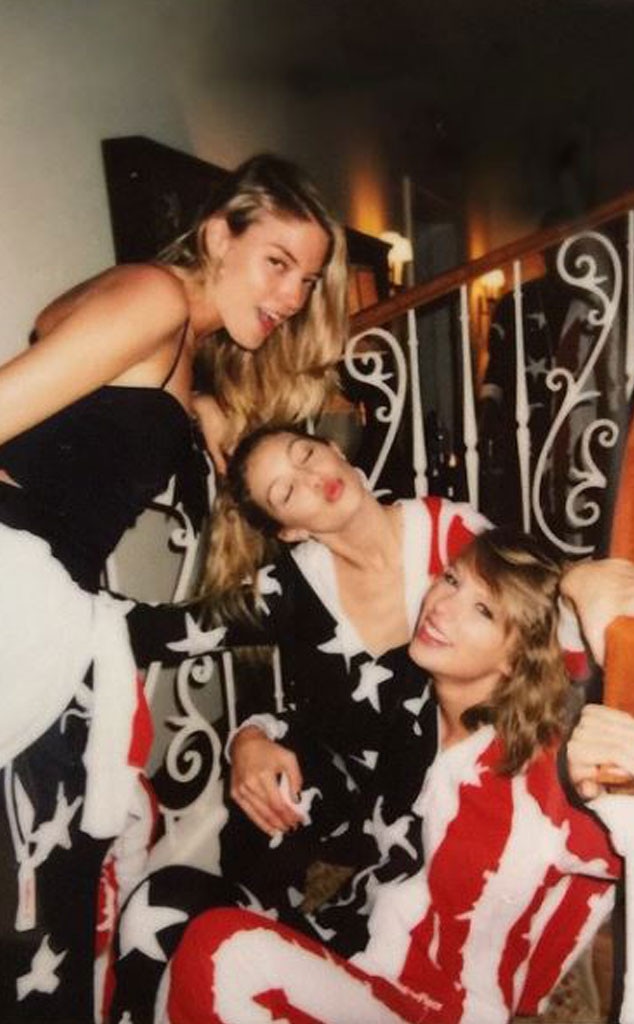 Instagram
Fourth of July just isn't the same without an epic Taylor Swift bash, but the singer has opted for a more low-key celebration in recent years.
It became a tradition over the years for the "End Game" superstar to throw a holiday party at her home in Rhode Island with her celeb pals. Gigi Hadid, Blake Lively, Ryan Reynolds, Karlie Kloss, Martha Hunt and Emma Stone have all attended at least one of Swift's Fourth of July parties in years past.
But for the last two years, Swift has decided to skip the summertime celebration and has remained out of the spotlight on the holiday.
So, why the change? Swift's shift in priorities could be one major reason.
In 2017, Swift decided to take a step back from the spotlight, skipping the July party, before returning to social media to kick off the reputation era in August. With this era came a new outlook on life for Swift, one that put her privacy at the forefront.
Instead of doing numerous interviews and appearances to promote her new album, Swift let her lyrics do the talking—and they had a lot to say. When her album was released in Nov. 2017, many of the songs on reputation referenced a romance in the singer's love life, one she admitted she tried to keep under the radar for as long as possible.
"Late in the night, the city's asleep/Your love is a secret I'm hoping, dreaming, dying to keep/Change my priorities/The taste of your lips is my idea of luxury," Swift sings on her "King of My Heart" track.
The romance is Swift's relationship with actor Joe Alwyn, who she's been dating for almost two years. The duo's romance still remains very private—Swift has never posted a photo with him on social media or talked about him in an interview—which shows how much she wants to protect the relationship.
Golden Eye/London Entertainment/Splash News
In years past, when Swift has been romantically linked to someone—Calvin Harris and Tom Hiddleston come to mind—they've been front and center at one of the singer's Fourth of July parties, which were heavily documented on social media and in paparazzi photos.
Both of Swift's relationships with Harris and Hiddleston were very public, with the media following their every move. But her relationship with Alwyn is the complete opposite. The couple is rarely spotted together, and it seems that's just how they like it. Swapping big, public bashes for low-key trips to the local pub in London or romantic hikes in Malibu.
And a change in priorities is really what it comes down to. Having lived in the spotlight for over a decade, Swift has now made privacy a priority, choosing to remain out of the public eye when she's not on tour.
So, while seeing pics of Swift's Fourth of July party is always a treat for fans, having her skip the celebration is very significant. The Grammy winner is living her life how she wants to, on her terms, toasting to her real friends and wasting no time on her haters.
Call it what you want, but Swift seems to be enjoying life now more than ever before.