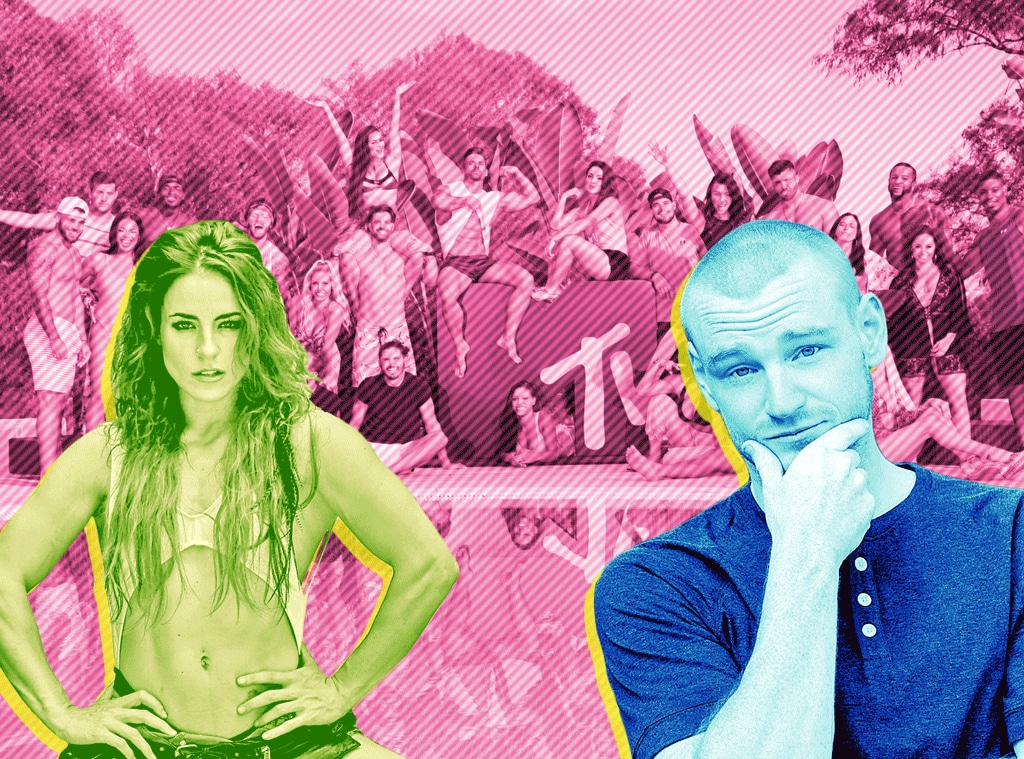 MTV; Melissa Herwitt / E! Illustration
Before the Final Reckoning, let's go back to the beginning.
MTV's The Challenge kicks off its 32nd season (titled Final Reckoning) tonight, and it's showing no signs of slowing down after more than 20 years on the air. Judging by the ratings and response from its rabid fanbase you can expect to see Johnny Bananas and CT Tamburello in walkers competing against each other at a season set in their nursing home. 
Over the course of 32 seasons, the reality hit has thrown all kinds of twists and turns at its cast, including a variety of locations, themes and pairings. But who is deciding how each season will play out and which contestants will be asked to compete? And how are they making the decision to do an individual, partner or team-based season? 
The Challenge's executive producer Scott Freeman, Bunim/Murray's executive vice president of International, pulled the curtain back on the process to E! News,offering insight into how one of reality TV's most beloved shows is crafted. 
When the team—which initially consists of a small group of just Freeman, Julie [Pizzi, president of entertainment and development] and sometimes the development team at Bunim/Murray, along with the showrunner once they are officially attached—sits down to plan out a future season, what comes first: the theme or the cast?
"It's usually the theme first," Freeman said, adding that structure of the season will normally guide the casting process. Team or partner seasons (think an Exes or Rivals, for example) often present major obstacles, so casting "may double-check and just make sure that the pairings that we want, that would be really good for it, are available.
"If we want to put say Bananas and Wes [Bergmann] as a team and for some reason Wes can't do it or at the last-minute something comes up, I'm like, 'Uh-oh. I have Bananas and I need to find someone for him,'" Freeman continued. "In the past, we've had to lose some good people out of our casting roster because their partner couldn't do it."
That's where a season like Free Agents or Dirty 30, which has the cast compete as individuals, is a little easier from the casting angle, as "we can just cast whoever we want and not have to worry that I can only have you if that person is also there. You don't need to match up."
Take the Dirty 30 for example: the theme completely directed the casting process as they were only looking for "the more conniving, clever people in Challenge history." 
In recent seasons, The Challenge has continued to introduce new themes rather than do another edition of a numbered season, like Battle of the Sexes or The Gauntlet. 
"It's fun to create new ones, to surprise the audience and the cast," Freeman explained, noting that they love the moment when the cast first learns the theme from host TJ Lavin on the first day of filming.
"Our favorite thing is when the cast hears it and goes, 'Oh my god! We didn't see that one coming!' We'll even see Bananas go, "Hmmm…" He has that look like, 'You even surprised me! Well played!'"
When the show is in production on one season (with the spinoff Champs. vs Stars also in the mix), they are already plotting out the following season, and Freeman noted cast burn-out is a major concern when it comes to the fast-pace filming schedule.
"We don't want to burn people out by having them go from show to show so fast," Freeman said of the cast members who compete consistently. "A lot of it now is just being ready and getting the wheels turning so that when the time comes that we really have to start getting into pre-production we're already ahead of the game."
Freeman, who has been with the show since it first debuted in 1998, has a hard time picking a favorite theme, but noted viewers tend to favor the the numbered seasons, just because the initial concept (former BFFs who hate each other must now work together!) are "so marketable" and "people can latch onto the casting." (Exhibit A: Johnny Bananas screwing over Sarah at the end of Rivals III.)
But a one-off season he is "very proud of" is The Island (season 16), where the cast had to cook and fend for themselves. 
"It was more like Robinson Crusoe, Swiss Family Robinson thing," he said. "It's still one of my favorite seasons just because it was so different and looked so different, but I think some of the fans may have felt maybe it was too different."
Another format Freeman liked was season 20's Cutthroat, which was the only time The Challenge split the cast into three teams and was one of the rare non-tropical locations, taking primarily in Prague. 
"It was a darker season because of the weather. It was a little bit more gray, European. I personally like the more warm, tropical locations, but it was also a very different looking season," he said. "We had never done three teams before, so that was different. We haven't gone back to that one, but every so often we think, 'Oh, maybe it's time to do Cutthroat again."
But as The Challenge continued to grow in popularity and viewers, breaking ratings records in its most recent season, it needed to expand its world outside of The Real World and Road Rules bubble when it came to casting, initially tapping the cast line-up from MTV's dating show Are You the One? for fresh blood. 
In season 31, Vendettas, the reality hit took a major gamble: introducing international contestants from MTV UK series Geordie Shore and Ex on the Beach. The risk, however, paid off, introducing key players like Kyle Christie (who made it to the final challenge), Kayleigh Morris and Joss Mooney, who could argue, hook-up and compete with the best of them. 
"Thrilled" with how Vendettas turned out, Freeman said, "We took a chance casting people who had never been on American MTV and they showed up and it was a surprise for our regular cast. It added new dynamics, it's been fun to see them come on and really start getting into The Challenge, like Kyle."
All three are back for Final Reckoning, along with familiar faces from Big Brother, Vanderpump Rules and the US' version of Ex on the Beach. 
"Everything's on the table," Freeman said of the show's plan to continue filling the cast with stars from other reality franchises. "We've actually been able to do that kind of casting for Champs vs. Stars, with [The Bachelorette's] Josh Murray. We had Josh on the last season, which was super fun. He was athletic and he was a Bachelor alum."
Final Reckoning will present the third installment of a trilogy that began with Dirty 30 before leading into Vendettas, and Freeman is confident that "fans who are watching these last seasons are really going to like it." 
The Challenge: Final Reckoning premieres tonight at 9 p.m. on MTV.