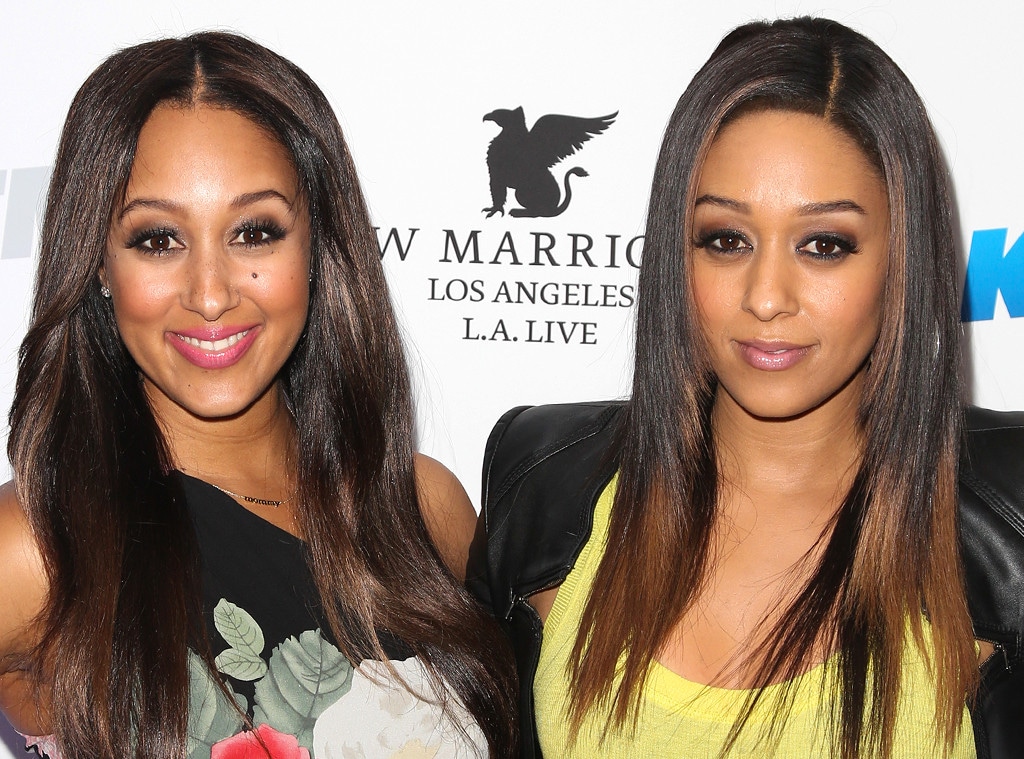 Paul Archuleta/FilmMagic/Getty Images
Never ones to shy away from the tough questions, Tia Mowry and Tamera Mowry were game to answer fan queries during a 2012 CNN segment. 
Together, the actresses spilled on life as a package unit ("It'll just be me and I'll just be walking down the hall or whatever and then some of our friends, they'll just shout and say, 'Hey guys!'" Tia said) and the possibility of a singing career. (Mark Tamera down for a Christmas album, "but to pursue a singing career, I'll leave that to Justin Timberlake.") And when they were asked who would emerge victorious in the "ultimate cage match" between them and fellow '90s stars Ashley Olsen and Mary-Kate Olsen, they didn't blink. 
"Oh, well, Tia, that's a big duh," started Tamera before referencing the four-inch height difference and the Olsen's slight frames. "I think my sister and I would definitely win that." 
Tia agreed. Though she acknowledged how much they loved their old babysitting charges, she continued, "I think we would definitely kick their butt." 
Larry Busacca/WireImage, Enrique RC/PacificCoastNews.com
They may just be winning at the Hollywood game as well. While the 32-year-old Full House alumni reacted to an adolescence spent largely in the spotlight by shunning social media and retreating from the public eye, the Mowrys have leaned in hard. Twenty-five years after they vaulted into public consciousness as twins separated at birth on the beloved sitcom, Sister, Sister, they're still small screen regulars with Tia notching a slew of credits since her six-year stint on The Game, plus her Cooking Channel series Tia Mowry at Home, and Tamera serving as one of four cohosts on the long-running talk show The Real. 
In comparison to the fashion designers' decision to grant just the rare interview about their clothing lines, the Mowrys are such open books that Tia uploads weekly videos to her YouTube channel Quick Fix and Tamera riffs on everything from her marriage to her struggle with self-confidence on her blog. Things get even more personal on The Real where she once revealed she and husband Adam Housely produced their own sex tape, a video she'd dub Sweet and Juicy were she to ever market it. (Which, for the record, she won't: "I don't like watching it!")
And you would never catch them badmouthing the show that made them household names. Just as swept up in '90s nostalgia as their fans, the twins—marking their 40th birthday today, an occasion they recently celebrated with a Napa bash—are fighting hard to get a remake on the air. "Everything is put into place. We just need a home," Tia recently told People, adding that they've already got the cast and a writer on board, they're just trying to lock in a network. "People are so invested, and we do not want to let our fans down," she continued. "We're like little elves in there working our butts off to try to get this show running. And if you know me or my sister, we never give up, so it's gonna happen."
Indeed, the duo have been at it from the age of 15, when Sister, Sister debuted on ABC. (It was picked up the next year on WB, where it'd air for an additional five seasons.) 
Wrapping as 21-year-olds, "We basically grew up on that show," Tia said—a phrase oft-repeated by other teen stars lucky enough to land a project that becomes part of the general zeitgeist. 
But unlike some of their contemporaries, they didn't struggle with what to do next. Seeking a bit of a hiatus from public attention, the duo enrolled at Pepperdine University where they collected degrees in psychology. 
"I think that Tamera and I grew up naturally; we didn't force anything in society. We didn't make any announcements that said, 'Look at us we're adults.' Like being thrown in magazines with no clothes on," Tia explained to Vibe. "Some people chose that route and say, 'Look at me I'm an adult now. I took my clothes off, see?' Tamera and I didn't do, we grew up, we stepped away for a moment and went to college."
They took advantage of everything on offer at the Malibu, Calif. school, studying abroad in France and Florence and traveling to Egypt, Spain and Rome, "But I just lived my normal life and stayed normal," insisted Tia. "Tamera and I weren't out getting drunk. We were in school and I think that centered us."
And while they kept their day jobs, making appearances in cable movie fare such as Twitches, Twitches Too and Seventeen Again, they also maintained a healthy perspective. "I have to give all of the credit to our parents," Tamera told The Huffington Post of their secret for making the transition from child star to adult actress scandal-free. "They're really proud of what we do, but they have no interest in Hollywood, so they weren't living vicariously through us, and they weren't trying to be our best friends. They were our parents. They taught us that you shouldn't identify yourself with Hollywood; identify yourself with yourself." 
It's a lesson not all of her peers mastered. "They identify themselves as if they're working and if they're not working, and some have this pious 'I have this gift and I'm better than everyone else' kind of attitude," she continued. "So when it all goes away, they have nothing left. Just remember that Hollywood is not your life."
Not that it's all gone away for either twin—not by a long stretch. While Sister, Sister remains their most beloved project, the pair have found consistent work for the past two-and-a-half decades. Along with their TV projects (Tia has lent her voice to a handful of Nickelodeon shows and starred in her own TV Land sitcom Instant Mom and they both allowed Style Network's cameras to follow them around for a two-year reality show stint), both have carved out some room in the lifestyle space, with Tia even releasing her own 2017 cookbook, Whole New You:How Real Food Transforms Your Life, for a Healthier, More Gorgeous You, packed with the recipes that helped her shed 20 pounds. "It's all about just making healthier choices," she told E! News, "and staying away from sugar, staying away from dairy." 
But in the unlikely situation neither were able to book a job again, there's plenty for them to come home to. 
When a Pepperdine professor set up Tamera with Fox News correspondent Housley in 2005, she instantly connected to his values and generosity. "He will give the shirt off of his back to a stranger—well, it's easy to give to a stranger, but Adam will give the shirt off his back on a cold day to someone he doesn't even like," she told Ebony in 2012.
But even with their choice to remain celibate until marriage, the pair took their time getting down the aisle, finally tying the knot in Malibu on May 14, 2011 after six years of dating and one break that left them confident they were ready for forever. 
"I never wanted to be married in the infatuation stage," the star, now mom to son Aden, 5, and daughter Ariah, 3, explained to The Huffington Post. "A lot of the time when people get married in the infatuation, it will go down. That is inevitable. The infatuation stage will not last forever. I'd rather marry my husband in the stage where I know what I'm getting into and what it's going to be like for our life together."
Tia could also envision a future when she crossed paths with future husband Cory Hardrict on the set of the indie movie Hollywood Horror in 2001. Having remained deeply rooted in her faith, much like her sister, it was important for her to be with a devoted churchgoer. 
"He's a strong man of faith and prayer. I find that very important for me because I am the same way," she noted to Ebony. "This business is hard and I needed someone who would say "Tia, get on your knees and pray,"—whether it's business-wise or personal—and that's what I love about Cory." 
To hear Tia tell it, their decades-long journey—the parents to 7-year-old son Cree just welcomed daughter Cairo May 5—began the moment he asked permission to kiss her. "That's when I knew Cory was the one," she recalled. "He's such a gentleman and really, really sweet."
Having such a strong support group in place makes it easier to disregard the keyboard warriors who comment on Tia's weight, Tamera's looks and, perhaps most dishearteningly, her interracial marriage.
"It's hurtful, because my husband and I are so open and fine with showing love, but people choose to look past love and spew hate," Tamera, daughter of a white father and African-American mother revealed on a 2014 episode of OWN's Oprah: Where Are They Now? "That's what hurts me because I've never experienced so much hate ever in my life."
And the remarks are startling, even by today's terrifying standards. "I get called 'white man's whore,'" a tearful Tamera continued. "The new one was 'back in the day you cost $300, but now you're giving it to him for free." 
As racial tension has increased in recent years, the ignorant remarks have only grown worse, but Tamera has a secret weapon of defense. "My husband, who is so great, said, 'You know what, Tamera? This is just teaching you to focus on the thousands of people that are for you, as opposed to the very few people who are against you,'" she recounted on The Real last year. "He's right.'"
Because that, more than anything, gets to the true essence of why both Tia and Tamera have been able to shrug off 25 years of haters (in a pre-Twitter world, their insults used to arrive via handwritten letter) and simply live their lives, knowing that no matter what anyone might say, they've worked hard and have an impressive pile of accolades to show for it. 
Take, for example, how a teenage Tia, reacted to a bully. "I will never forget a kid screamed down the hall and he said, 'Your show sucks." Just like that. Out loud, in front of all the kids," she shared on CNN. "And I turned around and said, 'Well, the check don't.'" 
Chimed in Tamera, "He shut up."  
As for the Mowrys, well, they're still laughing. 
"I like to choose to focus on the positive because whatever you throw out comes back at you. I believe if you're a good-hearted person that will definitely come back to you," Tia explained to Ebony. "Are things perfect? No. But I'm going to focus on the positive and you can be negative all by yourself."