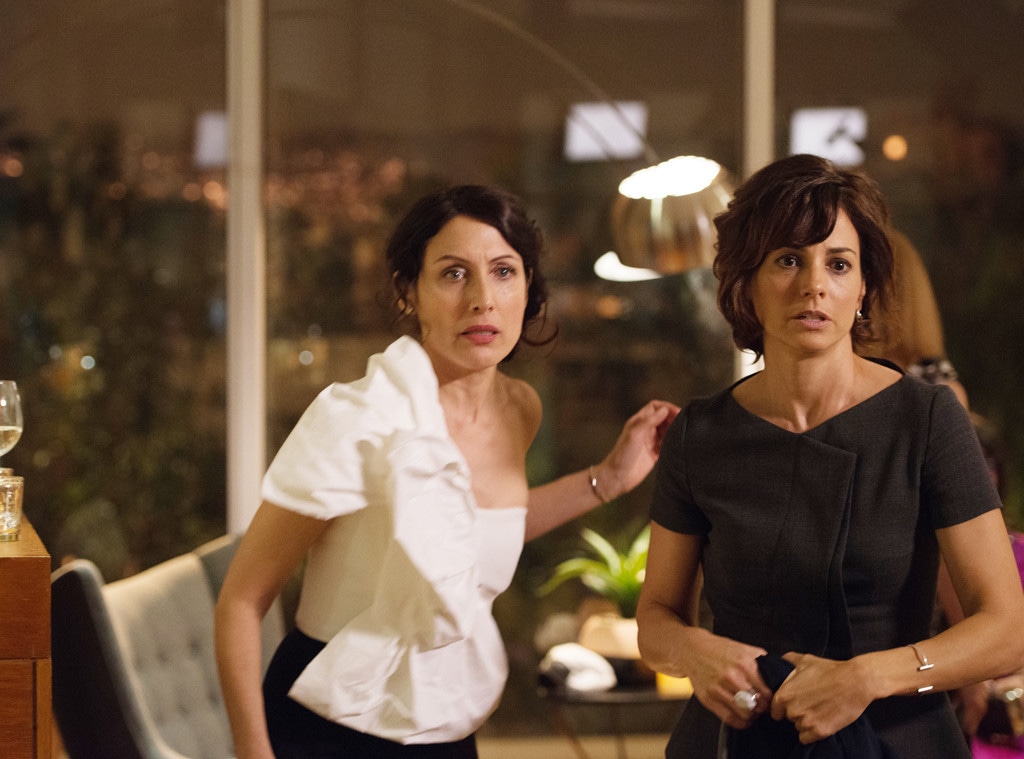 Bravo
It's one big happy family on Girlfriends' Guide to Divorce…minus the happy part.
In the below sneak peek of the Thursday, July 5 episode, Abby (Lisa Edelstein) is throwing an event at her house to woo an athlete, see happy times, but ends up clashing with Mike's (James Leisure) ex-wife Colette (Stephanie Szostack). Not so happy times. It's all about boundaries for these two, and apparently making a scene.
Also in the episode, titled "It's a Marathon, Not a Sprint," Jo (Alanna Ubach) and Frumpkis (Maury Sterling) deal with a family emergency, Delia (Necar Zadegan) receives some not-so-great news from her fertility doctor and she then gets more involved with Tony (Steve Talley). Meanwhile, Phoebe (Beau Garrett) is drawn to an mysterious new acquaintance.
Edelstein directed this episode of the series. She told Daily Pop's Justin Sylvester and Carissa Culiner, "It was very exciting. All the actors were pretty incredible, they were so generous and they loved my directions." Edelstein said there were so many things she's wanted to do on a set, but wasn't in the position to do so until now when she got in that director's chair. "It was a testament to the relationship we all had as a family there and how supportive and generous everybody is," she said.
This is the last season for Bravo's Girlfriends' Guide to Divorce. Could there be a movie or something more down the road? Edelstein said the ending of the series "does make you feel satisfied in terms of your character's journey, but also you could always learn more."
Girlfriends' Guide to Divorce airs Thursdays, 10 p.m. on Bravo.
(E! and Bravo are both part of the NBCUniversal family.)