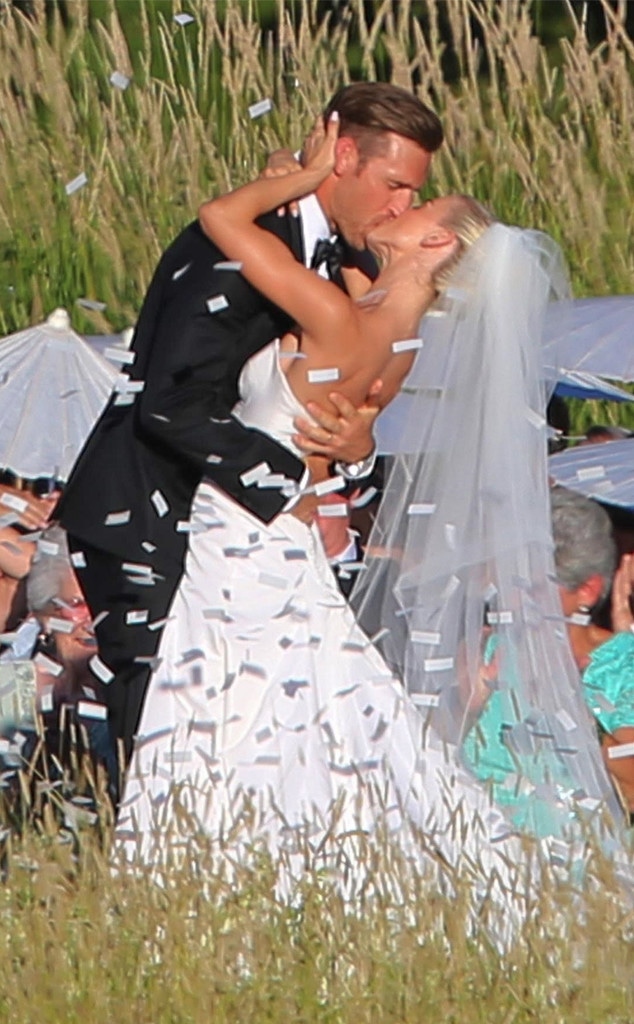 BACKGRID
No matter how much time passes by, some weddings are simply unforgettable for all the right reasons.
Exactly one year ago today, Julianne Hough and Brooks Laich gathered their closest friends and family together for a romantic ceremony near Coeur d'Alene, Idaho.
What came next was a celebration of love that could bring out the romantic side in any pop culture fan.
And while the couple has enjoyed a safari honeymoon in Africa and a birthday adventure in Utah just last month, nothing may come close to what guests experienced during the wedding festivities.
Now the question is: Where do we begin when looking back on the special day?
For starters, guests including Mark Ballas, Nina Dobrev and Aaron Paul traveled on a boat to reach the wedding that was planned by Troy Williams of Simply Troy Lifestyle + Events. As for the bride and groom, they received their own private ride to the venue. .
"It's funny to have complete strangers who don't know them but have seen the pictures come up to me and say they can feel the love just from looking at the pictures," Troy shared with E! News exclusively before the couple's one-year anniversary. "You can feel it from the guests watching them approach on the boat. It made everyone feel excited and it made everyone feel the love in their own relationships. It was really quite special."
When the ceremony began, all eyes were on Julianne's strapless custom Marchesa gown with Lorraine Schwartz jewelry. Not to be outdone, Brooks looked handsome in a black and white Brooks Brothers tuxedo.
And while we can only imagine how heartfelt the vows were, the reception sounded like a real party as guests enjoyed photo booths, Sugarfina candy stations and fireworks to close out the evening.
If that wasn't enough, guests had a gift box or turn down gifts waiting for them when they went back to their hotel every night. They also received special Coeur D'Alene welcome bags created by Gifts for the Good Life. 
"I could write a novel about that week," Derek Hough shared with E! News' Sibley Scoles. "Every moment of every day was planned to perfection. It was effortless. I was transported to another time."
Troy added, "There's a timeless romance to their wedding, which I love. Sometimes these celebrity events feel very overproduced, but this was the opposite. It was very intimate and inviting."
As the couple celebrates their one-year wedding anniversary, their love for one another appears stronger than ever.
Whether it's their PDA photos on Instagram or the kind words they say about each other, it's clear the sparks are still flying between these two.
"It's just the greatest thing ever to marry your best friend," Brooks previously told People. "We thought we loved each other when we were engaged, and then marriage is a whole new level. It's just fun to see the love continually grow everyday. I just feel like a pretty lucky man right now. It's the best."
Congratulations you two!
—Reporting by Spencer Lubitz