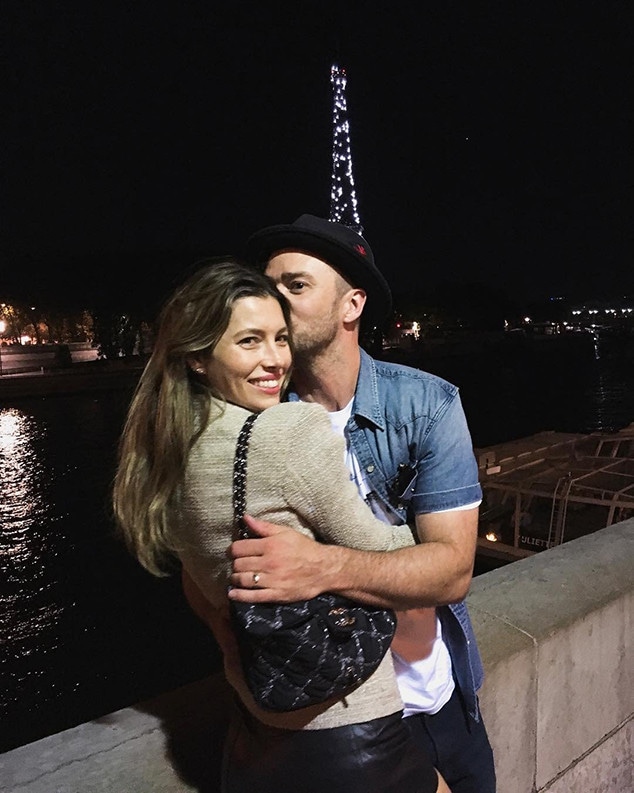 Instagram
Welcome to the City of Light!
Jessica Biel and Justin Timberlake enjoyed a romantic date night Monday, as seen on the singer's Instagram. The couple posed for a picture in front of the Eiffel Tower in Paris, France, where the 37-year-old pop singer leaned in to give the 36-year-old actress a kiss on the cheek.
Timberlake simply captioned the image, "Midnight."
After the first leg of Timberlake's Man of the Woods Tour ended June 2 at the Wells Fargo Center in Philadelphia, the power couple quietly went off the grid. Tonight, the singer will return to the stage at the AccorHotels Arena in Paris, kicking off the European leg of his tour. Biel has been by Timberlake's side ever since his international tour began March 13 in Toronto.
According to Biel, keeping Timberlake "healthy" on the road "is so important," meaning Monday's outing was atypical. "It's not just this wild party that everybody thinks. Yes, we're in these amazing places, but a lot of times we're trying to protect his immunity and protect his body from breaking down," Biel told People Now in April. "A date night for us would be just sitting in the hotel and having room service and watching a movie—just like everybody else."
Timberlake's international trek will take him back to North America in September, but before then, Biel is looking forward to doing some sightseeing in Europe. "I love Scandinavia," she explained. "I'm excited about Stockholm and going to Finland and Norway and all these places."
The Man of the Woods Tour will conclude Jan. 29, 2019, at the Pepsi Center in Denver.
Watch Daily Pop weekdays at 12:30 p.m., only on E!