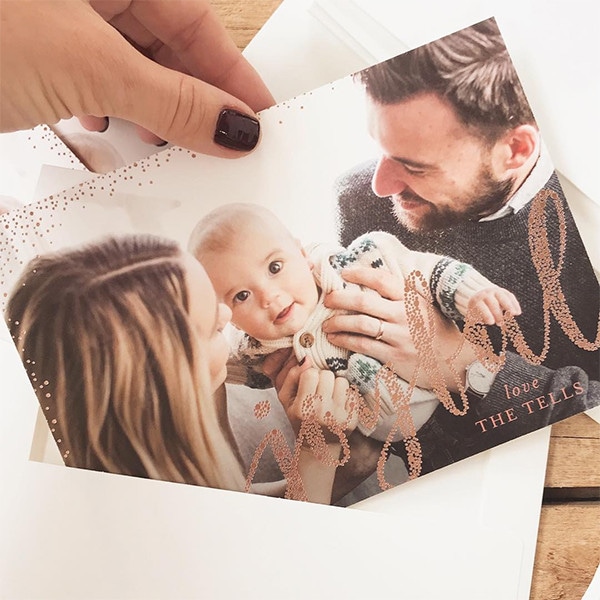 Instagram
When Lauren Conrad was pregnant, she had a few decisions to make.
What to name him? How to decorate the nursery? Should she take the world along on her journey, as she had taken the world along on her personal journey when she was a wide-eyed girl from the O.C. living in Hollywood for the first time?
"I'm going to have to figure out how much of motherhood to share on social media," Conrad told Fit Pregnancy last year. "Obviously you want to protect your child in every way you can. At the same time, my brand is based on being accessible and sharing the milestones of my life, and I'm so excited about it all. I'll find a middle ground."
Now, with son Liam James Tell turning 1 year old today, we know what she decided.
Conrad's middle ground turned out to be ringed by a tall fence. 
She actually started reining it in not long after she revealed she was pregnant via the very trendy sonogram post. And since announcing Liam's birth with a photo of a needlepoint treatment of a couple, their brand-new baby and two dogs, the author, designer and lifestyle maven has only posted a handful of pictures of her son on social media, usually chronicling baby's firsts (one for Halloween, one for Easter, etc.), thereby turning this past year into the most private one she's led since bursting into our consciousness via Laguna Beach: The Real Orange County in 2004.
And she's not just lying low on Instagram, while practically every other parent she lived in the reality-TV trenches with is busy widening their footprint. While L.C. has been out and about for business purposes, she has chosen to keep her first year of motherhood largely to herself and her husband of almost four years, William Tell. Meaning, no tales of breast feeding woes or no bleary-eyed Snapchats from bed after finally getting Liam down to sleep, etc.
"I'm still learning and figuring out what I'm doing," she told E! News in December, talking about her approach to sharing her parenting journey on her own lifestyle site. "You know, we talk about favorite strollers or things like that. I think that we'd like to be more of like a support system than someone giving advice. There's a lot of advice out there. I think there needs to be more, 'you're doing great.'"
Conrad admittedly did not take all that much time off from her businesses, but she acknowledged that being her own boss gave her the flexibility that most working moms don't have. "I'm really fortunate," she told E!, "so I'm still able to be with him everyday, but I was back on email within a week. I can't stay away!"
Lucky for Conrad as well, Tell is a very involved dad.
"Fortunately, between families and my husband, I have so much support, so I'm able to get back to work at that point—but yeah, it's a new kind of juggle," she added, smiling.
Fast-forward six months and "Lauren and William have done a great job balancing life and work with parenthood," a source tells E! News. "They're both super hands-on."
Meanwhile, what you can tell from Conrad's enviable-as-ever Instagram accounts is that The Little Market, the nonprofit online boutique dedicated to selling fair-trade items made by women around the world that she co-founded in 2013 with FIDM friend Hannah Skvarla, is still brimming with goods. And Conrad hasn't lost her eye when it comes to the carefully curated room, table, closet or warmly lit tableau.
"Being a mom has not slowed her down as an entrepreneur," the insider assured us. 
At the Create & Cultivate LA conference in February, Conrad and Skvarla revealed that they were planning to open their first brick-and-mortar Little Market store in the Pacific Palisades this year.
"We're really excited," Lauren said.
Conrad's world also still includes her LC Lauren Conrad line for Kohl's (which expanded last year to include maternity wear, naturally), and she's back to serving as the famous face of her collection.
Her hair cut in a fresh summer-ready bob, she recently showed off her tips to make the most of your summer wardrobe using a few key items.
"My overall style hasn't changed much since becoming a mom," she told People last month. "That said, I definitely find myself avoiding dry-clean only items and looking for pieces that aren't too restrictive. I work from home most days so I like to be able to take breaks to play with my son. I do my best to look put together, but still dress comfortably."
And she's always camera-ready, on the occasions she lets the cameras in.
"Even though I've only been a mom for a little under a year, I can hardly remember my life without little Liam," Conrad wrote on her website in May. "Celebrating my first Mother's Day really put into perspective all of the special moments I've had with my own mother, and I'm so thankful that I get to do the same with my little guy. So in honor of our Motherhood May themed month, in today's Tuesday Ten I wanted to take a moment to stop and reflect on some of my most cherished moments over the past 10 months. From milestones like our first holidays together as a family of three to spending quality time at the beach, being a mama sure is the most rewarding thing I've done thus far...
"The only thing I can think about as I put this blog post together is that time truly flies by. Am I right? While watching Liam grow is exciting, I miss the tiny baby he was just a few short months ago!"
Though having a mini-me seemed as though it would have been an appealing proposition to Conrad, she was thrilled when she found out she was having a boy.
"I really wanted a boy," she told Fit Pregnancy. "My husband kept saying, 'We just want a healthy baby.' And I'd say, 'But a boy would be nice!' I was a wild little tomboy, so I think I understand boys. My mom always told me that nobody loves you like a son does, especially when he's young."
Both sets of grandparents were thrilled as well, considering they'd been urging the young couple, "in an emotionally playful but persistent way," to have kids.
"Once he's here, all my friends and family are invited over—the more the merrier," Conrad promised before Liam arrived. "Especially since it's our first, I want to make sure we have lots of people around for support and to be sure that we're doing everything correctly. Both of our families live only 15 minutes away, so that's nice for babysitting!"
"After experiencing pregnancy, I went to my husband and I was like, '"Our mothers get jewelry this year! They get nice jewelry,'" she exclaimed in a Mother's Day-themed video for Kohl's.
Overall, becoming a mom has indeed broadened both her own horizons and her view of the world, adding new elements to her business and the ways in which she chooses to give back.
After touring the facility in Memphis, Conrad also has teamed with St. Jude Children's Research Hospital to create the "I got it from my mama" T-shirt, with all proceeds going back to the hospital, which specializes in fighting pediatric cancer and other life-threatening diseases.
During Create & Cultivate LA, Conrad emphasized that there were lots of ways to shop mindfully, whether you're buying something that directly benefits a cause or whether you're simply choosing products that are eco-friendly.
"It's not just about the things you're consuming," she said, "it's about the impact it has on the environment and the workers who create the products, so I think it's just being thoughtful in purchases."
Conrad has usually made time to attend to her inner eco-system with activities like hiking ("I do a lot of hiking meetings," she told Cosmo) and hitting the treadmill, and though she was happily indulging in Sprinkles cupcakes and under doctor's orders at one point to consume milk shakes daily to gain wait during her pregnancy, she's back to primarily clean eating.
She wasn't in a rush to lose weight. Rather, a source told us last summer, "her goal is to be healthy and strong. She loves cooking and makes a lot of her own healthy meals."
That mindset extends to her beauty menu too, as she has recommended natural ingredient-boasting products from the likes of the Honest Company and Summer Fridays.
"Since having a baby I've opted for cleaner products and they are applied quickly and less frequently," she advised on her website. "I don't have as much time for my beauty routine, so I stick to just a few great products. Unless I'm going out to dinner or to an event, I skip eyeliner and hair products."
Like many moms, she's also into the products that do double-duty, like IT Cosmetics' Your Skin But Better CC+ Cream with SPF 50+, because then she gets to skip foundation.
And SPF is always a priority.
One of Conrad's favorite places in the world remains the beach, and she and Tell have been enjoying fun in the sun with Liam (who was already ahead of the skin-saving game wearing his Mom's wide-brimmed hat), and with July underway, the family plans to be spending as much time by the ocean as possible. While she and Tell were hanging onto their beachfront properties in Laguna Beach, Conrad sold a house in the Palisades in May 2017 and successfully unloaded the Brentwood home she listed last summer, selling it in October.
"This probably comes as a surprise to no one," Conrad wrote in heralding the beginning of this month, "but I'm a summer girl through and through. I'm happiest when I'm close to the sea and sand, so I always feel like my best self this time of year. The weather is warm, the days are long, and there is no better place to be than the beach (add in the fact that Liam turns one this month, and I'm pretty excited about July!)."