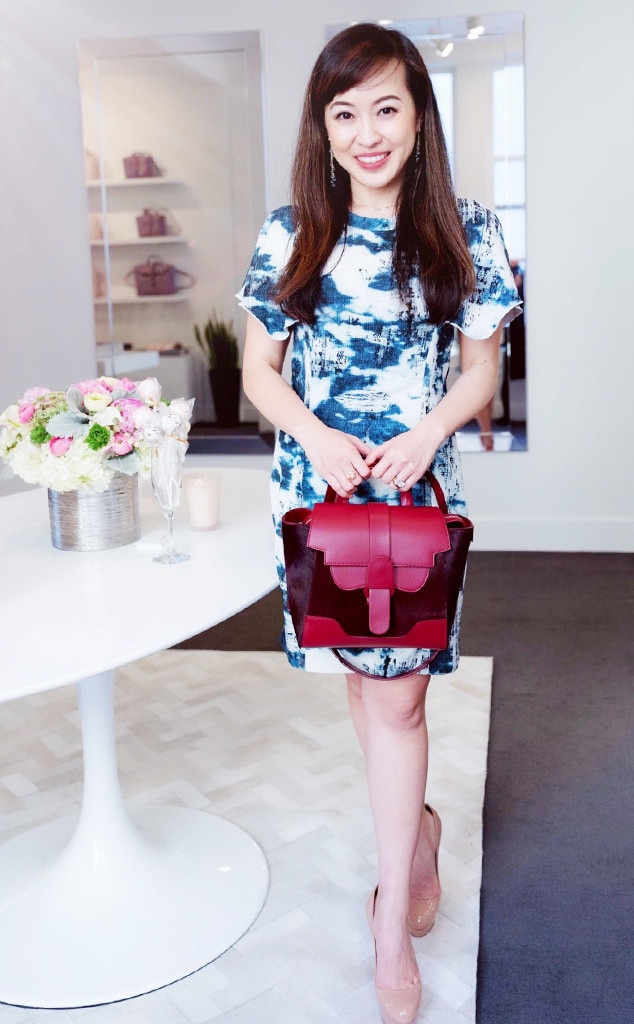 Courtesy Senreve
A woman that has it all needs a bag that carries it all. That's where Coral Chung steps in.
As a mother, wife, entrepreneur and world traveller, the founder of Senreve told E! News, "I was inspired to start this company because I could never find the perfect bag. Most luxury bags are fragile, easily scratched, exorbitantly priced—not meant to for daily use and really difficult to organize my life in. I was also always struggling to get my laptop in my bag, which usually damaged the bag or caused it to sag in a sad way."
Starting a business to solve her problem was the only solution, and an exciting one at that. Although Coral had spent time working in the finance and fashion industries, she started her career as a businesswoman long ago:
"I also have been working in different 'startups' my whole life because my parents are both academics-turned-entrepreneurs," she shared. "So as early as 10, I was writing letters to customers, emails to lawyers and negotiating partnership agreements because I was the only native English speaker in the household."
Now, her seasoned business acumen lends to her success building a purse company that sources materials from Italy and sells to women around the world.
Keep reading to learn more about Coral and Senreve!
Describe your customer in three words. 
Worldly, intelligent and elegant.
How does the design of your bags take the lifestyle of professional women into account?
Every detail is thought through from the padded iPad/laptop pocket to the interior organization and versatile straps. It's perfect for someone who travels, needs something that transitions from day to night, and is super busy.
What piece(s) from your collection do you wear most?
It's so hard to pick 'a favorite child!' Recently, I've been wearing the Midi Maestra bag daily and love the size. It's perfect because I'm a petite 5'2" and have a 5-year-old, so it's amazing to be able to wear the Midi as a backpack to be hands free. I also always have a Marine Bracelet Pouch and a Noir Card Wallet with my essentials with me at all times.
Who are you celebrity fans?
We've had so many celebrity fans and supporters! I remember feeling so thrilled when Selma Blair shared the Forest Doctor on her Instagram as her "new bag of the year" and when Priyanka Chopra wore the Mini Maestra to the Today Show. One of my favorite moments was when Greta Gerwig, one of the few women ever nominated for a Best Director Oscar, wore the Noir Crossbody to her movie premiere. And most recently, I was so proud when Sophia Bush wore the Blush Mini Maestra to the Women's March and gave an inspiring speech.
What's the best part about your career?  
I find it incredibly fulfilling to build something tangible from the ground up. It's really crazy to think that Senreve was just an idea not too long ago, and now thousands of women are wearing our products on a daily basis. I love talking directly with our clients, learning from them and getting inspired because they are all accomplished women and leaders in their respective fields.
Who are your career heroes?
My good friend Marissa Mayer is absolutely a personal and professional hero to me. She's not only a phenomenal executive who took the helm of Fortune 500 company when she was only 37. She is a stylish and super hands-on mom of three beautiful children. I have been so inspired by her ability to take on so much and operate at such a high energy level in everything she does with elegance. 
My mentor Toni Ko is an original #boss who started her company NYX which was later bought by L'Oreal as one of the biggest cosmetics acquisitions in recent times. Whenever I'm facing a challenge, I think to myself "What would Toni do?" and the answer usually comes to me "Don't hesitate, don't overanalyze, go for it!"
What's a typical day for you?
I don't ever have a typical day! Take the last couple of weeks for example: I traveled to Florence, Italy for a week to work my designers, technicians and Italian artisans to develop our next collection. I was also in NYC for Met Gala events, then headed straight to Hong Kong for investor and partner meetings. From there, I went to Shanghai for a press preview event and a special VIP event with some of our biggest clients in China featuring many custom products not publicly available. I was back in Silicon Valley for a few days to host a former Prime Minister for dinner in my home. Then off to LA for meetings and my best friend's wedding!
When I'm not traveling, I usually wake up early and cuddle with my 5-year-old daughter for a few minutes. My husband and I rush her off to pre-school and then head to the office. Afterwards I have team meetings, conference calls, recruiting interviews over drinks or coffee and dinner events or date night. Then, hopefully I get home in time to tuck in my daughter who has an elaborate bedtime routine. 
Tell us about your office décor.
The Senreve office is right in the heart of Union Square in San Francisco. I love how clean the minimal the space is. Like our brand, the decor is clean and timeless, but unabashedly feminine. 
Finish the below sentences.
Today for lunch I had… a lamb Souvla salad and Greek frozen yogurt with sea salt & olive oil topping. 
The first website I log onto every day is… I'm constantly on Instagram and Slack!
The last thing I Googled was… "Priyanka Chopra wearing SENREVE"
My usual coffee order is… I rarely drink coffee, my favorite tea is jasmine milk tea from Boba Guys.
If I wasn't doing this job, I'd be… an artist, dancer, pastry chef or diplomat.
List five things on your desk right now… chocolate-covered almonds, Senreve prototypes (new designs launching soon!), leather swatches, BKR water bottle and Tatcha blotting paper.
The book I'm reading is… Call Me By Your Name (loved the movie also).
My favorite person to follow on Instagram is… it's a tie between Julia Engel, Blair Eadie and my good friend, Sarah Rafferty!