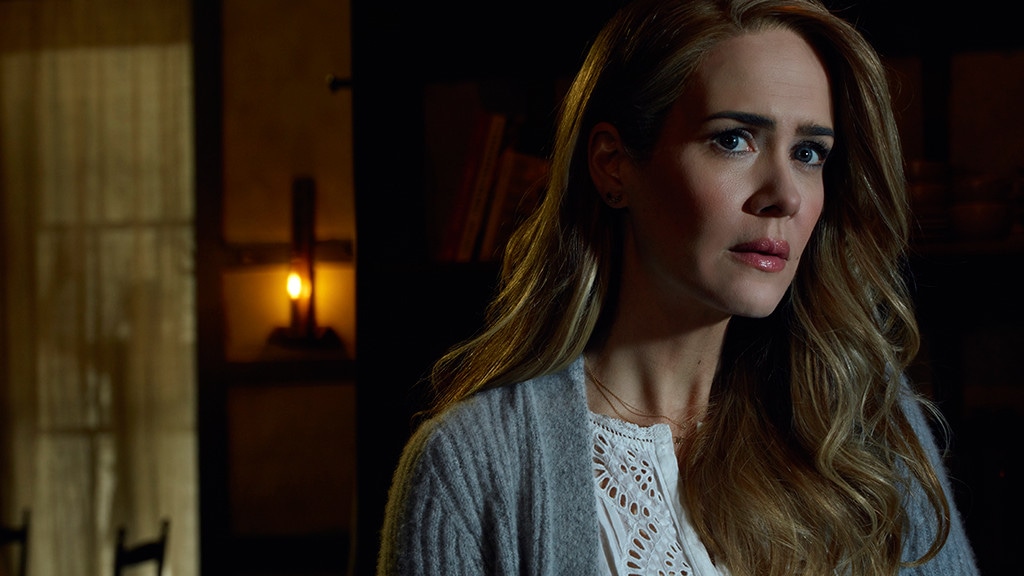 FX
What exactly is going on with American Horror Story season eight and who is its "secret friend"?
Shortly after Ryan Murphy announced season eight would in fact be the anticipated Coven and Murder House (that's seasons three and one) crossover, FX announced a September premiere date. The crossover announcement came after several details about the new season, which presumably weren't about the crossover, were dropped.
Season nine was intended to be the crossover, Murphy previously told E! News. "You know everybody involved says they're really optimistic about it—that they would want to read a script and then everybody wants to bring the band back together..." he said. "So I think it could be great it could sort of be an all-star thing. Dylan [McDermott] said he'd be up for it, Connie [Britton] would be up for it. Angela [Bassett] said she'd be up for it. So we'll see. I'm optimistic about it."
Season eight was supposed to be set in the future and star Kathy Bates, Sarah Paulson and Evan Peters, and welcome newcomer to the troupe Joan Collins.
That all changed.
"The Coven/Murder House AHS crossover season won't be happening next year...because it's happening THIS YEAR," Murphy shared on Twitter. "AHS #8 WITCHES RULE THIS SEPTEMBER."
Billy Eichner, a new addition to Murphy's band of actors, posted the below photo of him and his cast mates out to dinner. Alongside him are Paulson, Bates, Collins, Cheyenne Jackson, Billie Lourd, Leslie Grossman and Adina Porter, and another actor hidden. "It's gonna be a wild one!" he teased.
Who is the "secret friend"?
Emma Roberts teased she'd return as meme queen Madison Montgomery (surprise, bitch) and in a since-deleted tweet Murphy said he invited "all the witches" back. Since Roberts teased her return, we're betting it is not her. Could it be…
Lily Rabe
Viewers haven't seen Lily Rabe in AHS since American Horror Story: Roanoke (season six). She was a key part in Coven and appeared in Murder House. Her character, like Roberts', died.
Jessica Lange
The Oscar and Emmy winner hasn't returned to American Horror Story since Freak Show, season four, and Murphy has teased he's in constant talks with the acclaimed actor. She reunited with the creator for Feud: Bette and Joan. Her character in Murder House survived the season, but her Coven character died…however when you're dealing with witches and ghosts, death isn't forever.
Frances Conroy
In Myrtle Snow we trust! Frances Conroy's AHS: Coven character was a fan favorite, but she was burned at the stake in a blaze of Balenciaga glory. She's popped up in every AHS season save for AHS: Hotel. Her return as either Myrtle Snow or AHS: Murder House's Moira O'Hara would be a surprise for fans.
Angela Bassett
Angela Bassett is currently saving TV lives on Murphy's Fox series 9-1-1, but wouldn't it be fun to see Marie Laveau once again? Bassett didn't join the AHS ranks until Coven, so she could be Marie or a totally new character.
Connie Britton
Connie Britton has not appeared in any AHS installment aside from the first season, however she did re-team with Murphy for The People v. O.J. Simpson: American Crime Story and 9-1-1 season one. She's currently working on a Bravo true-crime series, but has always been open to returning to the Horror Story fold.
Dylan McDermott
Dylan McDermott played a main role in AHS: Murder House and a pivotal recurring one in AHS: Asylum, but hasn't returned to the franchise since then. The crossover season would be the perfect occasion.
Pascal Le Segretain/Getty Images
Anjelica Houston
Murphy isn't shy about speaking to the press about actors who fascinate him. One of them is Oscar winner Anjelica Huston. He told THR he was "interested" in adding Huston to his ranks. She has experience playing witches too (see the classic film The Witches). Huston's brother Danny Huston has appeared on American Horror Story.
Rob Latour/REX/Shutterstock
Michelle Pfeiffer
Another of Murphy's dream gets, Michelle Pfeiffer has been rumored to be joining the cast of AHS before. Could her return to the spotlight with Ant-Man and the Wasp be just the start?
AP/Invision for Los Angeles Dodgers Foundation
Stevie Nicks
The Fleetwood Mac singer appeared in two episodes of American Horror Story: Coven as herself…just saying…
Somebody completely different
The cast of American Horror Story is always changing. Joan Collins is a new addition and she's in the group photo. Murphy is always known to have tricks up his sleeve, so the mystery figure could be somebody completely new and unexpected.
American Horror Story returns September 12 on FX.