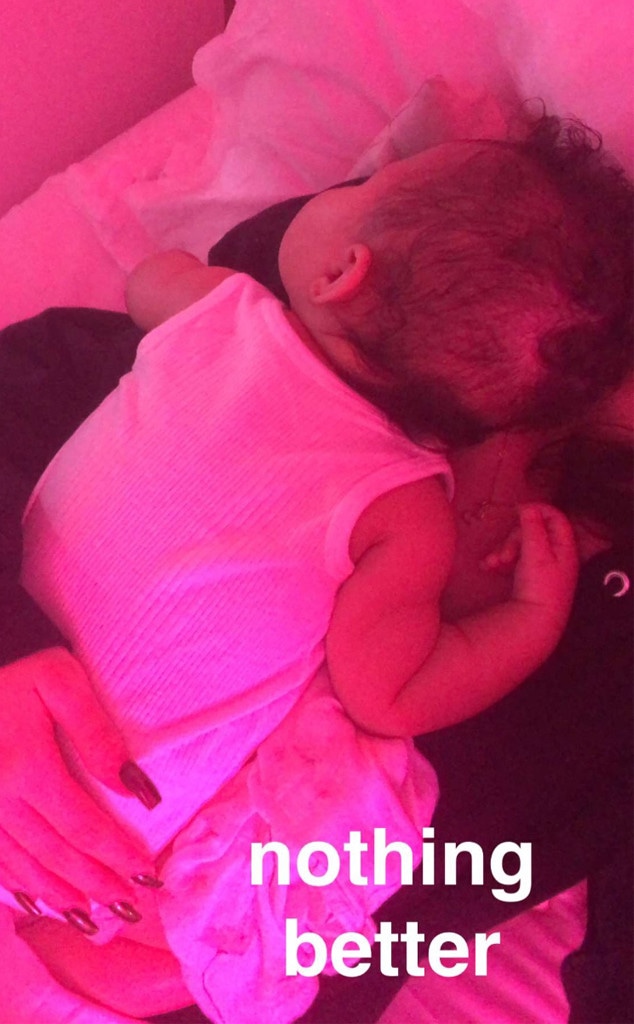 Kylie Jenner/Instagram
Just weeks after Kylie Jenner deleted all photos of Stormi Webster's face from Instagram and told her legion of fans she was "not sharing photos" of her child—the new mom is back on social media, giving lookyloos more glimpses of her already famous baby girl.
On Saturday, the social media and reality star hopped on Snapchat to share multiple images of the wee one, who is about to be 5-months-old.
One image shows the little lady, whose dad is rapper Travis Scott, on her superstar mom's bed. Kylie wrote, "My little love" underneath the image.
Another Snapchat images shows a close-up of the little girl's head as she lays on her famous mom.
On June 10, fans noticed the reality star removed pictures of her then-4-month-old daughter. The selfie-loving makeup mogul shared a new image of herself, showing off her freckles while Stormi's face remained hidden from view. 
"I spy with my little eye...," the Keeping Up With the Kardashians star wrote. 
When an Instagram user noted Kylie had "cut her baby out" of the photo, Kylie replied, "Yeah I cut my baby out. I'm not sharing photos of my girl right now."
Kylie didn't go into discuss the reason behind her bold move but her decision certainly surprised fans since the week before Kylie posted a picture of her holding her daughter in a Gucci baby carrier.
While many pics were deleted a few shots in which Stormi's face is hidden are still on Instagram.
Of course, it looks like Ky might be Snapchatting up a Storm (pun intended) after her brief break.
In the past, Kylie has also opened up about balancing social media and privacy before.
In 2015, she tweeted, "My reality is.. I only show people what I want them to see. No one knows what goes on in my day to day but me & who I share my moments with."