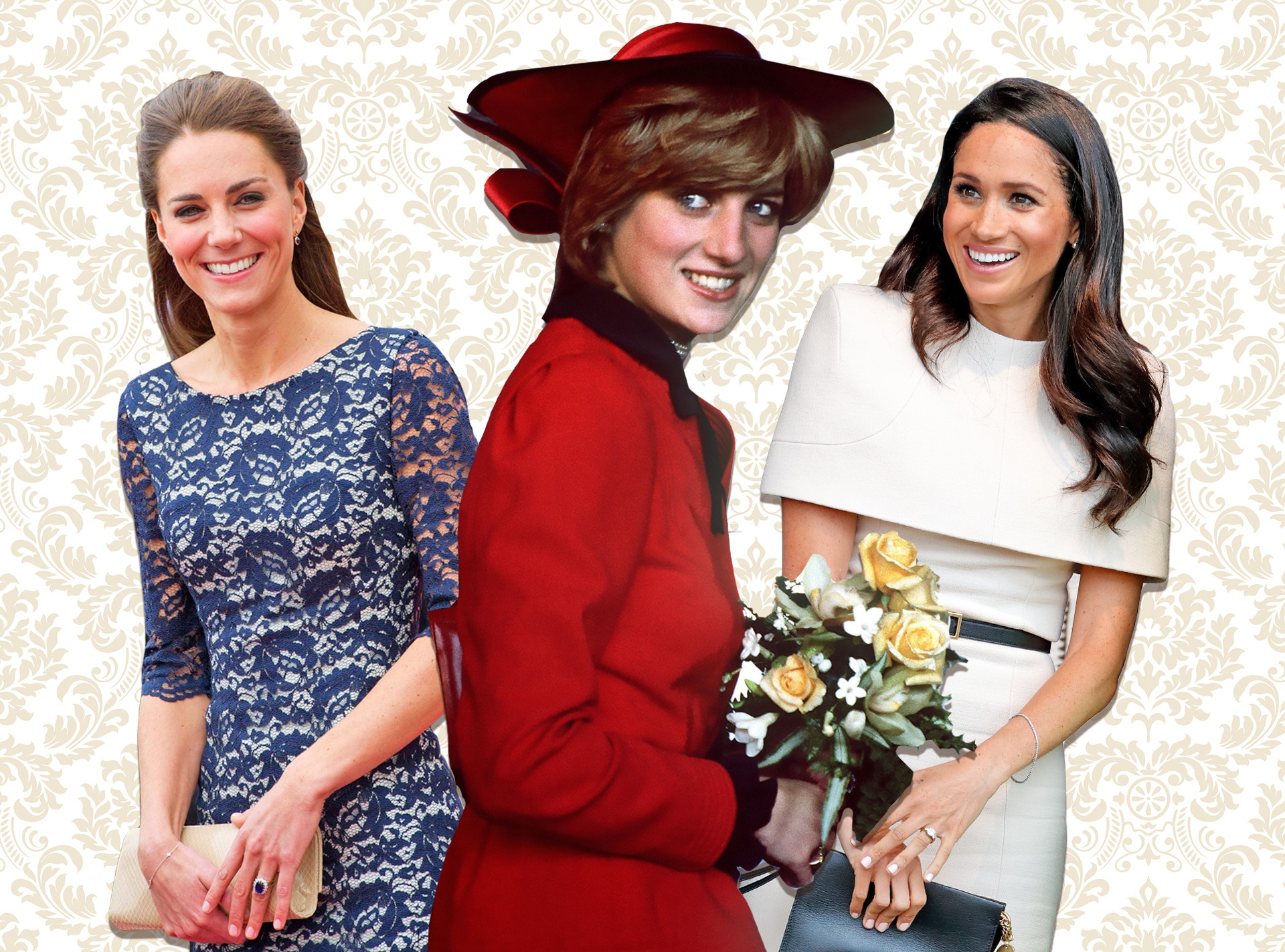 Getty Images; E! Illustration
There's a very short answer as to how Meghan Markle and Kate Middleton's first days as members of the royal family differed from Princess Diana's.
They were happy.
It's common knowledge by now just how tempestuous the relationship was between the mother-in-law they were sadly never destined to meet and William and Harry's father, Prince Charles. And while Diana and Charles were married for 11 years before they separated, plus another three before the divorce, there were problems with the match long before Lady Diana Spencer joined Charles in holy matrimony at St. Paul's Cathedral on July 29, 1981. 
Which isn't to say they weren't in love. It's just that Charles loved someone else much more.
Diana, who would have been 57 today, was only 16 when she first met the 28-year-old eldest son of Queen Elizabeth II and Prince Philip when he visited her family home for a grouse hunt.
"...the first impact was, 'God what a sad man,'" Diana recalled to author Andrew Morton, according to his 1992 book Diana: Her True Story. Meanwhile, one of her sisters, the future Lady Sarah McCorquodale, was all over the royal, who was (and remains) next in line to the throne.
In 1979 during a visit to the royal family's home at Balmoral, the prince started to become smitten with the by then 18-year-old Diana, who had grown up with his younger brothers Prince Andrew and Edward among her playmates. It turned out Diana and Charles had a few things in common, including their love of the outdoors, dancing and skiing—plus, as a 1981 article about their marriage in the Daily Times noted, neither was a smoker.
She couldn't help but laugh when he first proposed, just months into their courtship, to which Charles replied, "'You do realize that one day you'll be Queen,"' according to Morton. Diana recalled thinking to herself, "You won't be Queen, but you'll have a tough role."
When she told her family she was engaged, her parents were thrilled, she said, and her brother asked, "'Who to?'" 
Diana estimated that they only spent time together on 13 occasions before their wedding day. 
"He wasn't consistent with his courting abilities," she told her speech coach. "He'd ring me every day for a week, then wouldn't speak to me for three weeks. Very odd. I thought, 'Fine. Well, he knows where I am if he wants me.'" But "the thrill when he used to ring up was so immense and intense. It would drive the other three girls in my flat crazy."
They announced their engagement on Feb. 24, 1981, a few weeks after the proposal. Before the wedding, however, according to Tina Brown's The Diana Chronicles, Diana discovered a bracelet Charles had monogrammed "GF"—"Girl Friday," he told his bride-to-be—for the real love of his life, Camilla Parker Bowles. Charles also ensured that Camilla and her husband (whom Diana remembered also being at Balmoral during her early visits) were invited to the wedding, along with 2,500 other people, though Diana put her foot down at including them in the breakfast at Buckingham Palace afterward.
She always believed the "GF" stood for Charles and Camilla's pet names for each other, "Gladys" and "Fred."
"I spoke to my sisters. They said I had to go through with it," Diana told Lady Colin Campbell, according to her 1998 book The Real Diana. "My face was on the tea towels. Sarah even said, 'You'll look a right mug to go along with all those mugs with your face on them.'"
"I loved him," she added. "He said he loved me. I figured I'd better believe him...I wanted the fairy tale to come true." Diana also told Campbell, "I'd do it all over again."
Kate and William, who met in college, were each other's first serious relationship and as far as anyone knows their wedding was an ex-free zone. Harry, however, had exes Chelsy Davy and Cressida Bonas at his ceremony, but they were not among the revelers afterward.
What did not change in the 30 years between Diana and Kate's weddings, or in the ensuing seven years before Meghan married Prince Harry, was the mind-blowing amount of attention paid to the brides-to-be, and the rapturous fascination with every aspect of their nuptials.
Millions of people all over the world watched their I-dos on television, and all three ladies found their visages emblazoned on souvenir mugs and tote bags, tea towels and T-shirts, china and commemorative coins. You could even watch Meghan and Harry tie the knot over a bowl of "Wedding Rings" cereal. And while Diana's dress was very much of its time, it still inspired a legion of brides in the 1980s, just as Kate and Meghan's gowns will service as dream-dress templates for the foreseeable future.
Central Press/Getty Images
The press was relentless leading up to all three weddings, though, and as much as social media makes everything lurid these days, Diana may have had it the worst. Her every move was watched and chronicled (a strapless black dress?!). One reporter snuck into her kindergarten class through a window. Much was made of whether she was a virgin or not—and her uncle Lord Fermoy assured the Daily Star that his niece had "never had a lover."
"I'll just take it as it comes," Diana said sagely about the scrutiny.
But much like Kate and Meghan down the road, Diana was determined even at the tender age of 20 to stand up for herself and do royalty her way.
She refused to walk a step behind Charles, as history suggested she do, and they had the part about the bride's promise to "obey" her spouse scrubbed from their wedding vows. That raised more than a few eyebrows at the time, but when the traditional Anglican vows were rewritten in 2000, "obey" was nowhere to be found. Neither Kate nor Meghan was compelled to put it back in.
Nerves were the order of the day for all three brides, but Meghan and Kate didn't accidentally flub their husband's name, as Diana did by saying she would "take thee Philip Charles Arthur George" (instead of Charles Philip Arthur George) in a scene right out of Four Weddings and a Funeral.
"It's important to wind back 20 years and realize she was the first member of the royal family who people really felt behaved and acted like a normal human being," former British Prime Minister Tony Blair reminisced in the 2017 special Diana, 7 Days, about the week following her death in 1997.
Unhappy ending aside, Charles and Diana's wedding was a fairy tale come to life, watched by 750 million people around the globe. And the bride and groom maybe even enjoyed themselves.
"There were several times when I was perilously close to crying from the sheer joy of it all," Charles told a cousin later on, according to The Real Diana, while Diana said, "It was heaven, amazing, wonderful, though I was so nervous when I was walking up the aisle that I swore my knees would knock and make a noise."
Queen Elizabeth hosted daytime receptions for her son and daughter-in-law in 1981, and continued the tradition for her grandsons and their brides. But while Kate and William and Meghan and Harry enjoyed respective second receptions hosted by Prince Charles—celebrity-studded affairs with dinner and dancing that lasted into the early morning hours—Charles and Diana didn't attend their own evening bash, hosted by the queen at Claridge's.
Instead, they took off for their honeymoon that night, ferried in an open landau with a "Just Married" sign on the back to Waterloo Station, where they caught a train to Broadlands, the Earl of Mountbatten's family seat in Hampshire. That was followed by a two-week cruise on the royal yacht Britannia around the Mediterranean and Aegean Seas and then a stay at Balmoral.
"The honeymoon was a perfect opportunity to catch up on sleep," Diana wrote to her personal secretary Jane Parsons, according to excerpts released before a batch of her correspondence went up for auction last year. (She told Lady Colin Campbell the same thing.)
Sadly, it also sounds as if she was just exhausted emotionally.
"On one occasion, she and Charles had been consulting their diaries when a photograph of Camilla fell out of his," wrote Penny Junor in The Duchess: The Untold Story, describing the moment when Diana realized just how much her new husband was still pining away for his married ex. Junor continued, "Another time, when they were in formal dress for dinner, she noticed the Prince was wearing a pair of gold cufflinks engraved with interwoven Cs."
Alas, they did not stand for Coco Chanel.
Their yacht was also apparently swarming with staffers, including members of the Royal Navy, so they were hardly alone. According to Junor, Charles discovered just how much they didn't have in common on the cruise, having hoped to spend time painting and sharing books with his wife, but she was in no mood to read and resented all the time he spent at his easel. She swam and worked on her tan, and they did spend a fair amount of time consummating and re-consummating their marriage, that part of their relationship being reliably healthy in the beginning.
When they finally arrived in Scotland, she quipped to reporters that she could "thoroughly recommend married life."
By the time they finished their cruise, a member of Charles' staff told Campbell, the prince was concerned about his wife's mental state because she had been so volatile on their honeymoon. "If he was going to have something to speak to her about," the staffer said, "aside from how much he loved her and she loved him, if he wasn't going to expire from boredom before the end of the honeymoon, something had to be done, and quickly."
An associate of Charles brought her a stack of books, and a witness claimed she "hurled them one by one at the door." Per The Real Diana, she quickly got bored at Balmoral and longed for her more social life in London, which was a devastating turn of events for the country life-loving Charles. She was the more demonstrative of the two, not shying away from loudly arguing at the top of her lungs so that the entire household could hear, while Charles' replies were indistinguishable, when he stayed in the same room to hear them.
"Well, we were a newly-married couple, so obviously we had those pressures too, and we had the media, who were completely fascinated by everything we did," she recalled in her infamous interview with Martin Bashir for the BBC's Panorama in 1995.
"And it was difficult to share that load, because I was the one who was always pitched out front, whether it was my clothes, what I said, what my hair was doing, everything—which was a pretty dull subject, actually, and it's been exhausted over the years—when actually what we wanted to be, what we wanted supported was our work, and as a team."
Nearly up until Diana and Charles separated in 1992, her knowledge of Charles' ongoing affair with Camilla and the toll it took on her somehow made the princess—who had suffered through battles with bulimia and depression—the target of more ire. 
"Friends on my husband's side were again indicating that I was again unstable, sick, and I should be put in a home of some sort to get better," she told Bashir. "I was almost an embarrassment."
"'Charles is hopeless,'" Diana remembered her mother-in-law, the queen, telling her when she asked for advice on what to do about his infidelity, according to tapes made during sessions with her speech coach that were controversially used for a TV special last year.
It is stories like that which make anything that Will and Kate went through when they were dating, or even Harry and Meghan with the socially constructed obstacles they ultimately steamrolled over, seem like nothing.
Standard/REX/Shutterstock
Kate and William, who married on April 29, 2011, at Westminster Abbey, waited a beat before heading off on their honeymoon that May, a stay in the super-private Indian Ocean idyll that is the Seychelles, where most of the islands are only reachable by charter boat once you've touched down on their big island, Mahe. 
Unlike Charles and Diana, who were greeted and sent on their way by a hungry press corps at every stop, the newlyweds didn't let anyone in on their plans and were able to go and return on their own timetable.
TOBY MELVILLE/AFP/Getty Images
Once back in London, their first official duties as royal newlyweds included meeting with President Barack Obama and first lady Michelle Obama at Buckingham Palace. Nice work if you can get it.
They embarked on their first international tour as a married couple the following month, starting in Canada before heading to California for a series of events. 
Meghan and Harry similarly postponed their honeymoon and were on the job three days after becoming husband and wife, attending a garden party at Buckingham Palace for Prince Charles' 70th birthday. Kate didn't have her first solo outing with the queen, a jaunt to Leicester with her and Philip as part of the monarch's Diamond Jubilee Tour, until she had been married for almost a year; Meghan, meanwhile, joined Harry's grandma on June 14, for the opening of the Mersey Gateway Bridge in Cheshire, England. Later in the month Harry flew on his own to Pitseng, Lesotho, where he co-founded his Sentebale charity and has spent time working on causes benefiting children.
Overall they attended quite a few events together in June, including the Trooping the Colour procession, at the end of which Meghan made her Buckingham Palace balcony debut, and the Royal Ascot, Meghan's first time at the historic annual event which dates back to 1711.
John Stillwell/PA Wire/AP Images
They did manage to steal away, however, for a June honeymoon in eastern Africa—but not Namibia, as so many people speculated beforehand. (They had also predicted Botswana, where Harry and Meghan spent their elaborate third date, and Canada.)
"No, we didn't go to Namibia," Harry informed one of the winners of the Queen's Young Leaders Awards at a ceremony in their honor at Buckingham Palace. "I'm not going to say where." (But props to the young lady, who was from Namibia, for having the courage to ask.)
The couple have a trip to Sydney, Australia, lined up for October to attend the Invictus Games, which will reportedly be Meghan's first time Down Under.
Kent Gavin/Mirrorpix/Getty Images
Because their honeymoon lasted for months, Diana and Charles didn't have their first royal engagement together as a married couple until October 1981, a three-day tour of Wales. By all accounts at the time, it was a great success, the Prince of Wales presenting his bride, clad in red and green, the colors of the Welsh flag, from the balcony of Caevernon Castle. Diana was a hit with the people, as she would be with people around the world for the rest of her life.
The Welsh are said to have especially appreciated how Diana powered through the damp, windy weather, refusing an umbrella so that she'd be as soaked as the people waiting to greet her.
Charles "was proud of me," Diana later reflected to Campbell. "And I was thrilled to see that proud look in his eyes."
The announcement that they were expecting their first child came on Nov. 5, 1981, almost two weeks before Diana's first solo official engagement, turning on the Christmas lights at Regent Street from the balcony of retailer Austin Reed.
After more than a year and a half of marriage, Kate's first pregnancy was announced Dec. 3, 2012—earlier than they would have liked, but her hospitalization for severe morning sickness necessitated an honest explanation.
Diana and Charles settled at Kensington Palace, where Diana would remain after the divorce, and also kept a home at Highgrove House, near Tetbury in Gloucestershire.
Like Diana, Meghan and Kate have made their main home at Kensington Palace as well, though Will and Kate moved to Anglesey in 2010 while he was going through air ambulance training and spent their first couple of married years there. Once Prince George was born they resided primarily at Anmer Hall in Norfolk while their unit at the palace, Apartment 1A, was undergoing a $6.5 million-dollar renovation. Meghan and Harry have started off in the palace's two-bedroom Nottingham Cottage, but may have their eyes on Apartment 1, a more sizable flat, comparable to Will and Kate's.
While Diana's marriage to Charles was by no accounts a happy one, they did have two beloved children together, and more than anything Diana cared about creating a normal, healthy life for her boys. Both William and Harry have expressed regret that their mother was never able to meet the women they fell in love with, become a grandmother and otherwise enjoy the fruits of the influence she had on both sons on at an early age.
"Oh they'd be thick as thieves, without question, I think she would be over the moon, jumping up and down, you know so excited for me," Harry said when he got engaged, "but then, as I said, would have probably been best friends—best friends with Meghan." He continued, "So no it's...days like today when...when I really miss having her around and miss being able to share the happy news. But you know with the ring and with everything else that's going on I'm sure she's…"
"She's with us," Meghan added.
Kate is now the proud wearer of what was Diana's sapphire and diamond engagement ring, and Meghan's ring was made with diamonds from her collection. At the royal wedding in May, Meghan carried a bouquet of flowers that Harry picked from their private garden at Kensington Palace, and Diana's sister Lady Jane Fellowes gave a reading.
Meghan later wore a massive aquamarine ring that had belonged to Diana to their reception—and she spoke at the party, a most modern turn of events set in motion 37 years beforehand when Diana decided a vow to "obey" wasn't for her.
As young men, William and Harry have worked hard at burnishing their mother's legacy, attending to causes she was passionate about, such as de-stigmatizing HIV/AIDS in Africa, as well as pursuing causes of their own, such as Will's dedication to combating wildlife poaching and Harry's advocacy for military veterans. And they were young when they lost her, but it sounds as though they've taken Diana's life lessons to heart.
Recalling when she broke the news to William that she and Charles were separating, Diana said in 1995, "I went to the school and put it to William, particularly, that if you find someone you love in life you must hang on to it and look after it, and if you were lucky enough to find someone who loved you then one must protect it."
After a tell-all book about her had come out, she recalled, William gave her a box of chocolates, telling her, "'Mummy, I think you've been hurt. These are to make you smile again.'"
Twenty years later, there are two women living at Kensington Palace now who are very happy. Diana, and what she went through, does have something to do with that.