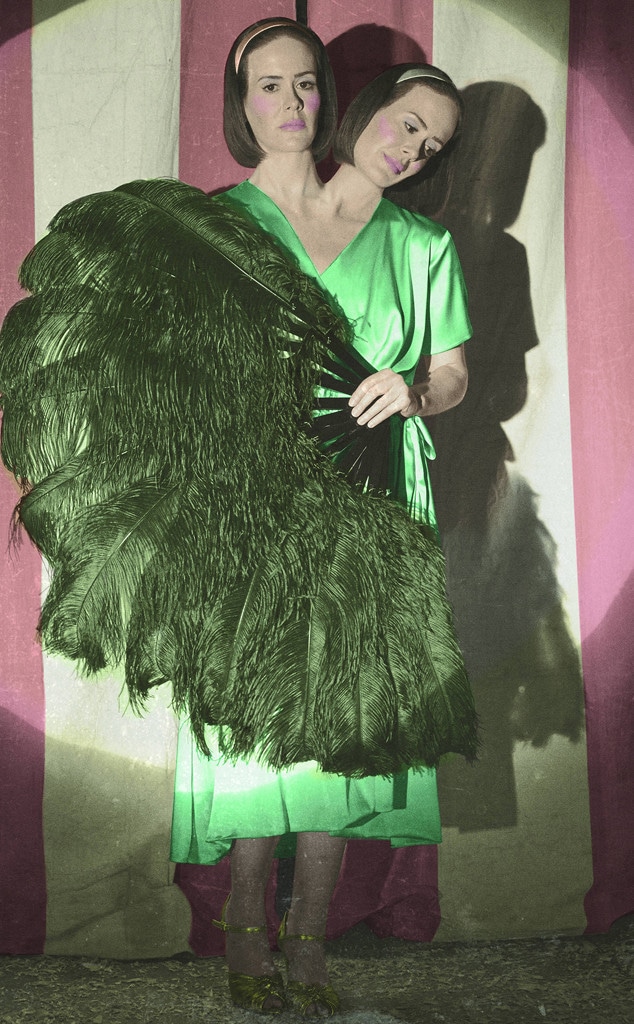 Frank Ockenfels/FX
Mark your calendars American Horror Story fans, because the terror continues this September!
On Thursday, FX announced that season eight of American Horror Story, which will be a crossover between Murder House and Coven, is set to premiere on Wednesday, Sept. 12.
With a new season comes a lot of new possibilities and questions. For starters, how will Ryan Murphy top himself?
Who will the characters be and how will our favorite AHS stars portray them? Will all the Murder House and Coven stars be coming back?
Will it be scary? OK, we know it'll be scary, but just how scary are we talking? There are so many things we need to know!
While we don't have the answers to these questions when it comes to season eight just yet, we can always expect American Horror Story to bring the terror, twists and wickedly good themes year after year.
As we wait to see just how horrifying this new season is, let's take a trip down the clown-filled, wicked-witch infested lane that is American Horror Story.
Before we can see season eight we have to take it back...all the way back to the haunted house beginnings.
In case you forgot, it all started with Murder House and that spooky mansion. There were so many haunting things about this season including everything regarding the house, which led to the Harmon family going mad...can you blame them?
There was also Violet (Taissa Farmiga) going all Sixth Sense on us and all of the unwanted house guests (AKA serial killers and murder victims) so ya, this season really kicked things off with high levels of horror.
Season two, Asylum, is definitely a season we won't forget either. It had an added sense of fear because it pointed out that your mind can also be a living hell and it was chilling. Plus, the doctors and all the secrets at Briarcliff were totally creepy and unnerving.
Coven (season three) raised the bar even further when it came to new ways to haunt by focusing on a group of fierce female witches in New Orleans. While this season was scary, it also had a little more levity which was a fun change.
Oh, and Angela Bassett and Kathy Bates joined the cast so 10 points for Coven!
Freak Show (season four) definitely gave us goose bumps every time we tuned in to watch. The season took place in Jupiter, Florida as a struggling freak show came to town.
After watching all of the murders throughout this season and the very believable "freaks" we decided maybe going to the circus just isn't our idea of a fun.
Season five, Hotel, brought Lady Gaga to the small screen and her performance was definitely memorable.
This season was all about hotel horror. It revolved around the Hotel Cortez in Los Angeles, which was originally built as a torture chamber, so obviously creepy things were going to take place here.
As guests check into the hotel a detective tries to solve a series of murders being conducted by the Ten Commandments killer. Yikes!
Roanoke (season six) was told in a found footage style, a lot like the Blair Witch project, which made it that much scarier from the jump. 
It was complicated however, because not only did you learn about the characters who lived in a farmhouse where the Roanoke Colony had previously moved, but you were also watching a documentary being filmed about the same story.
Last, but not least, was season seven's Cult.
Cult was much more political than any season that had come before it and it totally worked. Evan Peters was at his finest as the cult leader throughout the season and Sarah Paulson proved once again that she can do anything while playing Ally Mayfair-Richards.
It was twisted, involved everything creepy that you can think of about cults and had super scary clowns. Oh, and it took on the current political climate in a very disturbing way...like you'd expect anything else?!
Now, before season eight begins, tell us know which of the past seven installments of American Horror Story is the scariest and most disturbing (in a good way) to you by voting for your favorite below.
PS: There's still time to get your scream on and re-watch all of the past seasons to gear up for what's bound to be another successful season of AHS this fall.
American Horror Story Best Season