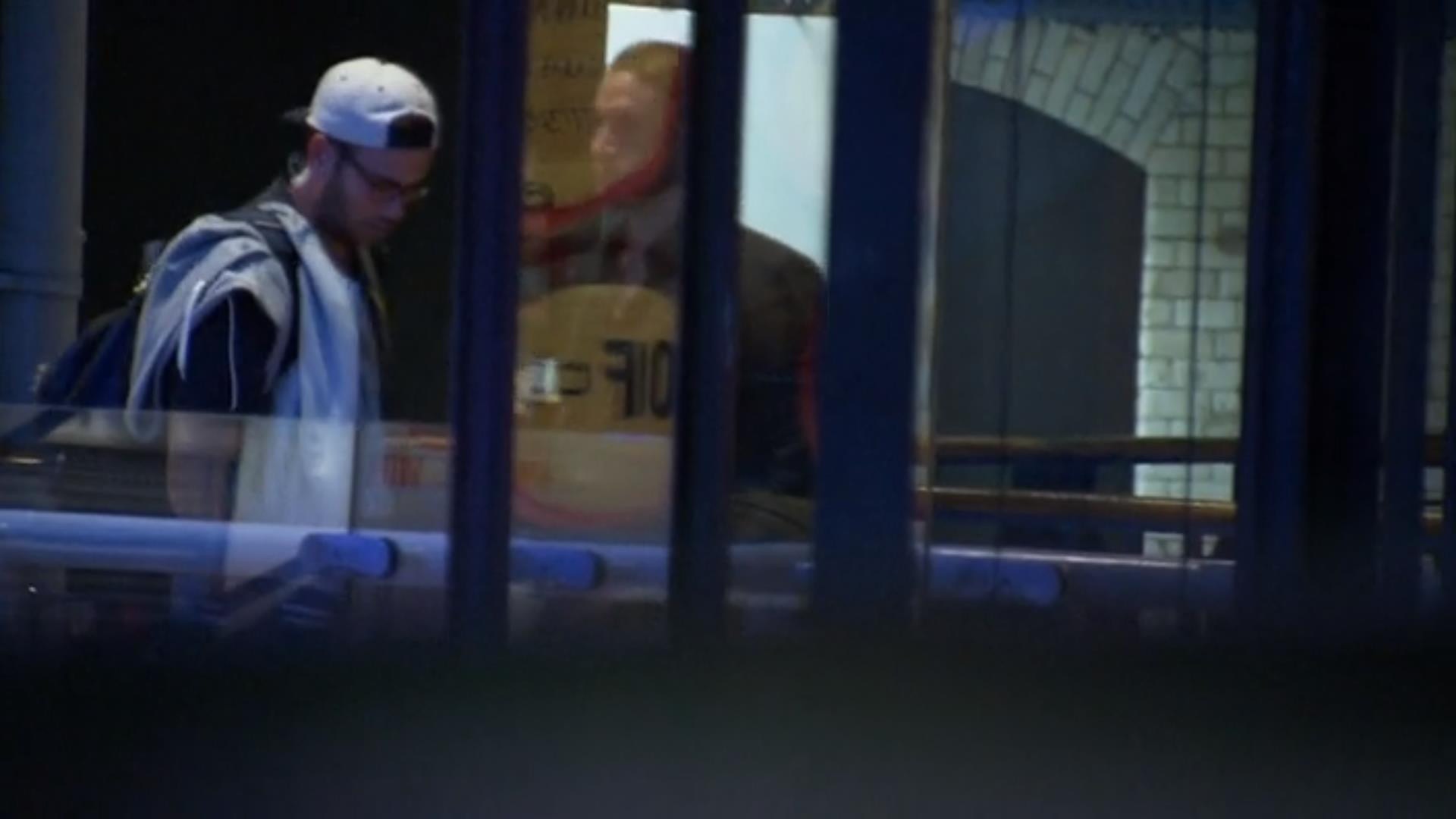 ABC
"I trust you more than anybody here. You're the only person I talk to about anything."
Sounds like the start of an honest conversation between close friends, right? Well, it was actually a semi-private talk between Shawn Booth and his producer on The Bachelorette in 2015, where the contestant (who would go onto propose to Kaitlyn Bristowe) was emotionally unraveling, asking for advice "friend to friend" from his handler. Little did he know the rest of the production team and eventually the millions of people at home watching would also be privy to this exchange. 
It was one of the first times in the ABC reality hit franchise's long history that a producer was shown on-camera, creating a small crack in the fourth wall that showed just how much emotional support producers can provide to their subjects.
Now, years later, that small crack is a full-blown waterfall, with the line between producer and friend... 
And no one in Bachelor Nation walks that line more delicately than Elan Gale, the franchise's most well-known producer. A source once described Gale as "the cast whisperer," due to his ability to get even the most emotionally closed-off contestant to open up. He often refers to contestants as his children on social media. 
Former contestant Sharleen Joynt, who left the show on her accord, told Amy Kaufman she considered him her "personal coach, therapist and bodyguard," in her bestselling book, Bachelor Nation: Inside the World of America's Favorite Guilty Pleasure, even though she also acknowledged his role in manipulating her emotions, instructing her to cry during her exit. 
Like Joynt, many other contestants seem to be aware of the double-edged sword of befriending your producer.
"Sure, @theyearofelan has put me in difficult, emotionally charged situations and then broadcasted them to millions," Ashley Iaconetti, whose show-related tears could fill the Bachelor Mansion pool, wrote on Instagram in 2016. "However, because of him (my second father, as I call him) I'm a more outspoken, stronger, confident woman."
And Gale, along with other producers, are quick to show their affection for the cast on social media, often sharing intimate photos from set, with producer Natalie Shabtai even inviting some of the women to her wedding.
"You have to draw this weird line where you're kind of their friend, but you're not their friend. You do care for them in a sense, because you're learning all these things about them, and they're human," former producer Ben Hatta told Kaufman. "But at the end of the day, you are making television." 
The bond between The Bachelor contestant and producers closely resembles friendships formed at summer camp, with an intense bond being formed in a somewhat idyllic bubble. Once the summer ends and you head home, you try and stay in touch, but eventually, school starts (or another season, in this case), and you each move on. 
For other popular reality shows, the bond can take on a much more parental nature that can span years, not just a condensed filming schedule with an endless rotation of cast members. 
Responsible for introducing Snooki, The Situation and the rest of the beloved Guido gang to the world back in 2009, Jersey Shore creator SallyAnn Salano has watched as her cast has grown up on-camera, having children, getting married and struggling with sobriety; her stars even affectionately call her "mom." 
On a recent episode of Jersey Shore Family Vacation, MTV's revival of the beloved series, Ronnie Magro-Ortiz had an emotional breakdown in the confessional room, seemingly the culmination of his anxiety over impending fatherhood and his rocky relationship with Jen Harley. 
"When Ron came out of there, I was sitting on the floor waiting for him," Salsano said of the raw moment. "We do have that human connection and I think they know that. There are times they will go into a confessional and at the end of it they'll say, 'I know someone's watching this. Someone tell mom I want to talk to her when I'm done.' And that's the cue."
While Salsano has worked on many reality shows, including The Bachelor, Party Down South, and A Shot At Love With Tila Tequila, she's quick to admit it's been a different emotional experience with the Jersey Shore cast.
"It's always been a balance with this cast. I feel like I was them growing up and maybe it's a cultural thing?" Salsano told E! News. "But we all had this instant bond…none of us knew what we were getting into. Behind the scenes this is just as much of a family as in front of, if not more."
And Salsano's cast has proven to be just as much of a support system for her after her mother passed away suddenly in 2012.
"You're at the funeral, and you turn around and in the back row there is every single cast member and their parents," she said. "That's what this is about. It's hard to explain that to people. It is insane the level we are in and out of each other's lives like that."
But Jersey Shore isn't the only MTV reality show to foster an intimate relationship between the opposite sides of the lens. 
In 2015, Teen Mom OG made the bold move to start filming the producers, deliberately including them in shots and showing how intimate their relationships with their assigned Moms were.
"It's better for the audience because they know there are cameras present; they know that there are producers," producer JC Cueva told MTV. "It helps me tell the story better sometimes, because if I have a question, I can just jump in and ask it. I don't even think about it, I just do it."
The franchise eventually went on to break the fourth wall in all of its spinoffs, with producers becoming integral characters in the show. 
"We just clicked really well," Mandi Venturino said of her relationship with Teen Mom 2 star Chelsea Houska. "She is super welcoming -- there is always a dessert made, and she will make [the crew] extra dinner. She makes you feel like you're a part of the family. She will text me randomly, not even to talk about what's happening with filming. We are friends." 
And for some, it goes beyond a workplace friendship. 
"I think the hardest part of this job is the emotional toll it takes on you as a producer or a crew member to walk this life with your cast member," co-executive producer KiKi Malone said when addressing Catelynn's miscarriage in season seven.  In the episodes, we saw Catelynn talking open and honestly about her suicidal thoughts with her producer, Kerthy Fix, who later went to her husband Tyler Baltierra about the conversation, comforting him as he broke down.
Of handling the more serious situations, producer David Burch explained, "The most important thing you can do as a producer is show them respect, especially on a show like this where you have a cast that's been with you for nine years. If they feel any kind of disrespect from production, it's going to limit how willing they are to be vulnerable."
Frazer Harrison/Getty Images
But not every producer has such a tight-knit friendship and bond with their talent, as Leah Messer's producer Amy Rhodin noted the boundary between them. "First and foremost, Leah sees me as her producer, and I see her as the dynamic person whose story we're sharing," she explained, while former Teen Mom OG star Farrah Abraham always had a complicated relationship with the show's production team, which included shoving producer producer Larry Musnik and banning production from her property at one point.
But the tension reached a new level in February 2018, when Abraham sued MTV and the entire production team for $5 million, claiming she was fired for continuing to pursue adult entertainment opportunities. She dropped the suit after settlement was reached in March.
Farrah isn't the only reality star to take legal action against the show and people that made them a household name; The Bachelor franchise dominated headlines last summer when Corinne Olympios and her lawyers announced they would be launching  their own investigation into whether or not Warner Bros. properly investigated the alleged sexual misconduct that occurred on the first day of production on Bachelor in Paradise season four after a sexual encounter between Olympios and DeMario Jackson. 
However, Olympios wasn't the person to file the initial internal complaint with Warner Bros. that shut down production in the first place: her producer, whom she formed a close bond with during her time on Nick Viall's season of The Bachelor, did. (A second producer then filed one as well.) The producer questioned whether or not Olympios was able to give consent before the alleged encounter. 
Eventually, Olympios dropped her lawsuit and went on to set the record straight on Bachelor in Paradise, telling Chris Harrison she didn't blame production for the scandal and felt the whole situation was "annoying." 
Her producer friend who reported the incident no longer works on the show. 
It seems all's fair in friendship and reality TV.