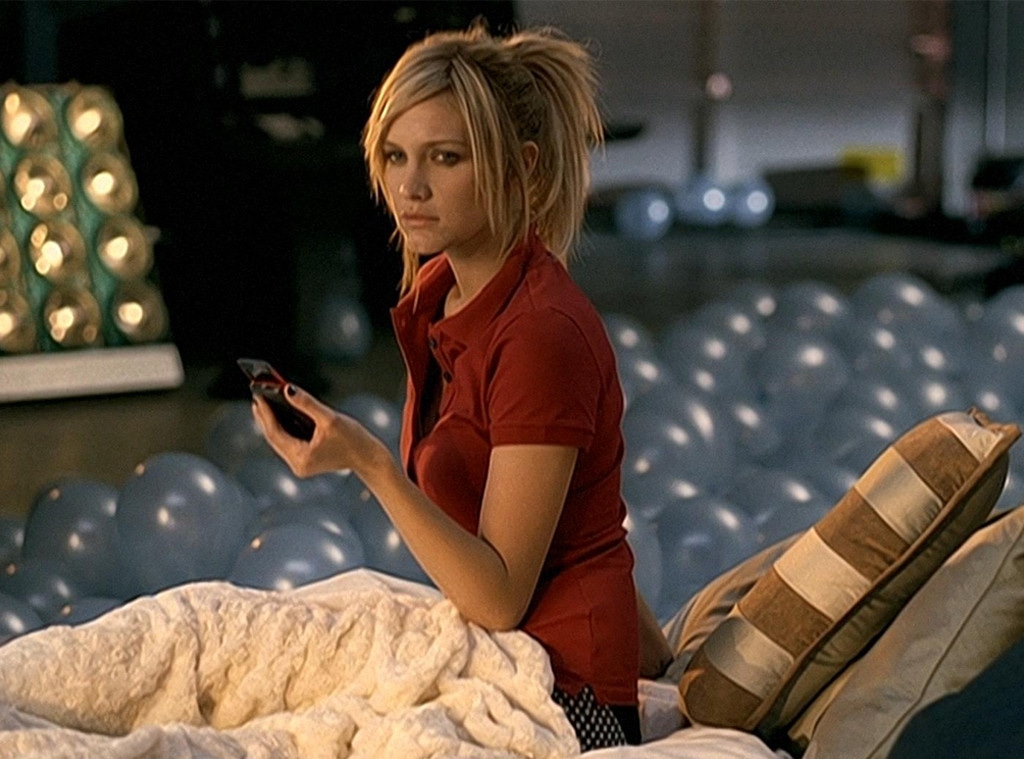 Geffen Records
Ashlee Simpson Ross is getting a new reality show on E! (with her hubbie Evan Ross), so it seems fitting that we celebrate ASHLEE+EVAN with a little throwback fun.
Ashlee has been on our radar ever since her sister Jessica Simpson dropped her first single back in 1999. The Texas native then followed in her big sister's footsteps and released her own music starting in 2004 and we are forever grateful that she did.
Over the years, the 33-year-old star gave us a lot of hit songs that we can't help but still love.
She was an edgy, rocker-style singer mixed with a pop vibe that fans will forever recognize. Not to mention her gravelly voice, which made her even more memorable when her songs came on our radios back in the day.
Sure, it's been a while since Ashlee has released new music (her last song came out in 2012), but we still have her old tunes to sing-along to whenever they come on our iPod...thank goodness.
After all these years, which of Ashlee's songs, or rather music videos, still stands out as the best in your opinion?
The mother of two had some epic videos for her hits like "Pieces of Me" and "Outta My Head (Ay Ya Ya)" and after re-watching them we are in serious need of a sleepover party with our middle school posse complete with Ashlee's best tunes playing on our Walkman.
Enough chatter, break out your chokers and black eyeliner and vote for your favorite music video from Ashlee over the years below.
Oh, and don't forget to tune in when ASHLEE+EVAN premieres Sept. 9!
"Pieces of Me"
"Pieces of Me" is one of Ashlee's most iconic songs and her music video shows fans exactly how it was made. The video is basically a mini documentary of her recording process. Plus, it shows her on the road, in the studio, working out and goofing off with her friends and family. It is a behind-the-scenes look at the pieces of her (get it?) and it's pretty cool to see.
"L.O.V.E."
Remember when you had a flip phone? Well, Ashlee has one in this video which instantly takes us back to the early '00s. The video for "L.O.V.E." is probably one of our favorites for the sole reason that it shows the singer dancing with her friends—and then with a cane as a prop—at a party to forget a boy and it's just too much fun.
"Outta My Head (Ay Ya Ya)"
"Outta My Head (Ay Ya Ya)" is easily the trippiest of all of the 33-year-old singer's music videos. It starts with Ashlee sitting on her couch and then all of a sudden her wall starts to move and she's in a wild dream-like place. The alternate world has numerous versions of the singer, including one that dances around on a Rubik's cube and one that is sent to an insane asylum. It's so random and yet we can't stop watching it.
"Invisible"
In 2007, the actress and singer released her video for "Invisible" and it was unlike any of her videos prior. This video has a real storyline and character development—Ashlee is a boxer trying to make it in the ring and she kicks butt—and it's really good. Plus, it is entirely in black and white which makes it even more interesting to watch.
"Shadow"
"Shadow" is the epitome of Ashlee's "darker" phase. The video and the song lyrics are amazing because they show off her "true self" while also revealing her darker hair and clothing choices. In it you see Ashlee with her choppy black locks as she sings in a garage band in between fighting with her own blonde identity. She fights her two halves only to come out as one complicated person who is equally beautiful in both looks. It's pretty deep if you ask us.
"Boyfriend"
If you're looking for wild-child Ashlee then this is the video for you. Throughout the "Boyfriend" video a sassy Ashlee can be seen driving fast and out of control to a secret concert that she then performs at. She jams along with her audience in a seedy venue in between clips of kids running from school, the skate park and more places to join in on her underground show.
"La La"
The mother of two was one destructive teenager…at least in her music videos and the one for "La La" proves it. In one of her more angsty works, Ashlee jumps on a van, throws drinks in a doughnut shop parking lot and drives through a burger joint in a shopping cart. In the final scene, the rocker goes to a killer party where people jump in the pool and run when the cops show up. The good news is they take the party to the Laundromat, because no one wants to stop partying when Ashlee is singing, duh!
Bonus: "On the Way Down" by Ryan Cabrera
OK, we know that this isn't one of Ashlee's songs but she did star in her then-boyfriend Ryan Cabrera's video for "On the Way Down" in 2004 and it's too wonderful not to mention. Ashlee appears in the piece as a bartender who falls for Cabrera as he sings at the bar. They are adorable, running through the streets together, cuddling up to one another and of course stealing a kiss or two throughout.
(E! is a part of the NBCUniversal family)
Ashlee Simpson Music Video Poll