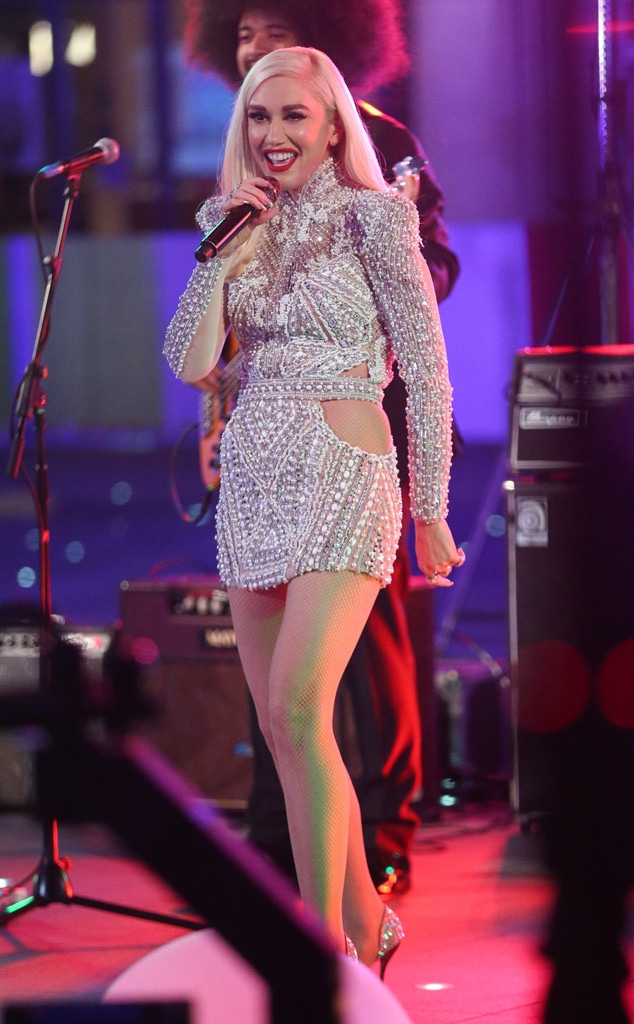 Flynet - Splash News
Hey baby, your Hollaback girl is officially in Vegas!
Gwen Stefani kicked off her Las Vegas residency show called Gwen Stefani — Just a Girl on Wednesday night and she totally brought it.
There were giant bananas, glitzy costumes and even some throwback tunes for her OG fans. 
Even though we all know that Stefani is a pro when it comes to touring there is something magical about possibly seeing her in Las Vegas.
The bright, neon lights, the crazy atmosphere that is Vegas and Stefani up on stage performing month after month is almost too good to be true.
It is true however, and the show will be running through March of 2019 at Planet Hollywood's Zappos Theater, so you definitely have time to catch the former No Doubt front woman in all her glory.
The only question we have for you now, besides when will you be heading to Nevada, is which songs do you want to hear Stefani perform?
We've narrowed it down to her top 10 songs—we know there are way more but we had to cut it off somewhere—for you to choose from so, pick wisely.
Vote for the tune you are hoping makes the set list below and prepare to go b-a-n-a-n-a-s when you see her live!
"Hollaback Girl"
You can't have a Stefani concert or dance party without "Hollaback Girl." This song pretty much set the tone for the California native's solo career and we will always love it. It's the kick-butt anthem you need in your life. Plus, it brought us the best line out of all of Stefani's songs with "the sh*t is bananas, b-a-n-a-n-a-s!"
"Early Winter"
"Early Winter" is a fan favorite off of Stefani's second solo album and it's probably because it is such a beautiful song. It's slow, soft and really paints a picture. While we're used to her more upbeat tracks, breaking things up with this hit would be a great idea…even in Vegas.
"Cool"
"Cool" is off the singer's debut solo album Love. Angel. Music. Baby. and it shows off Stefani's gravelly voice so well. The message might be a little sad, since it is about losing love and getting over someone, but its melody and Stefani's voice on it is just so perfect.
"Hey Baby" by No Doubt
You can't have a Stefani concert without a few oldies from her days with No Doubt. We are big fans of most of the 48-year-old singer's songs from her time in the band, but "Hey Baby" is probably the best of them all. It is the first song we think of when someone says they want to listen to No Doubt and we really hope Stefani breaks it out at every show.
"Make Me Like You"
After years without new music, Stefani released a new album in 2016 called This Is What the Truth Feels Like and "Make Me Like You" is easily the most memorable song from the record. It is pop music at its finest and showcases Stefani's iconic voice with lyrics that give hope to those looking to find love after heartbreak.
"What You Waiting For?"
"What You Waiting For?" is one of the trippiest songs off of Stefani's 2004 album and we just love it. The tick-tock sounds and funky beats of this tune make it hard to get out of your head, but we're totally fine with that. Plus, the Alice in Wonderland video that went with this track is so good!
"Ex-Girlfriend" by No Doubt
While "Spiderwebs" would also be on our list of songs we'd like to hear from Stefani, "Ex-Girlfriend" by No Doubt is even higher up when it comes to our concert song choices. This song is edgy, gives off major rocker feels and is so punk rock. Oh, and it transports us back to our angsty teen years instantly, which is what a concert moment should do, right?
"The Sweet Escape" feat. Akon
This 2006 jam is one of Stefani's catchiest tunes hands down. It comes from her second solo record called The Sweet Escape and although it's much mellower in sound then a lot of her other songs, we still get the same upbeat tempo we've come to love from the artist throughout.
"Used To Love You"
When the blonde beauty released "Used To Love You" it was heartbreaking because you finally got a feel for how Stefani felt during her divorce. Even though this song is more serious and pulls at our heartstrings it is one we definitely need to hear live…especially because you know the singer will put all of her heart into belting it out.
"Don't Speak"
Hello, this is a No Doubt no-brainer. Anytime this song comes on the radio we have to listen to it all the way through because it is that good. Please Gwen, please perform "Don't Speak" during these Vegas shows!