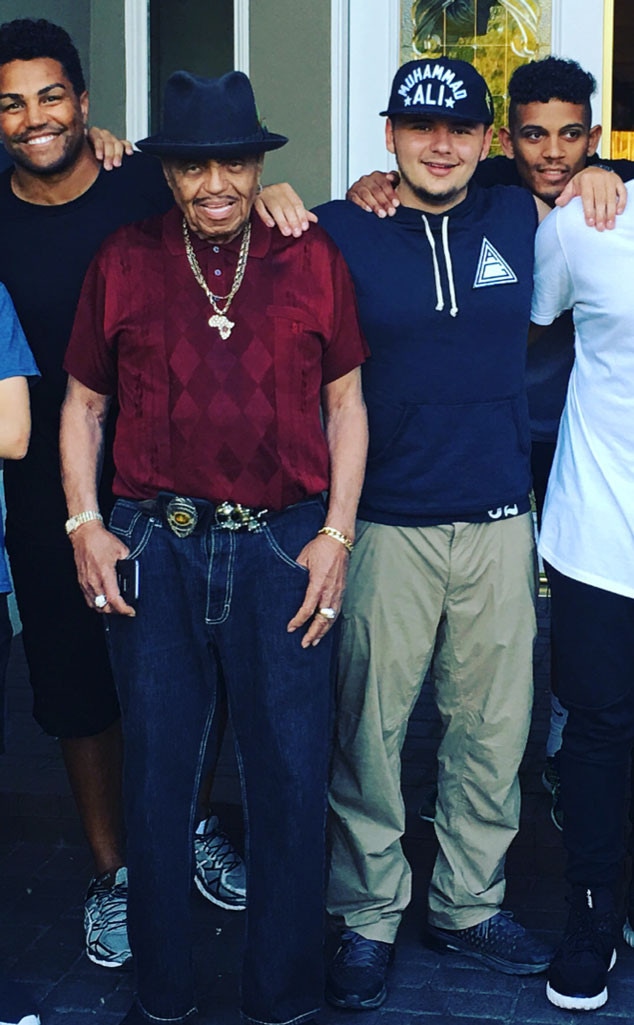 Prince Jackson
Joe Jackson has passed away at the age of 89 after battling cancer.
The music mogul and father of Michael Jackson died early Wednesday morning, TMZ reports. Since news of his passing broke on Wednesday, Joe's loved ones have been mourning his death.
Prince Jackson released a statement on Wednesday afternoon along with a photo with Joe.
"This man is and always will be an example or sheer willpower and dedication," his statement began. "He didn't choose the path that was the easiest but he choose the path that was best for his family. You taught me  to take pride in the Jackson name and what it really means, you taught me dedication in the face of adversity and most of all you showed me strength and fearlessness. There is and never will be someone like you. Fly free and until we meet again The Hawk."
La Toya Jackson took to Twitter to share a message to her father, writing, "I will always love you! You gave us strength, you made us one of the most famous families in the world. I am extremely appreciative of that, I will never forget our moments together and how you told me how much you cared. #RIP Joe Jackson."
Joe's grandson, Randy Jackson Jr., also took to Twitter to pay tribute to his grandfather. "RIP to the king that made everything possible!!! I love you grandpa," Randy wrote along with a picture of Joe.
Taj Jackson also took to social media after news of Joe's death was made public, sending a message about the Jackson family's love for Joe.
"Disgusted by some of the comments I'm reading about my grandpa Joe by those who didn't even know him," Taj wrote. "Please don't just regurgitate what you were spoon fed by the press. Joe was loved by our ENTIRE family and our hearts are in pain. Let us grieve without the nastiness.#ripthehawk."
He later told his Twitter followers, "We feel all the love and support from you guys and are extremely thankful."
TJ Jackson shared a photo of Joe on Instagram with the caption, "You did the unthinkable. You gave your all (and the prime years of your life) to make sure your kids and your family were a success. Some people will never understand the commitment and love it takes to do what you did. My life could have been so much different if it weren't for you. I could have been in a gang. I could have a father who was in and out of jail. But I don't. Why? Because you were plugged into your kids lives and saw a dream that they (or even the world) didn't know could exist. It took all of your strength to keep your entire family safe from the real dangers in life. You are misjudged but I know who the real you is. And as your grandson I am forever grateful for the strength I have from you. I will always remember what I've learned from you. I will always cherish you. Always. I love you grandpa."
John Branca and John McClain, co-executors of the Estate of Michael Jackson, also released a statement Wednesday. "We are deeply saddened by Mr. Jackson's passing and extend our heartfelt condolences to Mrs. Katherine Jackson and the family," the statement began. "Joe was a strong man who acknowledged his own imperfections and heroically delivered his sons and daughters from the steel mills of Gary, Indiana to worldwide pop superstardom."
"Mr. Jackson's contributions to the history of music are enormous," their statement continued. "They were acknowledged by the Rock and Roll Hall of Fame in 2002 in a proclamation naming him as Best Entertainment Manager of All Time; he was inducted into Rhythm & Blues Hall of Fame in 2014 and his son Michael acknowledged him with a Joe Jackson Day at Neverland. We had developed a warm relationship with Joe in recent years and will miss him tremendously."